Wouldn't you love to be able to help yourself, your friends, or your family, by truly understanding the benefits of cannabis, CBD and mushrooms?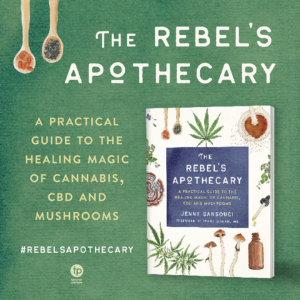 The world is seeing a shift when it comes to drug policy and plant medicine – one that will impact future generations and as a time that shaped the way we look at modern medicine and the role of plants in it. As cannabis legalization becomes more widespread and mushrooms rise to stardom, their powerful therapeutic benefits can no longer be ignored. Cannabis and mushrooms are staged to become some of the most groundbreaking plant medicines for human health.
In this series, we'll explore the different ways to get back to our healing roots by incorporating cannabis and mushrooms into our daily lives.
What You'll Learn
How to create your own "rebel's apothecary,"
How to use CBD, and mushrooms in your own wellness routine
How to use plants and fungi without intoxicating effects
Best practices for using plants for more serious conditions like cancer and managing the side effects of chemotherapy
About the therapeutic benefits of magic mushrooms, the current research and changing legality, and harm reduction
Tips for exploring psilocybin safely
What You'll Receive:
This option includes a copy of The Rebel's Apothecary, as well as access to four recordings inspired by Jenny Sansouci's glorious book. PLUS! A thoughtfully curated gift bag that includes Plant Alchemy CBD cultivated from organic flower grown outdoors and extracted in small batches and a Clarity Spagyric Mushroom Tincture with Lion's Mane, Cordyceps, Cat's Claw and Bacopa Spagyric Extracts formulated by The Medicinal Mushroom Company.
Cannabis and CBD 101
Meet the Medicinal Mushroom
Everyday Rebels: Cannabis and Mushrooms in your Daily Routine 
Magic Mushrooms: The Case for Psilocybin