The Bloom Book Club by Heidi Bloom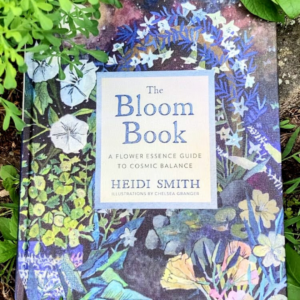 Flower essences are a type of plant and vibrational medicine that assist us on emotional, physical, and spiritual levels, often resulting in shifts in consciousness. Balance is the operative state to encourage healing and maintain wellness. Cosmic balance means being in alignment not only with ourselves but with each other and our Earth. Healing Justice emphasizes an intersectional and holistic response to trauma and encourages collective practices for transformation.
What You'll Learn
Heidi recommends you have a flower essence of your choice with you (or nearby) during the first class.  Feel free to use the Plant Alchemy Lilac Flower Essence OR one of your own choosing.  AND if you don't have one, no worries.  Please remember, we can work with the energetics and spirits of plants, flowers, mushrooms, animals, etc at any given time 🙂
What You'll Receive
Need copy here
Need copy and better images
Meet Your Guide
Heidi Smith, MA, RH (AHG), is a psychosomatic therapist, registered herbalist, and flower essence practitioner. Within her private practice, Moon & Bloom, Heidi works collaboratively with her clients to empower greater balance, actualization, and soul-level healing within themselves. She is passionate about engaging both the spiritual and scientific dimensions of the plant kingdom, and sees plant medicine and ritual as radical ways to promote individual, collective, and planetary healing. She is the author of The Bloom Book: A Flower Essence Guide to Cosmic Balance. She lives in Brooklyn, NY, with her partner and two cats. For more, visit moonandbloom.com.