Mystics, Magic, and Divinations: A Full Moon in Aquarius Celebration
August 20, 2021 @ 5:00 pm

-

8:00 pm

EDT

$35.00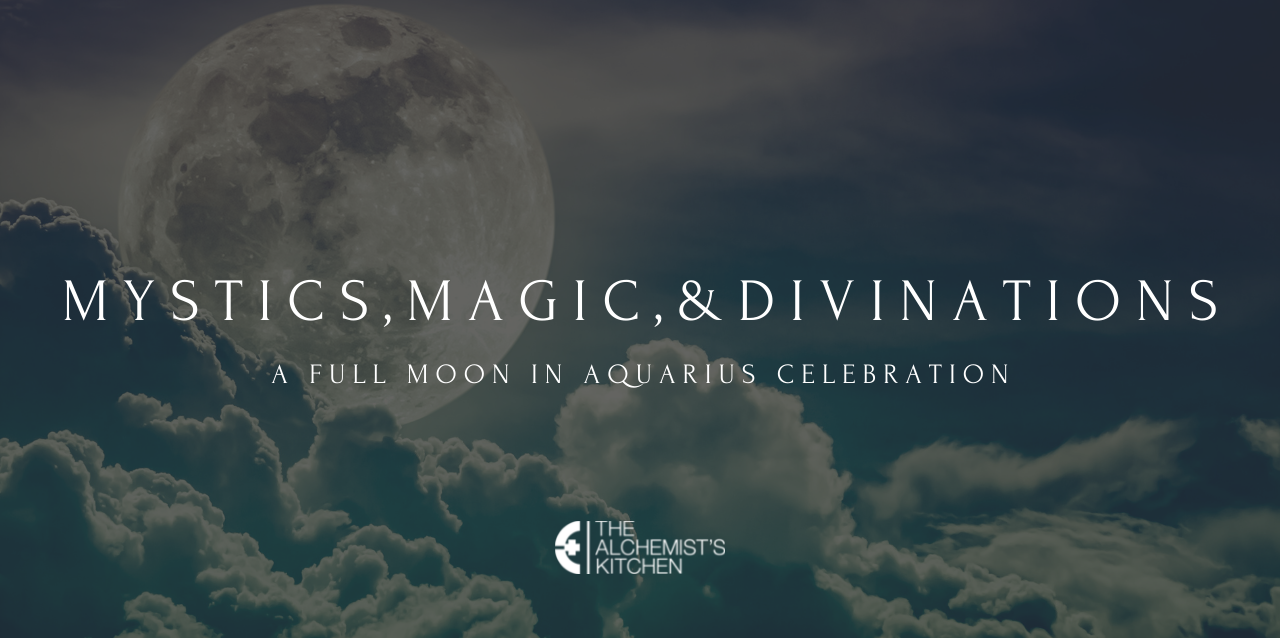 Full moons are a potent time to pause; to reflect on endings, culminations, and take inventory of our emotional energy. Join us as we step into the coming month with the clarity and guidance of intuitives and healers.
When the Aquarius Full Moon illuminates the sky, innovations, community, and humanitarian efforts, are activated and come into focus. This Full Moon is asking you to break away from social structures, norms, and conditioning that are not in alignment with your soul work, as well as the collective's soul work. For many, this current has already been set into motion; How are you thinking outside of the box?
This Full Moon falls on the Aquarius (humanitarian) and Leo (Self) axis. With this Lunation, we become the change.
"It's easy to focus on others, but if we keep our focus on our Self and do what we feel moved to do, we create space for others to be informed and inspired by our actions and be led by their own free will, rather than through any kind of pressure or intimidation." – Mystic Mama
---
Offerings:
---
Akashic Record Reading with Vanessa 
A mini Akashic Records Reading is a signature question and answer session that functions like a truncated Akashic Records session. Vanessa will go into her records and her record keepers and guides connect with your higher self for a truly customized message for exactly what is going on in your life right now. The messages are full of love and occasionally specific instructions for exactly what has been on your mind or burning a hole in your heart. Vanessa does not need you to relay any of your story to me beyond your birthdate, time and place, along with your current city of residence and full name to download your message as the record keepers' transcriptionist. The less you tell…the better. Just watch all the answers light up before your very eyes. You'll love it!
---
Tarot Readings with Ivy
Ivy is a working witch and wellness practitioner. As an inter-faith occultist, Ivy pulls from many areas of esoteric schools of thought and philosophy in regards to her practice. By specializing in healing trauma stored in the body's memory, Ivy's forms of alternative healing are a gentle and non-invasive way of addressing the unresolved issues that walk with all of us. Her practice, Sylva Sylvarum, offers tarot divination, energy work, and spellwork consultations.
Ivy's approach to tarot readings is rooted in trauma-informed intuitive healing techniques. By holding up a mirror to the querent's subconscious mind, Ivy can tap into the deepest layers of the self necessary for authentic healing. She firmly believes that the passing of knowledge, in itself, is a ritual and that because of this the ritual of tarot is sacred.
IG: @sylva.sylvarum
---
Tarot Readings with Kristall Richardson
Tarot is a symbolic language that teaches & guides us through the sacred journey of the soul. Kristall uses Tarot to help guide clients through the various journeys of their lives, with a strong emphasis on self-empowerment and healing. She also uses the pendulum, bells, crystals and numerology during her sessions.
IG: @korblossom
---
Additional Information
This is an In-Store Event. Please join us at 117 Crosby Street, New York, New York
You are encouraged to book your reading(s) in advance by selecting the reader(s) you would like to see and the available time slot(s) of your choice below
All sessions are 25-minutes
please do not book two readings back to back
Tickets are non-refundable
We are a space currently honoring social distancing and CDC Guidelines. We now require all guests that are attending events to show record that they are vaccinated. Mask wearing is also required indoors except while seated
Accepted forms of vaccination record include: Excelsior Pass or any digital pass OR Physical vaccination card or a picture of the physical vaccination card
The maximum number of people allowed in the space is 30-people. Our staff, will be monitoring the flow of foot traffic in the space
Please email learn@thealchemistskitchen.com for additional question
---
Please select your appointment time below | Refunds not available after purchase