Mystics, Magic, and Divinations: A Full Moon in Aries Celebration presented by Housing Works
October 19 @ 4:00 pm

-

7:00 pm

EDT

$35.00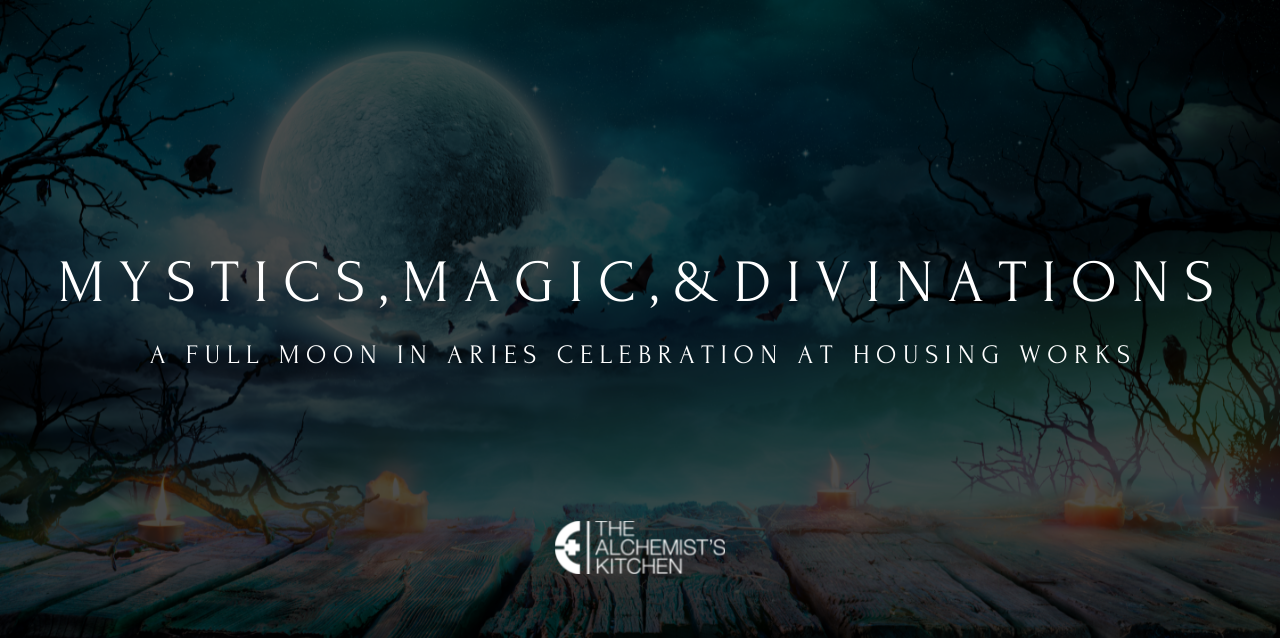 Full Moons are the crescendo of the Moon Cycle; midway through the lunar calendar, the Full Moon illuminates the night sky and calls on us to reflect, complete, release, and/or enjoy the bounty of our blessings.
The October Full Moon, in the sign of Aries, is a fiery and passionate one! Aries is the first sign of the Zodiac Wheel, and is known for childlike wonder & leadership.
This Moon Cycle beckons us to ask the following questions:
How do you show up as a leader?
What is your relationship to play?
What passions are longing to be activated?
Join us under the influence of the Full Moon, during the thinning of the veil, when magic is potent and wondrous. Our Diviners, Empaths, and Intuitives, will call on your guides and support you in tapping in to your inner knowing.
This event celebrates a partnership with the legendary Housing Works. Proceeds of your ticket will go to Housing Works' Mutual Aid Programs. Magic with intention and for a cause.
---
Akashic Record Reading with Vanessa 
A mini Akashic Records Reading is a signature question and answer session that functions like a truncated Akashic Records session. Vanessa will go into her records and her record keepers and guides connect with your higher self for a truly customized message for exactly what is going on in your life right now. The messages are full of love and occasionally specific instructions for exactly what has been on your mind or burning a hole in your heart. Vanessa does not need you to relay any of your story to me beyond your birthdate, time and place, along with your current city of residence and full name to download your message as the record keepers' transcriptionist. The less you tell…the better. Just watch all the answers light up before your very eyes. You'll love it!
---
Animal Spirit Reading with Erik Lovendahl
Erik has made it his life's work to aid in the remembrance of who we are before we broke through the veil of this Earth Walk, to release the karmic debt, trauma, and rediscover what has been forgotten within us. Searching to combat a social anxiety disorder at a young age, Erik found Yoga and Meditation as grounding tools to build a self-healing practice. Since the age of 13, he has continued this journey in search for new modalities of healing, finding Qi Gong, Reiki, and the Culinary Arts; with these the understanding of energy fields, vibrations, and frequency came to fruition. Being guided to Native American Ceremony through his mentors, Guillaume Guithereau and Sandra Chestnutt, Erik has taken his calling to this modality of Ancient Teachings.
For his readings, Erik converses with Animal Spirit cards and traditional playing cards. Using these tools, messages are received and delivered through intuitive downloads. The purpose is to bring you into greater connection, deliver messages from innate spirit guides, and build upon your foundation of inner knowledge.
IG: @iameriklove
---
Astrology Readings with Yarusha
Astrology is a profound spiritual tool that allows for deep personal insight. Yarusha strongly believes that your natal chart reveals the areas where you shine, the shadows that hold you back, and your core needs that need to be nurtured and supported in order for you to grow and meet your full potential.
Yarusha will intuitively tune into your birth chart, and interpret your souls blue print with respect to the current transits. This reading helps you figure out where to steer your ship and if you are in sync with the moment. You will leave feeling lighter, refreshed, and vibrationally aligned.
You will be asked to provide: 
1. Exact time of Birth
2. Place of Birth
3. Date of Birth
IG: @yarusha.jimenez
---
Human Design Reading with Stephen
Human Design reframes the mindset of anyone looking for self-development in order to create a life full of satisfaction and success. We do that by introducing you to your unique strategy for decision-making in order to meet less resistance in your life.
These 25-minute readings will leave you feeling in alignment with your spirit! Human Design reading offer clarity, insight, and guidance.
You will be asked to provide:
1. Exact time of Birth
2. Place of Birth
3. Date of Birth
Website: Genetic Yoga
IG: Genetic Yoga
---
Inner Quest Reading with Seven Brown
Be the hero of your own story. Gain insight with an Inner Quest reading with Seven. Seven specializes in readings that guide transformation and alignment with your life's mission. Making the right next step is essential. This is excellent reading if you find yourself in transition, celebrating a solar return or just curious if youre on the right path. Together we will connect with your higher self in love and light.
IG: @sevenbrown
---
Tarot Readings with Kristall Richardson
Tarot is a symbolic language that teaches & guides us through the sacred journey of the soul. Kristall uses Tarot to help guide clients through the various journeys of their lives, with a strong emphasis on self-empowerment and healing. She also uses the pendulum, bells, crystals and numerology during her sessions.
IG: @korblossom
---
Trauma Informed Tarot with Marisol
NYC Native Marisol Espinoza provides a variety of healing and spiritual services through her brand Marisol Vibración. These include tarot and Oracle card readings; birth chart readings; yoga and Zumba fitness classes; candle magic; and spiritual cleanses and baths. One of her favorite decks to work with is the Afro Goddess Tarot Arcanas, a deck created by a Black femme for use with Black clientele. She approaches the tarot from an intersectional and trauma-informed perspective.
---
Additional Information
This is an In-Store Event. Please join us at Housing Works at 126 Crosby Street, New York, New York
You are encouraged to book your reading(s) in advance by selecting the reader(s) you would like to see and the available time slot(s) of your choice below
All sessions are 25-minutes
please do not book two readings back to back
Tickets are non-refundable
Housing Works is a space currently honoring social distancing and CDC Guidelines. We now require all guests that are attending events to show record that they are vaccinated. Mask wearing is also required indoors except while seated
Accepted forms of vaccination record include: Excelsior Pass or any digital pass OR Physical vaccination card or a picture of the physical vaccination card
Please email learn@thealchemistskitchen.com for additional question
---
Please select your appointment time below | Refunds not available after purchase