Virtual Event
The Art of Feasting: Practicing Gratitude in the Season of Abundance VIRTUAL
November 1, 2021 @ 7:00 pm

-

8:30 pm

EDT

Virtual Event

$35.00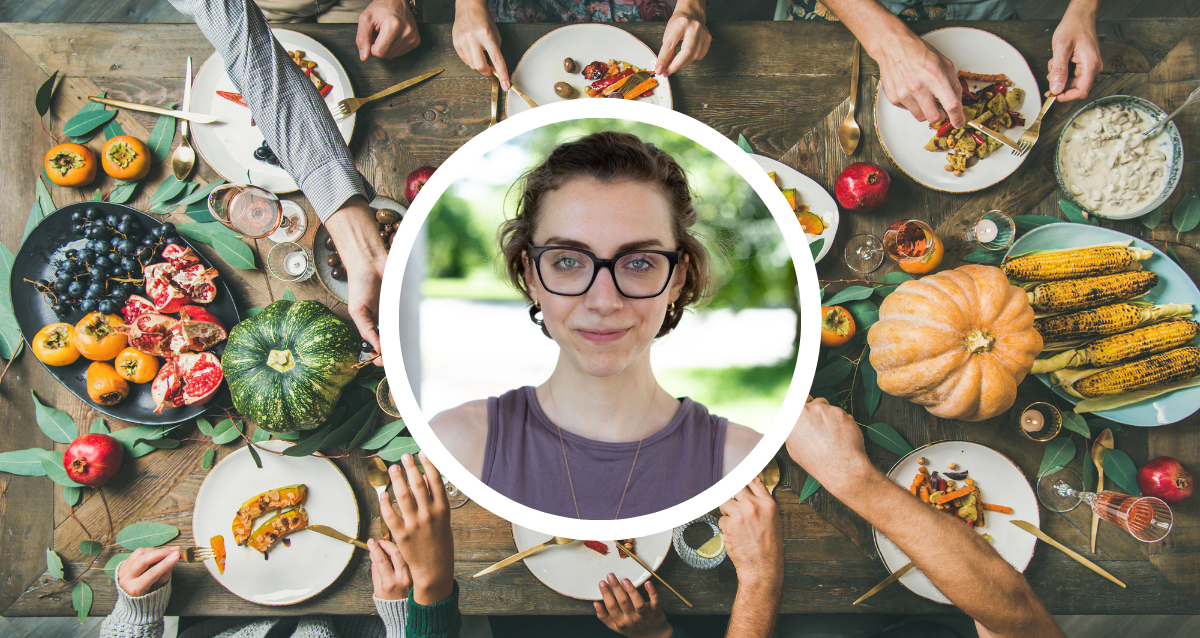 Many cultures begin meals, ceremonies, and other significant life events with a gesture of gratitude—an acknowledgment of the source of their food or ability to gather together and celebrate. In our busy modern culture, we barely have time to sit down and eat meals at regular times, let alone pause to reflect on their origins. Ironically, during the holiday season, when the messages of gratitude and generosity are all around us, it can be especially hard to access a true feeling of thanksgiving from behind the consumerism, marketing, and exploitation that's tied up in these festivities. 
One way to reclaim and rejoice in this season of abundance is by turning our attention to the cycles of nature.
In Ayurveda, autumn is considered vata season, when air and space elements abound. This offers us an opportunity to open our hearts to giving and receiving love, attention, and meaningful communication through words and touch—all the things we cherish about family gatherings. At the same time, vata has the potential to send us into a tizzy—mentally, emotionally, and physically. We can balance that instability through choosing food and activities with more of the earth and water elements, whose fluid, cohesive, and sweet qualities all build up and soften our root energy. 
In this workshop, which will take place in-person and virtually, we'll explore ways to express gratitude toward these sweet gifts from nature and create meaningful rituals around this time of year that nourish us at the deepest levels of our being. Attendees will also receive exclusive Ayurvedic "recipes" to balance vata throughout the fall, and share with the people who nourish you near and far: a seasonal dessert of Vegan Cashew "Cheesecake" Bites with Cranberry and Cacao, and meditations to open the heart.
A recording of the class will be shared with all those who register for either format.
---
Jennifer Kurdyla
Jennifer Kurdyla is an Ayurvedic Health Counselor, yoga teacher, and writer. Plant-based since 2008, she learned to love food by experimenting with vegan and Ayurvedic cooking in her tiny New York kitchens. She is the co-author of Root & Nourish: An Herbal Cookbook for Women's Wellness (Tiller Press), and lives in Brooklyn, New York. Read more about her wellness services and educational resources at www.benourished.me and on
Instagram: @jenniferkurdyla
Website: jenniferkurdyla.com
---
Additional Information
We are a space currently honoring social distancing and CDC Guidelines. We now require all guests that are attending events to show record that they are vaccinated. Mask wearing is also required indoors except while seated.
Accepted forms of vaccination record include: Excelsior Pass or any digital pass OR Physical vaccination card or a picture of the physical vaccination card
The maximum number of people allowed in the space is 30-people. Our staff, will be monitoring the flow of foot traffic in the space.
We are also offering this class online, via Zoom. The Zoom link will be emailed to you 30-minutes before the class begins.
Please email learn@thealchemistskitchen.com for additional questions