Cannabis has become quite prevalent in the healing space. With states following in California's legalization movement, cannabis is making a modern medicinal, and recreational, imprint on health and wellness. However, many are wondering how herbalists are responding to the national and global cannabis mania, with clients consistently requesting cannabis in formulas or turning to it over other plants. Is Michael Pollan right that perhaps cannabis has intoxicated us for its own reproductive benefits or have we simply co-evolved together? And so, the question remains – did cannabis take over the plant healing space? My answer is no. 
Cannabis is a plant medicine and should be acknowledged and admired as such. Most herbalists have been quite welcoming to it into the healing space. Our job is to HEAL with plants and listen to what our clients need. If cannabis will help, then we will prescribe it! I believe not only is cannabis helping heal humans, but we are also helping cannabis flourish and prosper. 
In addition, hemp itself is a very sustainable and versatile plant, with thousands of years of medicinal and practical uses in traditional Chinese, Native American, Muslim, Greek, Persian, and Roman cultures. Today, it remains essential for its immense potential for human and environmental health. And frankly, its stigma is pointless, rooted in segregation and racism.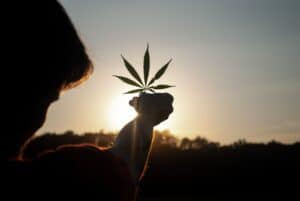 During the Mexico Revolution of 1910, the Mexican population was driven into southern states, where their culture recreationally used cannabis, calling it "marihuana." At this time, even though white Americans were using cannabis medicinally, they were unfamiliar with the Mexican term or its recreational use. As prejudice against immigrants became more prevalent, so did fear over cannabis, with propaganda being spread about "marihuana" being a "killer drug." As such, racial tensions continued to grow and so did the stigma against cannabis, which led the federal government to increase regulations on "marihuana" (now known as marijuana). Healers and enthusiasts alike have waited decades for not only legalization but the de-stigmatization of this herb.
I do not see cannabis and "other" herbs as separate. They are all plant medicines. In fact, many herbs enhance the medicinal properties of cannabis and vice versa. Cannabis cannabinoids are powerful and pair well with most herbs. Similar to cooking vegetables, individually, the ingredients such as potatoes, beets, garlic, tomatoes, etc. taste delicious, but when combined, each flavor elevates the other to create a unique, magical dish.
Great Cannabis and Herb Combinations.
Manage pain/relieve muscle spasms
St. John's Wort

Devils claw
Combat addiction
(alcoholism) 
California poppy

Fennel

Lemon balm
Lavender

Chamomile

Valerian

Passionflower

Skullcap
Improve mental health
(depression, anxiety, adhd, add, ptsd)
Lemon balm

Holy basil

Hops

Oats

Linden

Mimosa

Hyssop
Lucid dreaming/enhance high/induce meditative states
Blue lotus

Mugwort

White sage

Damiana

Kava kava
Cancer
Jasmine blossom

Cat's claw

Turkey tail

Reishi

Mesima

Royal sun

Poria

Shiitake

Maitake

Sheep sorrel

Cleavers
Mend bones 
Anti-Cancer Cannabis Tincture Recipe
Ingredients
⅛ oz Cannabis 
⅛ oz Red clover
¼ oz Cat's claw
¼ oz Burdock
¼ oz Soursop
½ oz Sheep sorrel
½ oz Turkey Tail 
Method
Decarboxylate

your cannabis flower or concentrate

(if you're using flower, grind it to a fine consistency).

Fill the jar with ¾ plant material and the rest of the jar with the vegetable glycerin

(estimated amount of plant material listed above).

Make sure to leave about 1-inch clearance space from the lid.

Close the jar and let it sit for 6 to 10 weeks.

Shake it every other day.

After allotted weeks, strain it through a coffee filter.
Vegan MaryJane Mac and Cheese Recipe
Ingredients
½ to 1 cup cannabis oat milk to desired dosage
½ lemon
1 carrot
1 cup cashews
1 pasta box of choice
1 small sweet potato
2 tsp mustard powder
2 tbsp Nutritional yeast 
2 to 3 large cloves garlic
3 heaps tbsps pumpkin puree 
Salt and pepper to taste
Method
Soak cashews for at least one hour before making the recipe.

Steam sweet potato and carrots. Let cool before adding to the blender.
Add all ingredients to the blender (use additional plain oat milk or hot water as needed for desired consistency).
Cook and strain pasta.
Add cheese sauce to cooked pasta.
Combine and enjoy.
Sprinkle paprika, chilli flakes, culinary herbs and any additional cooked vegetables as desired.

Reherb-ilitation
This blend is a helpful alternative to a tobacco cigarette. It is meant to help overcome tobacco addiction and ease withdrawal symptoms related to quitting nicotine. It is specifically formulated to help reprocess nerves and calm the inflammation and adrenaline addiction in the brain. They are ideal for those who want to smoke a healthy version of tobacco and ground their present energy.
Ingredients
10g Tulsi 
10g Gotu Kola 
10g Lemon Balm
10g Mullein 
5g Cannabis sativa 
2.5g Passionflower
2.5g Rose Petal
Holy Smokes
This spiritual blend helps promote lucid dreaming, enhance meditation and open your intuitive third eye. They are extremely calming, making them an excellent alternative or addition to cannabis. Be prepared to transport your body, mind and soul on a cosmic earthly journey.
Ingredients
10g Mugwort 
10g  Damiana 
10g Catnip
10g Blue Lotus
5g Bearberry
5g Cannabis indica