Chocolate Mint (Mentha x piperita f. citrata 'chocolate') is one of the most delightful and delicious herbs on this green earth! This plant is a joy to incorporate into the culinary aspects of life; it's a great example of 'food as medicine.' Whether you taste the chocolate flavor or not (not everyone does – I do!), Chocolate Mint makes a gorgeous topping or addition to desserts, smoothies, syrups, candies, elixirs, and tea blends. (1)
Botany
Chocolate Mint is one of many varieties of Mint, all differing slightly in flavour, aroma and appearance. They're unanimously in the Lamiaceae (or 'Mint')  family, and the 'Mentha' genus, which has around 18 species. Most of them are fragrant with essential oils, including Basil, Sage, Thyme, and Lavender; a characteristic trait of herbs in this family. 
Chocolate Mint is a spreading, fast-growing perennial plant. Height-wise, it ranges from 10 to 60 cm and may send out runners, or stolons, up to 60 cm long. Chocolate Mint has a square stem and ovate leaves in opposite pairs. It flowers in summer, with a white to purple inflorescence arranged in a false whorl. Full sun exposure gives Chocolate Mint the best color and flavor, but it's not a picky herb! Chocolate Mint will grow almost anywhere. It tolerates shade and is happy in most soil types, especially moist areas and along with bodies of freshwater. (1, 2)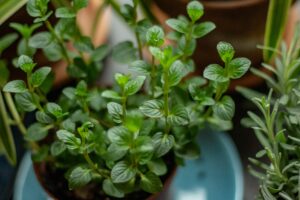 Etymology
Chocolate Mint gets its common name from its signature chocolate-y flavor and brownish stem and veins. Its full botanical name is Mentha x piperita f. Citrata, though sometimes it's shortened to Mentha x piperita for Peppermint, the parent plant. The Greek botanist Theophrastus gave the Mentha genus its moniker, inspired by Greek mythology. Menthe was the name of a water nymph turned into a plant by Persephone–she'd had an affair with the diety's husband, Hades–so the story goes. (3)
Traditional Uses
There isn't a lot of precise information about Chocolate Mint's origins, and therefore it's difficult to pinpoint traditional uses. Chocolate mint is a mint hybrid that's the result of different mint species crossing. Mint grows all over the world; Chocolate Mint is native to or naturalized in Europe, Africa, and Asia. Mint has a recorded history in Ancient Egypt, Greece, and Rome. Pliny the Elder in the 1st Century used it in religious and spiritual ceremonies. These cultures also used Mint to flavor food, aid digestion, cleanse the breath, and relieve muscle aches and pains. (2)
Traditional Chinese Medicine has had Mint (bo he) in its pharmacopeia for almost 5,000 years! There, Mint is employed in the treatment of colds, bronchial and sinus congestion, digestion, Liver disharmony, and headaches. Later on, Mint became popular in the British Isles–most likely brought over by Roman soldiers. Eventually, Mint and Chocolate Mint reached North and South America via colonists and became quickly naturalized. (3)

Herbal Actions 
Chocolate Mint is energetically warming and stimulating, with a secondary cooling effect. The energetic effects of this herb seem to depend on the method of delivery and the energetics of the person consuming it (i.e. A person who runs hot might find this herb too warming, or vice versa. Delivered as a hot tea, it might be extra warming; as a cool infusion, cooling). (3)
Chocolate Mint is a nervine, meaning it can help to relax the nervous system and cramping or spasms.  Though it's antioxidant and a good source of vitamins A and C, Chocolate Mint isn't nutritionally dense or mineral-rich. Its medicinal benefits come from its volatile oils, most predominantly menthol, responsible for its 'minty' flavor. (2)
Digestive Issues
Mint has been used for thousands of years to treat digestive complaints like nausea, gas, cramping, and heartburn. Chocolate Mint aids the digestive process and allows a more complete assimilation of nutrients. Its strong volatile oils stimulate stagnant bile and help to remove phlegm and move gas from the stomach and small intestine. Simultaneously, it soothes the smooth muscles of the digestive tract, easing cramps and discomfort. Capsules of Peppermint oil are given to folks with severe IBS as prescription medicine. 
Allergies, Colds, and Congestion
The anti-inflammatory and antimicrobial volatile oils in Chocolate Mint make it effective for relieving allergy and cold symptoms, like congestion, headache, and trouble breathing. Chocolate Mint helps to open the sinuses, bronchioles, and orifices of the head, once again moving and clearing out stagnant phlegm. Remember Vick's vapor rub? The active ingredient is Menthol. Combined with Elderflower and Yarrow, Peppermint (or Chocolate Mint) is part of a classic cold and flu tea blend that helps to stimulate peripheral blood flow. This febrifuge action helps to create sweating and break a fever.
Lifts the Spirits & Energizes
Mints and certainly Chocolate Mint has long been used to raise the spirits and energize the mind. Dioscorides, the ancient Greek physician, reputedly wore peppermint on his cloak to raise his spirits. Once again, we see that Mint's aromatics move stagnation. Chocolate Mint can relieve Liver qi congestion, a condition that often leads to feeling stuck, angry, or angsty. As a nervine, Mints aid in relaxation and rejuvenation of the nervous system. In addition, Mint can refresh the mind and senses, and help with the assimilation of information and understanding! (2, 3)

Methods of Medicinal Use 
There are so many ways to use Chocolate Mint! Here are just a few suggestions:
Teas or Steams –  Chocolate Mint is a wonderful herb for water-based medicine. Drink a cup of tea to promote healthy digestion, or to help with stuffy sinuses. Add Chocolate Mint to some just-boiled water to make a clearing steam for allergies, colds, or flus. Bring it to the bath to stimulate circulation and relieve muscle pain!
Topical ​​- Topically, Mint can help to relieve pain and soothe inflammation. Chocolate Mint makes a lovely oil or balm (think "icy hot" or "tiger balm") for muscular cramping and tension, stiffness in joints, congestion, and fever (think "vick's vapor rub"), and headaches. Mint infused water also makes a lovely, energizing face spritz or antimicrobial mouth rinse. 
Tincture or Glycerite – Mint is rarely used in medicinal tinctures because its true medicine is in its volatile aromatic oils, which are hard to capture in alcohol. However, sometimes I use it in small amounts in formulas as a stimulating element. I find Chocolate Mint infused brandy with honey makes a delicious elixir. As a glycerite, Chocolate Mint is delicious and great for kids with upset tummies, elderly folks in need of a digestive boost, or anyone in the mood for this tasty medicine! 
Food – As an additive to desserts, salad dressings, fruit bowls, smoothies, dips, pesto, jellies, stews, meats, fish, or baked goods! 
Contraindications
While generally considered to be a safe herb for most, Chocolate Mint does have some safety guidelines. Pregnant folks should only use this herb in small amounts. Because Mints can be cooling or warming, they should not be used if they exacerbate cold or hot conditions. 
Sources
Herb Cottage. "Chocolate Mint." ​​

https://www.herbcottage.com.au/products/chocolate-mint

 

Justis, Angela. "A Family Herb: Amazing Mint"

https://theherbalacademy.com/a-family-herb-amazing-mint/

McIntyre, Anne. "Mentha piperita, Peppermint."

http://annemcintyre.com/mentha-piperita-%E2%80%A2-phudina-%E2%80%A2-peppermint/