Meet Henné Organics, the eco-conscious skincare line bringing luxury in its purest form to all. Founded by Laura Xiao Learn more about their offerings below!
Thanks for taking the time to chat with us; let's start with the story of how Henné was created and what inspired the beautiful name?
A combination of desperation, opportunity, and inspiration ended up being the perfect storm for Henné to come to fruition. When we first moved to Vegas, my husband and I both got very dry and cracked lips from the dry climate. Now I'm not going to say there was no lip balm around that worked. All the ones I tried (and I tried a ton) worked okay but not great, and when it came to packaging and design, it left much to be desired.
At the same time, I had become quite bored and uninspired by the work I was doing at that time. Initially, I had thought about launching my own line of organic products years back, but I was in my early 20s and thought I needed to wait until I had more work/business experience and more savings. Having gnarly lips made me start cooking up lip balm batches in the kitchen, and after getting rave reviews from friends and family, I decided to just go for it in 2015, and that's how Henné was born! Thank you for the kind words about the brand name! <3 "Henne" means "Her" in Swedish.

I love that backstory! On your website, it says "Swedish inspired, American made," As you've mentioned, Sweden is a huge influence. What does this mean to you?
So many aspects of Henné are inspired by Sweden, which I consider my second home. From our brand name to the Swedish design to our star ingredients (lingonberry, arctic cloudberry, sea buckthorn), Henné pays homage to Swedish culture and the beauty of Swedish nature. In Sweden, minimalism and high-quality functional design are simply a part of life, and adopting these elements have really enriched my life. I've been fortunate enough to live in Sweden, and pre-COVID, I visited Sweden regularly, mainly with my husband, to visit my in-laws.
What a dream, your star ingredients sound like things you'd hear in a fairytale potion! What are some of your favorite Nordic functional skincare traditions or skincare secrets?
The Swedish respect and appreciation for nature is unparalleled, and I think this translates over to skincare as well. On average, Swedes are very ingredient-conscious and understand that natural is better when it comes to food and consumer products.
Great advice; we love natural plant-focused products! What do you recommend to people just getting into lip and skincare, and what sets Henné apart from the rest?
I think lip care is a simple way to get into clean beauty and skincare. We will inevitably inject some of whatever we apply to our lips through drinking, eating, etc.
How does Henné Inspire your Creativity and Personal Life?
I'm constantly taking mental images (and oftentimes literal images) whenever something gives me inspiration for Henné. It can be a film I just watched, a new plant or ingredient I discovered, a song I'm listening to, etc. It definitely makes daily life a lot more interesting!
We love organic processes and brainstorming, so that take on creativity resonated with us! Does Henné have any exciting projects in the pipeline for 2021 we can look forward to?
We will be launching some very exciting non-lip products in the first half of 2021. More details will come in the upcoming months, so stay tuned!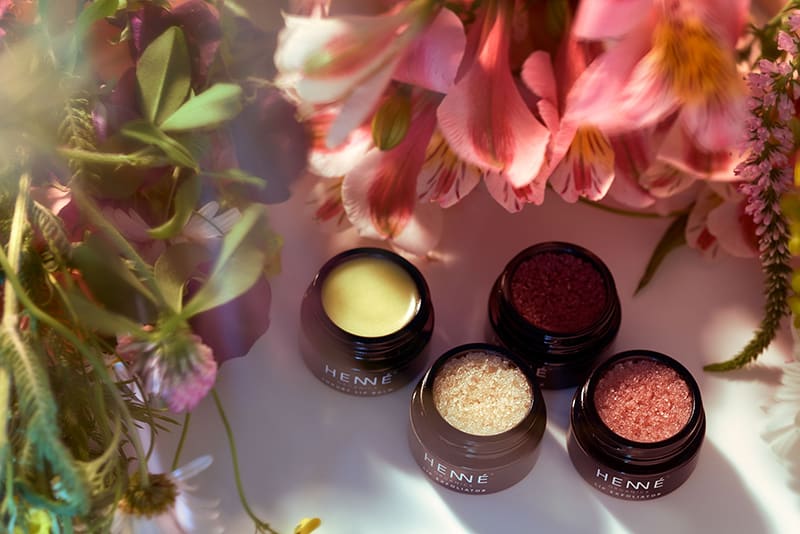 Excited to hear, we will be on the lookout. Okay, Bonus Question: What is your Sun, Rising, and Moon sign?
Ooh, excellent question! Leo Sun, Virgo Rising, Sagittarius Moon!
Thank you so much, Laura; what an amazing chat! Be sure to check out Henné Organics offerings with us here and sign up for our newsletters for exclusive offerings and classes and content. Follow Henné on Instagram and Facebook!