"The aim of human life is to know thyself. Think for yourself. Question authority. Think with your friends. Create, create new realities. Philosophy is a team sport. Philosophy is the ultimate, the ultimate aphrodisiac pleasure." – Timothy Leary
Aphrodisiacs are often mysterious or obscure: ingredients that inspire treasure hunts hopefully ending in love potions. I've taught many classes on the topic, and fielded all kinds of questions about them. Above all, I find that folks are most surprised to learn how accessible – easy to find, make, take or use – aphrodisiacs are. If you've not experimented with them yet, consider the Month of Love your perfect opportunity.
The word aphrodisiac comes from the 18th century Greek Aphroditē—goddess of love, beauty, pleasure and procreation. As plants and practices, aphrodisiacs are ancient and global, and many of the earliest known recipes are still used today.
It's important to note that aphrodisiacs can work at any sensorial level. For example, they can be something we eat, or taste, or hear, or see; smell, feel, or even think about. For the purpose of this piece, we'll focus primarily on consumable aphrodisiacs, but do keep in mind how diverse and nuanced mood-stimulators can be for each of us!
On the mind, aphrodisiac plants can lower inhibitions, inspire certain amorousness, and act as social lubricants. This ease may be actual — as with the unmissable effects of cannabis or alcohol — or it may be more of a placebo, like the mouthfeel of oysters or the deep red color of a potion. On our bodies, aphrodisiacs often increase circulation and blood flow, or stimulate the release of chemicals such as hormones and neurotransmitters.
Whether you want the pleasure for yourself or to share, consider these five classic aphrodisiac herbs:
Cacao: A combination stimulant (contains theobromine, an alkaloid that activates the central nervous system similarly to caffeine) and calmer (contains enzyme inhibitors decrease the body's ability to break down anandamide, a.k.a. "the bliss molecule"), cacao is a potent plant for pleasure! And, very easy to "take." Try eating raw cacao beans, mixing pure cacao (not cocoa!) powder into decadent hot chocolate, or nibbling on cacao bars. The darker the better and know that the creamy mouthfeel is part of the effect. <3 
Damiana is a flowering shrub native to Mexico and a member of the passionflower family – another herb that works well for enhancing moods, as the name suggests. Damiana works in part on our bodies' endocannabinoid system to help create calmness and overall well-being. This effect is both physical and psychological-emotional for most. It's easy in tea form, added to love potions, or smoked.
Lavender is a plant best known for its scent, and peace-inducing properties. For good reason: The scent of lavender has been shown to increase blood flow to genitals by 40% in men. (For women, it's the scents of cucumber and licorice that improve that specific circulation.)
Scent is perceived by our brain's amygdala and hippocampus – areas of the brain where memories and emotions are stored. Knowing this can allow you to use the pathway wisely, employing lavender or any other fragrance you associate with the mood you'd like to induce. It's also important to remember that when inhaling essential oils —or applying them to skin —we do actually absorb the plant extract into our bloodstream. So, essential oils aren't simply scent-medicine but rather quite similar to eating or drinking the herbs.
Saffron and Panax Ginseng are two very different herbs that share similar aphrodisiac properties. Ginseng is very widely regarded as a sexual-performance enhancing herb, which it achieves in part by improving circulation throughout the body. Imagine greater circulation to the brain, warmer skin, and flushed extremities (which also makes it a great winter-coldness cure). Saffron is also high in iron, which can increase red-blood cell count, oxygenating the blood and also improving circulatory effects.
Maca Root (or "Peruvian ginseng") is a very powerful hormone-balancing adaptogenic herb. Occasional usage can be enough to see increased libido (and energy), whereas regular long term use can significantly affect hormones by working on the endocrine system. Many people also find it quite energizing. This is a beautiful plant, but it should be treated with respect. I don't recommend it in the evening unless you want to be up all night.
Incorporate these and more into your special occasions with the love potion recipe below. Personalize it with herbs of your choice, simmer for 1-24 hours, blend with alcohol (brandy) or honey, and serve.  Savor the process with all of your senses and feel loved.
Love Potion Recipe
a heartwarming brew to conjure affection among others, or for yourself
Ritual: If you like, before beginning the recipe, place all herbs in a bowl, lay your palms over them, and think about why you're making this potion. See the many outcomes that may unfold and feel love for each of them. Set aside a small selection of the herbs and store them in a place that's clearly visible in your daily life.
Ingredients:
Cinnamon: 2 TBSP or a couple of sticks
Vanilla extract: 3 tsp
Raw honey*: 2 cups

The peel of one orange.

Filtered water: About 4 cups

Optional: 2 cups Brandy

Herbs (at least three of these, about 2 TBSP each):

quantities are approximate – feel free to add more of what you love

Cacao nibs or shell
Cardamom pods
Catuaba bark
Cloves
Damiana

Hawthorne berries

Hibiscus flowers:

aside from their fabulous sweet+sour flavor, hibiscus lends the most incredible fuschia color. These are a must!

Mugwort: Beware, some mugwort can become bitter when long-brewed so start with less and work your way up
Rose hips:

Rose hips and rose petals are some of the world's most beloved aphrodisiacs. For some, just the sight of them is enough to invoke a heartwarming experience.

Rose petals

(see advice for mugwort)

Schisandra berries
Skullcap:

An excellent nervine (nervous system tonic) for relaxation of the mind and body

Star Anise
Passionflower
Directions:
Combine all ingredients except for honey into a pot, cover and simmer for about an hour. For a stronger potion, uncover and allow to simmer until reduced by about half.

When as powerful as you'd like, strain out all ingredients and stir in honey until dissolved. Ensure the brew is hot but not boiling when adding honey.

Optional: Add brandy. (The alcohol and honey act as preservatives, allowing your potion to age gracefully.)

Serve or bottle. Store refrigerated.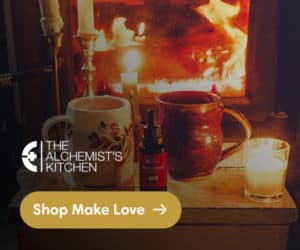 For more, check out The Alchemist's Kitchen's Season of Love Collection of herbal offerings here!