Though Wood Betony (Stachys officinalis) is less common in today's apothecaries, it was one of Old World Europe's most revered herbs. There are colloquialisms about it's value and virtues from a variety of European cultures; from Spain, "He has as many virtues as Betony", Italy, "Sell your coat and buy Betony," and from colonial American herbalist John Sauer,"There is no illness brought by cold in which betony cannot be administered effectively." In Gaelic, Wood Betony is simply called lis bheathag, or "Life Plant."2
Botany & Etymology
Wood Betony is in the Lamiaceae, or Mint family, and thus, has the square stem, alternate leaves, and fine hairs characteristic of many mint family herbs. It is a perennial herb in most temperate zones, growing to heights of 2 or 3 feet. Wood Betony grows lobed, heart shaped leaves in a basal rosette before mid-summer, when the plant sends up a stem with a spike of tubular, purple-red blooms.3 The name "Betony" was first recorded by Pliny the Elder, who claimed the herb was used medicinally by the Vettones, a pre-Roman, possibly Celtic people who dwelled on the Iberian Peninsula. The Latin name Stachys comes from Greek, meaning "an ear of grain," which references the herb's spiked inflorescence.5
Traditional Uses
Wood Betony has been used by many cultures in countless ways across much of Old World Europe. It has been touted as a panacea, a preventative against intoxication, and a magical ally. The species epitaph of "officinalis" means it was traded in commerce, sold in pharmacies, and widely used by early physicians and lay people.4
Origin
Wood Betony is native to the forests of central and southern modern day Europe, as well as western Asia and northern Africa, preferring shady, wooded areas. Though it grows well in temperate parts of North America, it has not been fully naturalized elsewhere in the world.
Herbal History of Wood Betony
Wood Betony has had a long and sordid history of use by human folk! In the Middle Ages, it was the remedy of choice used to exorcise demons. In 23 BC, Antonius Musa, physician to Roman Emperor Caesar Augustus, was the first to record a written account of Wood Betony's 47 uses. The Trotula of Solerno from the 12th century tells of its uses as an emmenagogue, muscle relaxant, and ally to those who menstruate. In early 20th century herbal practice, it was used as an alterative, or blood cleansing tonic, for several afflictions of 'bad blood' like scrofula and rheumatism. Botanist John Gerard wrote in 1597, "[Wood Betony] cures the jaundice, falling sickness, palsy, convulsions, gout, dropsy and head troubles, and that the powder mixed with honey is no less available for all sorts of colds or cough, wheezing, or shortness of breath and consumption."1 Herbalist Maude Grieves acknowledges its historic use as, "the sovereign remedy for all maladies of the head…its properties as a nervine and tonic are still acknowledged."3 Several other sources corroborate that Wood Betony has a particular affinity for relaxing the muscles of the face, neck, shoulders, and upper back, especially if there is accompanying anxiety, nervousness, or mental agitation.
Herbal Indications
Energetically, Wood Betony is neutral to slightly warming and drying with a sweet, pungent, aromatic taste. It is diffusive and astringent as well, with stronger preparations containing a hint of acridity. It is both uplifting and relaxing, indicated in both tense and depressed tissue states.7
Relaxing Nervine
Wood Betony's primary effect is as a tonic herb; appearing to specifically strengthen and tone the nervous system and nerve force, while also soothing associated tension. It's a wonderful remedy for headaches due to tension of the face, neck, and shoulders, helping to relax those many, small muscles. It helps to clear the mind and has been shown to improve memory, cognition, and recall. Wood Betony also reduces hypertension; calms stressed, circular thinking; and stills muscular tremors due to nervous system ailments, like Parkinson's Disease.2
Tonic for Digestion, Detoxification
Similarly, Wood Betony improves the workings of the autonomic nerves in the digestive tract, which strengthens digestive processes like nutrient assimilation and waste elimination. It was often taken in pre-refrigeration days to improve the digestion of meat. As an aromatic, carminative herb, it stimulates the digestive juices and bile production, and reduces bloating, heartburn, gas, and the like. Additionally, Wood Betony strengthens weak gallbladder reflexes and muscles and sphincters of the elimination organs. It is an important supporting and directing herb in any formula intended for maladies of the stomach.7
Coming Back to Embodied Awareness
Herbalist Matthew Wood sums up the invaluable essence of its beneficial effects, "Wood Betony is a remedy which helps establish rootedness, connectedness, earthiness, and groundedness. It is a plant for people who are cut off from the earth or their bodies…By strengthening the solar plexus and helping people to feel grounded, it has an impact on psychological health which helps explain its magical uses."1 Matthew Wood also indicates it for "thin, intellectual types who lack common sense" and people who live up in their heads, but lack a connection to and awareness of their bodies. English empiric doctor William Salmon, wrote of Wood Betony as "incarnative" in the early 16th century, a fitting description for the embodied feelings it promotes.7
Contraindications
There are no known contraindications or warnings for consumption Wood Betony. As always, it's very important to source herbs from reputable distributors or unpolluted spaces. As with any herb or supplement, consult an informed herbalist and primary healthcare practitioner before use.
Practical Applications of Wood Betony
We harvest the aerial parts (leaves, flowers, and stem) of Wood Betony for herbal medicine. It's recommended to harvest wild plants, dry of rain or dew, which are just about to flower or are in full flower, usually around mid-summer or about July.6 While it may be employed in many different forms by the skillful herbalist, the following preparation suggestions are the most widely used and accessible to obtain.
Wood Betony Tea
It has a slightly sweet, pleasant taste, somewhat reminiscent of black tea, and blends nicely with other herbs. To make a tea, infuse one tablespoon of dried herb to 8 oz of just-boiled water; steep covered for about 15 minutes, strain, and drink 2-3 servings per day. One may use the leftover tea leaves topically, as a poultice, for burns, stings, or sore muscles.
Wood Betony Tincture
It can be made or purchased; I recommend using the dried leaf to do so, especially if you are not using alcohol as a menstruum. Tinctures are usually an alcohol (80 proof vodka, grain alcohol, or other clear booze) extraction of a plant, however, vegetable glycerine or apple cider vinegar can be used in place of alcohol. To prepare a tincture, pour menstruum of choice over dried (1:5 herb to liquid ratio), keep in a sealed, glass container for at least 6 weeks, shaking every day, then straining. Consult an informed herbalist for dosage recommendations, as it depends on the ailment.
Magical Uses
As well as practical applications, Wood Betony has many additional magical properties. The Anglo Saxon Herbal recommends drinking an infusion to prevent "frightful nocturnal goblins and terrible sights and dreams." The Welsh made charms of it to protect against demons and bad dreams, and there was a saying that wherever it was grown around a home would protect its inhabitants from witchcraft, "The house where Herba Betonica is sowne, is free from all mischeefes."2 The Roman physician Antonius Musa claimed that carrying Wood Betony would protect a person against sorcery, and it was planted in churchyards across Europe to prevent hauntings and ghosts. Consider making a similar amulet or wearing a sachet of Wood Betony to strengthen your boundaries and protect yourself against negative forces!
Sourcing Wood Betony
It can grow abundantly from mid to late summer. See if you can find some growing in your garden, or on the wooded borders of local, organic farms. If you can't find it growing near you, or if it isn't in season, it's best to enjoy herbal preparations made with this herb. These can be ordered from reputable sources on the internet or, ideally, purchased from small, local makers and businesses, like a neighborhood herb store or health food co-op. Carefully selected, small-batch herbal products with Wood Betony can be found at The Alchemist's Kitchen. My favorites are this Moon Cycle Support Tincture and this Pure Organic Ginger Extract, both by Cattail Apothecary.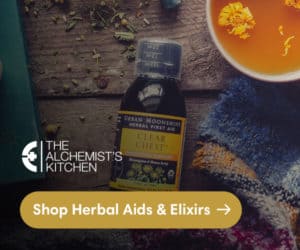 Sources