You probably know that the steps toward cannabis legalization began with legalized medical use in the 1990s. What you might not be aware of is the role that treating intractable childhood epilepsy played in federally legalizing CBD.
At a Southern California cannabis conference a few years back, I was surprised by one specific contingent of advocates and entrepreneurs. Parents of children living with illnesses for which CBD was an emerging treatment showed up in big numbers. These illnesses primarily included autism spectrum and seizure disorders. A state representative from Utah was so moved by the shared efforts and anecdotes that he spoke—somewhat reluctantly—about coming around to the possibility of getting medical use legalized in the state (it was a couple years later via a House Bill passed in 2018).
Around this same time, traditionally conservative states like Florida, North Dakota, Ohio, Arkansas, and Pennsylvania, to name a few, passed measures instituting some form of permissible use of cannabis for qualifying medical reasons. It's impossible to overstate the role of parent advocacy in expanding medicinal cannabis.
We've talked briefly about the role of CBD in treating drug-resistant seizure disorders in our CBD 101 and CBD + CBG posts. Here we'll delve deeper into why it's so effective, the evolution of high CBD strains targeted for this use, and the personal stories that fueled the legislative changes which made CBD more available and improved quality of life for patients and their families.
Research on CBD for Epilepsy
The impetus to current research into the impact of CBD on epilepsy was the grassroots use of cannabis products, especially CBD extracts, to manage symptoms in children. The abundance of anecdotal support for CBD as successful in reducing the frequency of seizures catalyzed research demonstrating that CBD is a viable anti-epileptic.
CBD is more efficacious than placebos in reducing the number of seizures in patients with Dravet syndrome and Lennox-Gastaut syndrome, two rare forms of epilepsy beginning in childhood.
In addition to its anti-seizure properties, CBD is neuroprotective thanks to an abundance of antioxidants and anti-inflammatories. A 2019 study positively indicates CBD in cases of severe epilepsy that are resistant to conventional medications.
Recent Study on THC and CBD
Because the epilepsy patients fueling the research were minors, experiments featured CBD dominant strains with only trace amounts of THC. That said, THC is less suitable to this application because of its adverse side affects. It's easy to overdo it with THC, and some patients dislike the psychoactive element. CBD, however, is widely accepted to carry few unwanted effects because it isn't psychoactive, and its anticonvulsant profile organically lends it to the treatment of epilepsy.
Can Cannabis help with Epilepsy?
Yes. The first cannabis strain used to treat epilepsy was a hemp strain high in CBD (about 22%) with negligible THC. For this reason, it was (half-) jokingly referred to as "Hippie's Disappointment," until it found an historic new home in the cannabis landscape.
Charlotte's Web
The Real Life Charlotte
Hippie's Disappointment got a serious makeover when repurposed as Charlotte's Web. The new title invoked both the popular children's novel by E. B. White and a real-life eponymous heroine.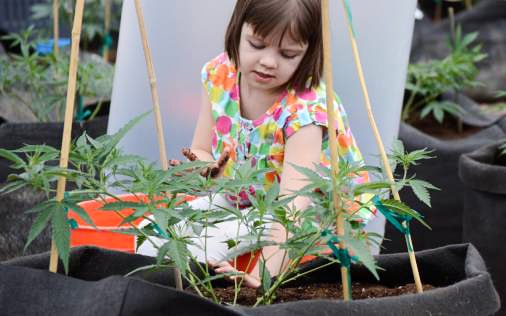 Charlotte Figi experienced her first seizure at three months old, and doctors subsequently diagnosed her with Dravet syndrome. Paige Figi, Charlotte's mother, hit the books—hard—and discovered that CBD oil had shown promising anti-epileptic properties. Traditional medication wasn't helping, and Charlotte's seizures were severe enough to land her in hospice at age five.
The Stanley Brothers
Paige connected to a family grow operation run by the Stanley Brothers in her home state of Colorado. Their high CBD strain didn't draw much of a crowd in the marketplace. Without THC's psychoactive good time that many CO consumers enjoyed as an added benefit to, or an intrinsic part of, their medical cannabis, the strain was hard to unload. Charlotte began taking CBD oil medicinally, and the effects were remarkable enough to vindicate the strain.
Charlotte's seizures reduced from an inconceivable 300 per week to only two to three per month. As a result, she was able to regain mobility and motor function. This was big news, and Charlotte and her family became perhaps the best known advocates for CBD as an indispensable treatment for seizure disorders. Charlotte's significant improvement promoted acceptance of medical use all the way until CBD was federally legalized in late 2018.
Outcomes of CW
Charlotte's case and advocacy from parents like Paige produced a tidal wave of expansions across the U.S. New legislation made room for CBD in treatment resistant disorders including debilitating forms of autism spectrum disorders, Dravet and Lennox-Gastaut syndromes, and other illnesses. When Florida introduced a measure to limit prosecution of those in possession of high CBD/low THC strains, accommodating medicinal CBD use, the bill was also known as the Charlotte's Web law.
Unfortunately, Charlotte Figi died in April 2020 at age 13. Her parents reported the cause of death was likely complications due to Covid-19, which they believed multiple family members contracted.
Other treatments for Epilepsy
Pharmaceuticals dominate this landscape. That said, there are a handful of plant allies which may be useful in relieving symptoms caused by seizure disorders. In the herbal realm, plants with antispasmodic properties are available for management of symptoms like spasms and cramps. Different classifications of herbs, such as nerviness, sedatives, and hypnotics are ripe for experimentation here.
Chamomile already has a reputation to soothe. Did you know it earned its stripes in part because it's a muscle relaxant? This feature makes it useful in minimizing pain due to spasms and contractions. It also shares a feature of whole-plant CBD medicine, which is an abundance of flavonoids, a class of chemicals found in plants with a high number of antispasmodic compounds.
Crampbark, an important ally before and during menstruation, can also work herbal magic on, you guessed it, cramps. It acts on the circulatory, muscular-skeletal, and digestive systems. It can help alleviate even severe cramps (including but not limited to the menstrual variety).
Kava Kava is a friend to the muscular-skeletal system, the nervous system, and the digestive system. It also inducies a generalized feeling of wellbeing. Don't sleep on Kava Kava's ability to alleviate anxiety and stress.
Black Haw is another herbal spasmolytic which may be of use. Folks seeking to reduce tension and spasms might find it a useful tool.