Menopause is a natural part of life, but it can be overwhelming and confusing for many women. While every woman's experience of menopause is different, there are certain things that all women should do to ensure they are taking care of their physical, mental, and emotional health during this transition. Together we'll discuss five things that every woman should do during menopause to help them navigate the ups and downs of this period of their life.
What is Menopause?
Menopause can be a confusing and uncomfortable experience for many women, so we at The Alchemist's Kitchen are here to offer some clarity and comfort on the matter.
Menopause is the time in a woman's life when her menstrual cycles stop, and she can no longer become pregnant. Generally, this occurs between the ages of 45 and 55. Although, for some women, this can happen earlier. During this time, hormone levels such as estrogen and progesterone decrease dramatically, resulting in various changes to a woman's body.
These changes can cause uncomfortable symptoms, including hot flashes, night sweats, fatigue, insomnia, weight gain, decreased sex drive, vaginal dryness, and irregular periods. As these can cause disruption to daily life, many women choose to take hormone replacement therapy (HRT) to alleviate the severity of their symptoms.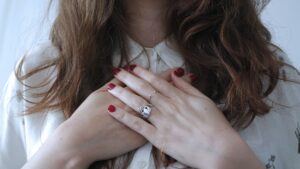 On a brighter note, the decrease in hormone levels can bring with it some positive changes. These changes are a lower risk of osteoporosis and cancer, improved skin tone and less facial hair, reduced stress, and more excellent psychological stability. It is essential to focus on these potential benefits and remember that menopause is a normal part of a woman's life.
Menopause is something every woman will go through in her lifetime and understanding what it is, and its effects can be the first step to navigating it gracefully and in good health.
5 Things Every Woman Should Do During Menopause
Get Physical in Nature
Let's get physical, literally! With the daily life's hustle and bustle, menopause can be a particularly challenging transition for many women. But what if there were a simple way to keep the symptoms of menopause in check without spending tons of money on supplements or expensive treatments?
That's where physical activity comes in. Recent studies have found that exercising, even just for 30 minutes a day, can significantly reduce the symptoms of menopause.
Of course, this doesn't mean that all you need to do is hit the gym or run. Studies have found that outdoor physical activity, such as hiking, biking, or walking, is more effective than indoor activities in reducing menopause symptoms. The great outdoors has many additional benefits that can be found, including the natural production of endorphins and being surrounded by nature, which can be both calming and uplifting.
Know Which Herbs Can Help 
There are plenty of unwanted side effects that come with menopause. Thankfully, there are a variety of natural herbs that can help. From Chinese Skullcap, Black Cohosh, and Licorice Root, incorporating these natural herbs into your lifestyle can offer powerful relief.
Chinese Skullcap has traditionally been used to reduce anxiety and support a healthy balance of hormones. Rich in antioxidants, it has anti-inflammatory properties that may relieve some menopause-related issues. Additionally, the Chinese Skullcap has been used to address joint and muscle aches, night sweats, and hot flashes. 
Black Cohosh is a powerful herb traditionally used to relieve hot flashes and night sweats. This herb is especially helpful for those dealing with sudden changes in temperature and anxiety, and tension. Studies have shown that Black Cohosh may relieve irritability, depression, headaches, and menstrual cramps associated with menopause.
Lastly, Licorice Root has traditionally been used to ease a range of menopausal symptoms, including fatigue, irregular cycles, headaches, and cramping. Additionally, it can reduce bloating and inflammation while boosting the immune system and helping maintain healthy cortisol levels.
If you want some awesome products with similar herbal effects, check out the Schisandra and Rose Mind, Body & Soul Tonic, and the Joy Elixir!

Invite Joy and Happiness
It's time to start prioritizing your mental and physical health. A healthy and balanced lifestyle is key to optimizing your body and mind. Try to get a good night's sleep and add plenty of healthy and nutritious food to your diet. Taking up activities such as yoga, pilates, and swimming can benefit your mental and physical well-being, so make sure to add some of these into your routine.
Staying connected with family and friends can help alleviate feelings of isolation and stress, so reach out to them for social support and connection. Building meaningful relationships is essential to feeling content and secure in life.
Being intentional with how you spend your time and money is also essential in maintaining a positive outlook in life. Shopping mindfully can help you enjoy more of the things that bring you joy, such as fresh flowers, nice pieces of clothing, or even beautiful stationery and art supplies. Invest in memorable experiences you'll truly treasure, such as a weekend away or tickets to a play or a concert.
Most of all, practice mindfulness and self-care. Tune in to how your body and mind feel, give yourself space to accept where you're at and try to stay open-minded to new possibilities and opportunities. Taking a step back from life can be just what you need to make it easier to see what really matters and enjoy life despite the transition.
Combine Mindfulness with Sustenance
It's time to try mindful cooking. Mindful cooking involves focusing on the task of preparing food and choosing recipes that promote your physical and emotional well-being. Here are some tips to help you get started.
First and foremost, prioritize your meal planning. It's important to remember that you are doing this for your health and well-being, so don't let anyone else influence what you decide to cook. Planning will help reduce stress and ensure you always have healthy and tasty options.
When you're selecting recipes to make, try to choose meals that contain lots of fresh produce, lean proteins, and healthy fats. 
When it comes time to cook, take a moment to be present with what you're doing. Let go of any expectations that the end product has to be perfect and instead focus on being creative and having fun with the process. This is an excellent opportunity to be mindful and appreciates the therapeutic value of preparing a meal for yourself.
Finally, if possible, make sure to involve others in your mindful cooking. Eating a meal with family or friends can make it more enjoyable, and the company can provide much-needed emotional support during this transitional time in your life.
By incorporating these tips into your life, mindful cooking can be a powerful tool to help ease the transition of menopause. So take the time to prioritize meal planning, select nutritious ingredients, be mindful while cooking, and involve your loved ones. All these small steps will have a significant impact on your overall well-being.

Create Sleep Rituals
Menopause brings about many changes in women, including hormonal and physiological ones that lead to menopausal sleep problems. Poor sleep during menopause can leave you feeling exhausted and moody, making it more difficult to carry out everyday tasks and even leading to more serious health conditions. To get back on track, establishing sleep rituals is a great way to prepare your mind and body for a good night's rest.
One of the best ways to develop good sleep habits is to practice a relaxing evening routine. Begin by turning off screens and setting aside technology an hour before you plan to sleep. Dim the lights and enjoy a cup of tea, a warm bath, or light yoga practice. As your body winds down, turn to something that nourishes you mentally, like a guided meditation or journaling practice. Writing your thoughts down in a journal or to-do list can help clear your mind, making it easier to drift off.
Once in bed, ensure your bedroom is set up to maximize restful sleep. Avoid napping in the evening, maintain a consistent temperature, block out noise and light, and choose breathable and comfortable sheets. Finally, you should limit your time in bed to eight hours and aim to go to sleep and wake up at the exact times each day.
Remember, as difficult as it can be to make lifestyle changes; it is well worth the effort to develop healthier sleep habits. So start small and tweak as you go until you find the combination that works for you. Your body will thank you for it!