Welcome to Coven Affairs, a weekly recap of all events occurring within The Alchemist's Kitchen's space! Discover all the trade secrets and moments you missed out on and more below.
Sea Moss Girlies
On Saturday, November 13th, The Alchemist's Kitchen hosted: Ruby & The Sea Moss Girlies Present: A Live Recording of What the F*ck is Sea Moss? Despite the first hail storm of the winter season, the event was sold out, with an attentive audience assembled around our Elixir Bar to listen to the first-ever live recording from The Sea Moss Girlies. 
WTF is Sea Moss Podcast started only a year ago between best friends Kate Glavan and Emma Roepke. They've quickly built a passionate following on their health/wellness meme page on Instagram and an impressive TikTok presence with the promise to lead their fans through the 'wild world of wellness', exploring topics such as supplements, fitness routines, skincare, dating in NYC, and of course, answering the question: "WTF is Sea Moss?".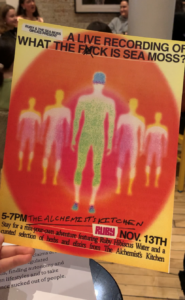 The event was sponsored by Ruby, organic hibiscus water, with free samples of their refreshing zero sugar, zero calories infused water. The Alchemist's Kitchen carries Ruby in both our grab-and-go case at 119 Crosby and our Elixir Bar. The highlight of the night was our exclusive Sea Moss Mocktail, crafted by Alchemist's Vice President Ezza Valdez using Ruby as her base and adding fresh sea moss. The mocktail was such a success that we will be adding it to our Elixir Bar menu, in honor of The Sea Moss Girlies. 
If you missed the live recording, you can catch the full conversation, Episode 54: Live from New York… it's the Sea Moss Girlies on Spotify, Apple, or anywhere you get your podcasts. Then as you listen in your headphones to the Sea Moss Girlies answer their audiences' burning wellness questions, head on over to The Alchemist's Kitchen, order the Sea Moss Mocktail, and it'll be like you were right there with us!  
Barefoot Botanicals
Before The Sea Moss Girlies, in the afternoon, we hosted a pop-up with Barefoot Botanicals: a certified organic farm crafting herbal extracts, syrups, and hydrosols. Founder and farmer, Eric Vander Hyde, drove two hours from his farm in Doylestown, Pennsylvania to host an afternoon of refreshing samplings.  Their spectacular spread of product brightened our Elixir Bar on the rainy Saturday afternoon. 
They served two different mixes: Hemp Tulsi Basil Fall Apple Cider and Grapefruit Juice and Rose Geranium Simple Syrup Mocktail. In case you missed it, Barefoot Botanicals is used in a few of our menu items at our Elixir Bar, such as the Fleur de Lattes, and we also sell their 8 oz syrups, including Rose Geranium, Hemp Tea, Lemongrass, and Lavender for $22. 

Cacao Labs and Ceremonial Cacao
On Tuesday, November 16th, The Alchemist's Kitchen celebrated around a Ceremonial Cacao Circle. Florencia Fridman, a self-empowerment artist, arrived early to set up her altar: a spread of flowers and candles illuminating the quick dark of the fall night. As guests arrived, she sang in hushed tones playing gently on her various instruments. Once checked in, guests' energy was cleansed from head to toe with ethically sourced Palo Santo – creating a portal from the outside world to the ceremony and separating the buzzing streets of NYC from the within.
Florencia gathered her guests in a circle and began the ceremony by asking everyone what they were bringing to the circle: guests responded "gratitude" "curiosity" "vulnerability" and "explosive sadness". We served the sacred cacao and dimmed the lights, what came next was both concert and meditation, relaxing and uplifting, existing in the space between. The guests stayed after to digest the ceremony, enjoying the Elixir Bar and the circle of community created. 
Florencia is also the co-founder of  Cacao Lab, a Ceremonial Cacao brand aiming to bridge the gap between modern culture and indigenous communities. We hope to have Florencia back on a more regular basis to lead the ceremony and her Cacao Lab chocolates are available for purchase in both our retail space and Elixir bar. 

Warmicita Herbals
Katya, the founder of Warmicita Herbals, is an herbalist and plant lover. You feel her love of plants and nature as she speaks. The community she brought into the space Thursday evening, November 18th, is devoted to her work in the herbal community, arriving early to greet Katya and sip on our herbal elixirs. She opened with a discussion on plant gratitude. She spoke on recovering from trauma, using it to make us stronger, and using gratitude to do so. She began the meditation by sharing drops of Gentian, an essential oil used to calm the nervous system. Together we followed Katya's guided meditation and after came together in a meditative state to make a warming and energizing herbal blend of golden carminative plants and spices to be shared with friends and family over the holidays. Katya created the perfect event to ring in the Thanksgiving week ahead.