April brought many inspiring makers and teachers to The Alchemist's Kitchen! Let's dive into the amazing events that occurred over the past month with our April Highlights!
4/11 Jane McLelland and "How to Starve Cancer"
We were honored to welcome author Jane McLelland to celebrate her book "How to Starve Cancer". In this truly groundbreaking book, Jane takes us through her remarkable journey to recovery and the medical discoveries she made along the way. Jane discussed her journey after being diagnosed with terminal cancer in the prime of her life, and with no viable treatment options, and ultimately working to cure herself. Guests left with a gift bag featuring Medicinal Mushroom Company's Harmony Tincture and a signed copy of How to Starve Cancer.

4/16 Open Mic and Drink Tastings
With the Elixir Bar's late-night menu being available until 9 PM Friday and Saturday, we are launching more FREE events to bring together our Soho community. We gathered under the Pink Full Moon for an evening of poetry and prose. During the full moon in Libra, our desires for harmony and balance are stimulated, while the sense of beauty, refinement, and aesthetics increases. Libras are highly artistic worshippers of beauty, finding poetry in even their mundane surroundings. After a lineup of readers hosted by author Samantha Kirby, the last 30 minutes were an open mic. We'd love to have you sip state-changing elixirs and share your creativity at our next gathering!
4/20 CBD Showdown
To celebrate the marijuana holiday 4/20, The Alchemist's Kitchen and Bowery Cannabis Club hosted a celebration of all things cannabis. We had CBD-infused lemonade, edible treats by The Happy Chef NYC, and live jazz set to bring the good vibrations. Guests left with a CBD-inspired gift bag of Alchemist's products. Thank you to all those who attended, danced, and blazed with us!

4/22 An Earth Day Extravaganza
The Alchemist's Kitchen took a field trip to Prospect Park to celebrate Earth Day. Author and herbalist, Vanessa Chakour led us through the urban wilds to meet local medicinal plants such as mugwort, dandelion, and clover. Together we explored the many ways to work with each herb as medicine for the mind, body, and spirit. The plant walk culminated in a picnic with our elixir bar drinks and sweets. Vanessa will be back with us for a 5-week virtual book club, Awakening Artemis beginning at the end of June. Reserve your space now! 
4/23 DRĖĖĖMY and Ceremonial Sound Healing
Sound artist Reem Abdou, also known as DRĖĖĖMY, brought incredible rose energy into our Elixir Bar on an early Sunday morning with her Ceremonial Dance & Sound Healing. We began with a guided meditation, awakening to the world around us, and receiving the blessings of the rose flower energy. We then got up on our feet for an ecstatic dance session, raising our vibration and deepening our relation to self, to others, and to our Earth. Guests stayed after as we opened our café for rose tea and to enjoy the community that was created. We hope to have Reem back for a monthly summer series and we invite you to dance with us soon!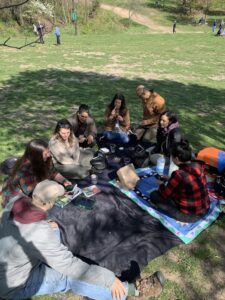 —
Thank you to every member of our community for giving us these April Highlights. It is such a gift to be able to gather together and we hope to welcome you back to our Elixir Bar very soon! Join us every Saturday and Sunday afternoons in May for tarot readings or check out our incredible lineup of events HERE.
April showers bring May flowers and we can't wait to spring into upcoming events in-person and online!