The strong and mighty ginger stands as a pillar of natural medicine throughout centuries. From fighting nausea to aiding in digestion, ginger is a powerful plant that promises results. In the same plant family as ginger sits turmeric, a root that aids with inflammation and controlling pain. Alone, these plants contain dozens of benefits, but together their combined anti-inflammatory and immunity-boosting prowess doubles in strength.
The History and Uses of Ginger
 Ginger is a cultivated plant from Southeast Asia. India and China were and continue to be two of the leading countries that farm and produce ginger. Mats weaved from ginger leaves and stems were sturdy and floral. Fishermen and sailors often blessed ships with an offering of ginger for safe journies. Confucius' texts are the first known mention of ginger, in which he states that he would eat ginger with every meal. 
Ginger's herbal prowess comes from its natural oils, in particular, an oil called gingerol. Gingerol is a massive component of ginger's anti-inflammatory and antioxidant properties. Beyond that, ginger as a whole is said to soothe nausea, supposedly help with weight loss, aid osteoarthritis, and lower cholesterol. There are countless other health benefits ginger possesses, all while being a delicious and favored spice by many.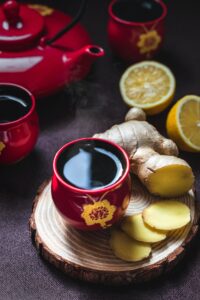 The History and Uses of Turmeric
Turmeric has existed within Asian cultures for centuries, Ayurveda, Unani, traditional Chinese herbal medicines, and other cultures and practices have found a use for this "Golden Herb", as they called it. Turmeric was also used to dye fabrics a vivid yellow that still permeates many Southeast Asian cultures to this day. Turmeric's peppery, earthy flavor, and bright color make it a popular herb to use for curry dishes.
Turmeric's health benefits is it's main focal point at the end of the day. As it comes from the ginger family, it shares various health benefits, such as anti-inflammatory properties and pain relief. The chemical Curcumin is active within turmeric, allowing it to fight inflammation, especially in osteoarthritis cases. Turmeric is a superfood that promises to also help with itchiness, hay fever, liver disease, and depression.
Ginger and Turmeric: Familial Combinations
Both turmeric and ginger are a part of the Zingiberaceae or ginger family. This collection of flowering plants all feature certain attributes, and for turmeric and ginger, those are it's usable rhizome. The rhizome is a stem that grows deep into the ground and shoots off like roots, forming what we know as the ginger root though it is, in actuality, a plant stem and not the average root you would find with other flowering plants. These rhizomes possess all that anti-inflammatory and immunity-boosting goodness that many uses in herbal remedies and cooking. 
Together, ginger's gingerol and turmeric's curcumin combine into a powerful anti-inflammatory effect that actively helps to decrease pain and start building up your immune system. Nausea stands no chance for the stomach-settling prowess that both of these herbs possess. Simply put, combining turmeric and ginger together brings out the best qualities of both herbs. Taking your tea with turmeric and ginger will brighten your day. Cooking curry with ginger and turmeric will stimulate all your senses but help to keep you healthy and happy longer. 

Together at Last
There are countless options on how to take turmeric and ginger. Both are spices used in various southeast Asian dishes. Ginger and turmeric can also be made into teas and drinks for a stronger effect. There are supplements, tonics, and extracts available for both turmeric and ginger. Plant Alchemy's Full Spectrum Ginger and Turmeric Capsules is a fabulous herbal blend that adds even more herbal allies like black pepper and ashwagandha root to give you even more bang for your buck. 
Ginger and turmeric continue to stand as a testament to natural medicine. With their powers combined, even the most herbally illiterate may feel the true energy and health benefits of nature's bounty.