Rose Quartz is a pink variety of Quartz that is popularly used for heart-related matters. Its pink color comes from the microscopic borosilicate mineral fibers of Dumortierite. Its Moh's hardness scaling is 7, and it generally forms in anhedral shapes. As Rose Quartz grows in Anhedral shapes, it will not have plane faces and apex terminations like a Clear Quartz or Citrine crystal would. Rose Quartz is mined worldwide and is commonly available to consumers as a rough specimen, carved shapes, and jewelry. 
Origin
Rose Quartz has been revered since 7000 BC in ancient Mesopotamia. It is speculated that the Assyrians, Egyptians, and Romans were amongst the first civilizations to craft jewelry with Rose Quartz. Amongst the ancient civilizations, Rose Quartz was known as a talisman of love, youth, and vitality. Rose Quartz was associated with the Egyptian fertility goddess, Isis. Egyptians believed the power of Rose Quartz could bestow Isis' anti-aging powers. In modern times, Rose Quartz is associated with the planet of love, Venus. Throughout history, Rose Quartz has been utilized as a talisman representation of the Divine Mother. 
Appearance 
Rose Quartz is typically a translucent shade of pink. Certain varieties of Rose Quartz will display Asterism in their cut. Asterism in gemstones refers to a reflection of light in the shape of a star within the stone. Asteristic Rose Quartz is considered a higher quality akin to Star Ruby and Star Sapphire stones. Tumbled and rough Rose Quartz are the most commonly found specimens. It is also common to find Rose Quartz carved into heart shapes to facilitate symbolic love. Rose Quartz may be found embedded into pet bowls to facilitate loving vibrations combining with the pet food and drink. 

Properties/Meaning 
Rose Quartz metaphysically functions to heal the Heart Chakra which overlays the Heart organ in the human Chakra system. It relates to the Water (emotional) element. The Heart Chakra is connected to emotional well-being, zest for life, and the love vibration. Rose Quartz can help users feel a renewed sense of self-love, familial love, romantic love, and inner joy.
Holding a piece of Rose Quartz while dealing with mundane life chores can help bring about a sense of appreciation for the present moment. It helps to relieve stress and anxiety. Rose Quartz can also help introverts come out of their shell. The best way to experience Rose Quartz's energy is to keep it on your body throughout the day, or lay down with it centered on your chest during meditation. Meditating with Rose Quartz can help a person identify hidden sources of love in their life, and heal the inner child. Rose Quartz is often gifted between lovers to fortify their relationship. 
Common Uses 
Triple Chakra Combination
One of the best Rose Quartz crystal combinations involves combining it with Lapis Lazuli and Tiger's Eye. Rose Quartz will facilitate the Heart Chakra opening, Lapis Lazuli will help open the Throat Chakra, and Tiger's Eye will help activate the Solar Plexus Chakra. These 3 Chakras together will help a person find their sense of self-love, inner confidence, physical vitality, interpersonal communication, and playful creativity. This is one of the best combinations to help artists overcome a creative block, and for introverts to become more social at their own pace. This combination is beneficial for students who are nervous about delivering a classroom presentation. 
Uplifting Heart Chakra Spray
Combine Rose Quartz with Rose petals in water and have them sit together under Sunlight and Moonlight to gather energy. Once the charging is complete, move the water to a sprayer bottle to create an uplifting energetic spray. This spray can be used to purify spaces and to remove stagnant energy. Use the spray on days when your life can use a little more cheer and Heart Chakra energy. This spray makes for a great alternative to burning White Sage or Palo Santo.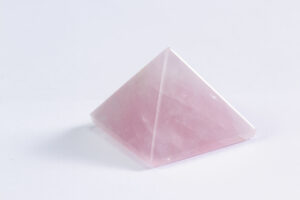 How to Choose Your Rose Quartz
Setting an Intention 
When buying a Rose Quartz it is best to ask yourself what the intention of the stone's energies will be directed toward. Are you looking for more romance in your life? Are you in need of enhanced familial love? When buying Rose Quartz for individual use, it is best to visualize what aspect of your life would benefit from more love. The best way to utilize a Rose Quartz's energies is to put it in a breast pocket throughout the day. This position will allow the crystal to overlay the Heart Chakra for optimal results. 
A pocket stone makes for a wonderful daily ally. A larger specimen can be used to adorn desks with loving vibrations. Tumbled specimens are best suited for pocket travel. Rough specimens are ideal for grids and tables as they are more fragile and may be easily chipped. 
When gift shopping for Rose Quartz, simply close your eyes and ask the stones which one would be best for the person in mind. If possible, envision the gift recipient enjoying their stone with a loving smile while browsing. This visualization will help facilitate choosing the ideal Rose Quartz gift for your recipient. 
Rose Quartz is fantastic to grid around office workspaces to facilitate a higher sense of purpose for the business beyond mundane matters. Rose Quartz in the workplace may also facilitate a stronger sense of community amongst coworkers.
Where to Buy 
Rose Quartz is available across many metaphysical shops, jewelry stores, geology museums, and rock shows. It is commonly featured in jewelry and carved into elaborate shapes. Rose Quartz necklaces can help facilitate heart opening as they will be directly above the Heart Chakra. Pyramids carved from Rose Quartz can be used as a grid centerpiece to enhance the loving intention of a crystal grid. Rose Quartz spheres can be used to evenly spread the loving vibration within a space.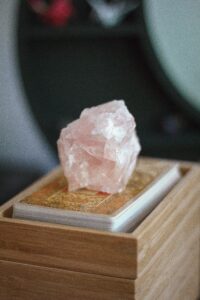 FAQ
How to cleanse 
It is safe to cleanse Rose Quartz in water, sunlight, moonlight, White Sage, and Palo Santo. Do not leave Rose Quartz exposed to powerful sunlight for prolonged periods of time as the pink hue may become diluted due to UV overexposure. Selenite wands and Clear Quartz clusters can also be utilized to cleanse and charge Rose Quartz specimens. 
Additional Reading:
Rose Quartz Throughout History

Rose Quartz Geological Mineral Data