Have you ever stumbled upon a circular ring of mushrooms and wondered what sort of magic could afoot? As traditional folklore tells one side of the tale, science tells us another. However, both weave into a mystical mycelial storybook that reads as an essential chapter to a fascinating mushroom phenomenon known as fairy rings.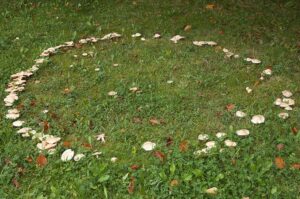 Let's start with science's story. Simply put, a fairy ring is a naturally occurring circular ring of mushrooms, typically found on grass lawns or on the forest floor. These fruiting body circles are the result of a particular pattern of mycelium growth that forms in a circular fashion underneath the ground. Fairy rings appear in two different classifications: free or tethered. Free fairy rings sprout saprotroph mushrooms that are usually found on fields, lawns, or meadows, while tethered fairy rings consist of mycorrhizal fungus that sprouts up in the forest, usually with one or more trees in the center.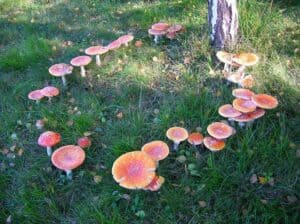 A fairy rings' life cycle begins when hyphae, a subterranean network of tubular threads, that grow in multiple directions and do not develop inwards or cross over one another because there is no new food inside of their underground ring. Mushrooms then begin to sprout up from the ground, mimicking the similar pattern of their mycelial roots. Fairy rings disappear once the ring's underground segments die out, and although we only notice the fruiting body of the mushrooms, the circular mycelium underground will always continue growing, resulting in a network that can be thousands of feet wide and hundreds of years old. Interestingly, one of the oldest and longest rings ever was found in France, suspected to be about 2,000 feet wide and over 700 years old!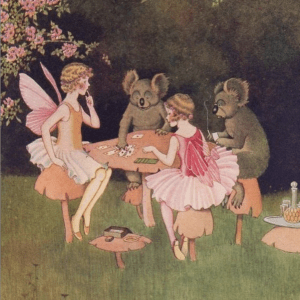 In ancient folklore, the appearance of mushroom rings were magical signs. In particular, traditional European cultures have their own lore about fairy rings, but almost all the myths involve fairies or supernatural creatures either dancing around the ring or have the ring serving as a portal between the fairy realm and the human world. It was also believed that the circles were formed by shooting stars, lightning strikes, or witches.
In Scotland, the rings were believed to be the work of fairies, using the mushrooms as tables for their celebrations, whereas in Germany, they called them "witches rings", which were said to be most active on the eve of Walpurgisnacht, a time when witches celebrated the arrival of spring.
In Wales, it was and is still believed, that these mushrooms were picked by fairy folk and used as parasols or umbrellas, as well as would signify the existence of an underground fairy village. Welsh folklore states that mushroom rings would bring fertility and fortune and that livestock feeding near them would flourish.
In English, Scandinavian and Celtic lore, the rings were believed to be where the fae would come to dance and frolic after a rainstorm. However, tradition also states that humans who were not worthy, but still engage with a fairy mushroom ring may find themselves asleep for a hundred years, or worse yet, whisked off to the land of the wee folk, never to return.
In comparison, Dutch legends say that the barren center of the ring was caused by the devil placing his milk-churn there, and no one should ever step foot in such an area. In Austria, tradition holds that the rings were caused by flying dragons who blighted the area.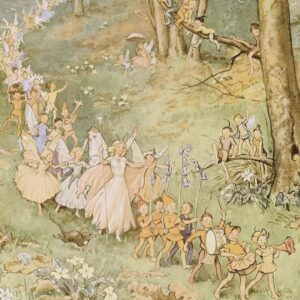 The folkloric stories surrounding fairy rings are vast and symbolic for many cultures throughout history. However, these mushroom circles have also sprouted out in literature and art throughout the centuries. Fairy rings can be found depicted in old Victorian paintings by such renowned artists as William Holms Sullivan, Richard Dadd, and Daniel Maclise. One of the most inspiring pieces of art that fairy rings have been referenced in history is by William Shakespeare in some of his most famous works. He alludes to them in A Midsummer Night's Dream, in which a fairy describes her duty to wander through parks, briers, floods, fires, hills, and dales and make nature look beautiful (including the creation of mushroom rings) for the fairy queen. 
"…And I serve the fairy queen
To dew her orbs upon the green.." 
The fairy queen later references her fae duties, describing them as:
"..To dance our ringlets to the whistling wind…"
In addition, Shakespeare writes of fairy rings in one of his most famous monologues in The Tempest. Here, Prospero invokes the various spirits who have aided him, describing the many incredible feats he has accomplished with his magic before renouncing his powers.
"…You demi-puppets that
By moonshine do the green sour ringlets make,
Whereof the ewe not bites, and you whose pastime
Is to make midnight mushrooms, that rejoice
To hear the solemn curfew…"