Emerald Rose Whipple is a visual artist based in New York City. Her painterly style stokes emotions of nostalgia, youth, and mundane magic. An artist's eye is said to catch beauty in even the most unlikely places, and Emerald is an ideal example of this act in motion.
With a mix of social media-type imagery and impressionist flares, Emerald's work stands out as examples of companionship, childhood, and growth through the years. I was lucky enough to have a chat with her and be invited to her gallery.
Who are you? What's your background, inspirations, etc.?
My name is Emerald Rose Whipple, I am a painter based in New York.
I was born in California but grew up in the north shore of Kauai. I pull a lot of inspiration from my personal history. Hawaii remains an inspiration appreciation for nature and the spiritual undertones that permeate my work. My mom (a goldsmith) nurtured my creative and spiritual voice. There were crystals and gemstones everywhere, all the time. She had a very magical way about her.
I moved to New York on a painting scholarship to Pratt, but per my parents' recommendation changed my major to Fashion Design. I worked in the industry for several years but felt creatively unfulfilled and started painting again.
My work parallels both my time in fashion and my upbringing on the west coast.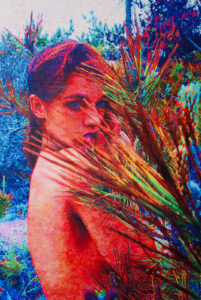 How would you describe your work to someone who has never seen it?
I create a mix of landscape and figurative paintings from snapshot photos executed in a mix of pointillist and Impressionist styles.
A while back Sarah Moroz of i-D Magazine said my 'paintings are like a street style blog by Monet' and I still love that. I feel like it captures the influence of social media on my lens, juxtaposed by these older painting periods.
What do you aim to say with your work? Pick a favorite piece/collection to dissect if you like!
Each body of work has its own influence. I explore various ideas shared between philosophy and religion. I'm searching for what's real, a common truth between all beliefs. The figures and the landscapes act as symbols for these ideas. One of my favorite bodies of work Titled Phædo explores the concept of reincarnation and the transmigration of the soul. It is very personal work, coming to terms with grief and human mortality. It felt more serious than previous paintings, but there was still a lightness to it. A celebration of life.
How do you create your art? What are your processes and usual vibe when you work?
My work parallels my life. I am inspired by the people and places that surround me. Usually, the concept or idea I want to explore comes first and then I source images from my archive to support the narrative. It is a very organic process.
My paintings are very meditative to create. They require stillness and patience. I use a grid to transfer the photographic image on canvas. Usually, I work on 3-5 paintings at a time. I like to be efficient but I also get bored just working on 1 painting. Juggling them keeps it engaging.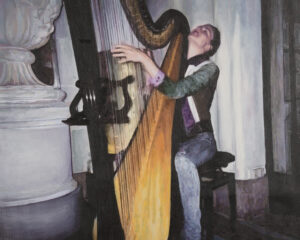 Do you consider visual arts like painting and photography to be magical in a sense?
I think any form of creativity is magical.
What is your philosophy towards your art?
To let it move through me. If I get caught in some idea of what I want it to be, I stop working. I will meditate or separate myself from the creative process for a while. I want the work to be spacious, a clear reflection for the viewer. It takes a lot of trust and surrender.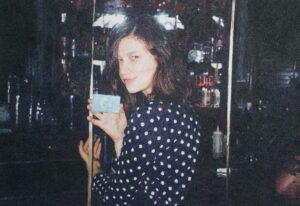 How do you work past artist's block?
I don't want to force things. If I'm feeling blocked I like to listen to that. I have learned to meet the resistance with curiosity. I'll go for a walk or sit in nature. If Ignore it and push through then the work feels too rigid or forced. The energetically of a painting are as important to me as the painting itself.
I'm usually working on several pieces at a time, so sometimes it's about giving what I'm working on space and jumping to another piece peace within the series. Working with oils there's quite a long drying period, so I'm often moving through various paintings. 
If none of that works I usually take time to visit some galleries and museums. I'm always left inspired after looking at art. It reminds me why I'm doing what I do. 
---
Visit https://emeraldwhipple.com/ to see more of Emerald's amazing collections. You may also find her and her work on Instagram and Facebook.