The Alchemists Kitchen had an incredible array of community events in December to close out 2021 ~ from mystical meditations to the spreading of holiday cheer. We were so grateful for the ability to gather together learning and sharing experiences.
Bright Moments
On December 7th, start time 4:20 pm to be precise, we had an afternoon tea gathering led by the co-founder of NFT gallery, Bright Moments: artist and creator Greg Cipes. Greg discussed his work in the emerging NFT art world and cultivated a conversation with our CEO, Lou Sagar, about NFTs, cryptocurrency, and the Metaverse. Lou brought attention to our responsibility as pursuers of wellness as we enter into each virtual sphere. The discussion was offered complimentary and although many came just for the talk, many joined spontaneously after picking up an elixir at the bar. It was a great community event expanding our ideas about an expanding new world of opportunity.
Heart Opening Soundbath
On December 9th, Nicole Motter graced us with her beautiful collection of healing sound bowls for an hour-long meditation. "Heart Opening Soundbath" connected us to our heart chakra and warmed us as we entered the colder December winter season. Nicole's playing was such a gift and may her vibrations fill our space until she is able to return again.

Hour of Happiness: Mocktails!
On December 10th, our VP Ezza Valdez hosted the first Hour of Happiness, a Mocktail making class that will be a weekly series, every Friday 5-7 pm, beginning in the New Year to celebrate Dry January. Ezza began with a lesson about the 5 tastes: sour, sweet, salty, bitter, and umami (similar to savory). She taught our guests how to use a variety of herbs and spices to create and compliment the 5 tastes. Then it was open experimentation using all of the prepared ingredients for each guest to invent their own Mocktail. Who knows, someone's creation could end up on The Elixir Bar menu! Ezza will be teaching again on Friday, January 28th. Tickets are available now.
Dream Tea Ceremony
December 11th we were grateful to host the incomparable shamanic healer, Itzhak Beery, as he lead us through a series of meditations at our Dream Tea Ceremony. His work combines music, chanting, and silence to help his students connect to their inner spirit guides. The ceremony closed with a counsel of interpretation for what was experienced during our meditations and the promise of good dreams later that night when we went home to sleep. Itzhak returned the following Tuesday, December 14th, to lead a panel discussing shamanism. He explored topics such as alternative plant medicine, the responsibility of the shaman, and the experience of Ayuahsca. Itzhak Beery is a leading expert in modern shamanism and we were grateful to have him at our Elixir Bar.
Our Holiday Shopping Bazaar took place on the evening of December 15th to kick off the holiday season. Festive music played as shoppers hopped between both our retail space at 117 Crosby and our Elixir Bar at 119 with pop-up vendors set up in both. At 117 we had the founders of Tulipe Fièvre, a botanical luxury perfume. At 119 we had Elements Chocolates, Ayurvedic dairy-free sugar-free chocolates for sampling, In.Flo.We.R, a floral arrangement boutique and our partner at our Union square ABC location, Illuminated Ground, one of our newest makers who create art supplies from raw earth, and Anima Mundi, our permanent herbal dispensary offering 15% off with one of their herbalist team members giving specific recommendations to our guests. We are grateful for our pop-up vendors bringing such holiday cheer to our space and hope to have each of them back soon.

Collage as Divination
The next day, Thursday, December 16th we had artist Alexandra Neuman lead our very first craft class: Collage as Divination. Alexandra created her own tarot deck using collage and began class with a lecture about the ability of collage to bypass creative blocks and access subconscious creativity, in a similar way to dreaming. We then spent the evening creating our own collages from vintage National Geographics and any clippings brought from home. 
Divination Night
We closed out our December community events with our monthly Divination Night, a celebration of the full moon featuring our roster of healers and empaths. Kristall, our resident tarot reader, also filmed a Q&A that's up on YouTube and lead us in a toast to the winter solstice. Join us for our next Divination night on January 14th.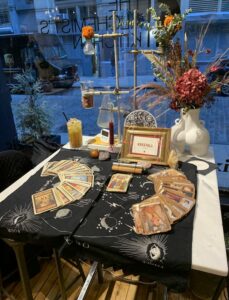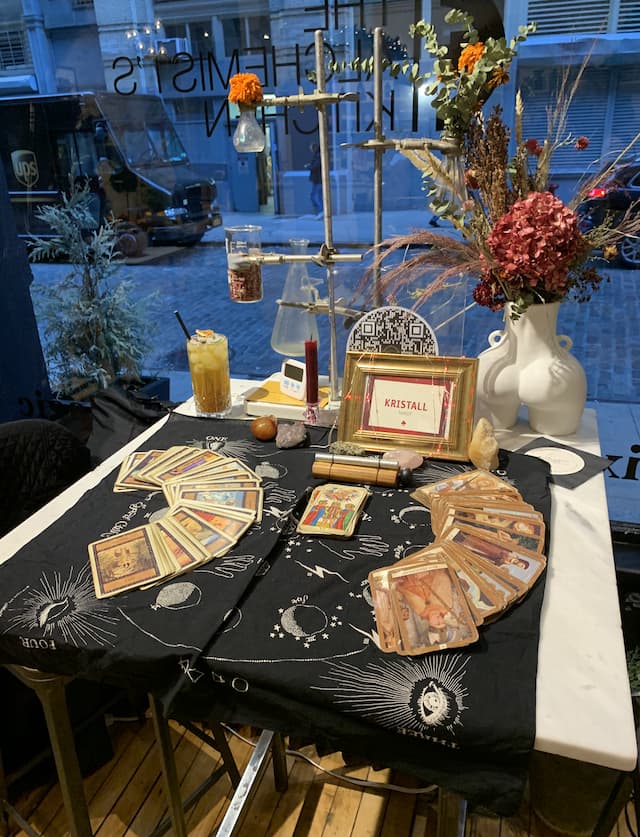 ---
Thank you again for joining us for our community events in December. We also have an incredible lineup of virtual events if you are not in the New York area. We will continue in 2022 with a collection of exciting and enlightening in-person experiences, masks will be required as your health and safety is our priority. Thank you for supporting The Alchemists Kitchen and Happy New Year!