Red Clover (Trifolium pratense) is a darling little herb that grows in cultivated and wild fields throughout much of the world. Native to much of Europe and Asia, Red Clover has been naturalized globally. When cultivated, it is often used as a cover crop for its nitrogen fixing properties and the forage it provides for poultry and livestock.1

Botany & Etymology
Red Clover is a member of the Legume, or pea family. It is a small, short-lived herbaceous plant with a large taproot and dark pink-purple flowers which bloom in a dense inflorescence. As its Latin nominal suggests, it has alternately arranged trifoliate leaflets which display a characteristic pale chevron pattern.2  
Traditional Uses
Red Clover has been enjoyed by many cultures for food, medicine, and agriculture for thousands of years. It grows wild in northern and central Europe, the Mediterranean, the Balkans, the Middle East, India, Russia, and Western Asia.4
Origin
In both Russia and China, Red Clover leaves are eaten as salad greens and the flowers are dried for use in teas. Traditional Chinese Medicine has used the tea or infusion of Red Clover as an expectorant for wet coughs and mucous, while Russian medicine recommends an infusion to treat bronchitis bronchial asthma.2 Traditional European healing cultures have also employed an infusion of Red Clover to aid liver and digestive ailments. Certain Native American cultures ate the leaves and flowers as food, and used the plant topically for sore eyes and burns, as well as internally for cough, flu, and menopause.4
History
Red Clover spread to England around 1650, and was eventually carried to North America by British colonists. The medicinal benefits of Red Clover were introduced to Western herbalism by Samuel Thomson, who used it topically, prepared as a paste, to treat skin cancers. Samuel Thomson was an herbalist who popularized the use of herbal medicine in pioneer America. Since, Red Clover has been used as a nutritive tonic, a blood purifier, lymph mover, and to treat the symptoms of menopause.4
Red Clover's Herbal Indications
Red Clover is sweet, cool, and moist energetically. Like all herbs, it has more benefits, applications, and meaning than we can understand, but here are a few of the most popular uses in modern, Western herbalism. 
Hormonal Balance and Fertility
Red Clover, like many plants in the Legume family, contains phytoestrogenic isoflavones, meaning it provides the body with plant-based estrogen that the endocrine system can uptake as its own. Thus, Red Clover can be a wonderful, hormone-balancing remedy for those with low estrogen, and specifically those going through menopause. One 2005 study found that its isoflavones "significantly decreased menopausal symptoms [such as irritability, hot flashes, and vaginal dryness] and had a positive effect on vaginal cytology and triglyceride levels" on 60 postmenopausal women.
A 2009 study found that its isoflavones were "effective in reducing depressive and anxiety symptoms among postmenopausal women.3 Red Clover can also be used to promote fertility, as it helps to prepare the body for ovulation, assists in follicle and egg production, and thickens the uterine lining, which increases likelihood of implantation. Additionally, it is a nutritive tonic herb rich with necessary, fertility enhancing vitamins and minerals like calcium, vitamin C, potassium, magnesium, chromium, phosphorus, niacin and thiamine.2
Skin Issues
This herb is considered an "alternative" herb, meaning it purifies the blood and helps rid the body of metabolic waste. Often used with great success for skin conditions that weep and crack, Red Clover is indicated in eczema, psoriasis, and acne. Generally, for these conditions, Red Clover is combined with Burdock or Yellow dock and Nettles and taken as a tea.1 Red Clover is also effective topically as a poultice or a paste and much like its traditional Western application, can be applied directly to skin lesions. However, for skin cancers, it is always recommended to seek treatment from a dermatologist; Red Clover can often improve or encyst topical cancerous tissue, but it is not a cure.4
Lymphatic Health
Herbalist Matthew Wood writes that Red Clover has a special affinity for the glands of the body, making it a remedy for lymphatic congestion, salivary gland congestion or secretion, swollen parotids and lymph nodes, glandular cysts and the like.4 Topical use is specifically indicated for congested lymph in the breast and armpit areas. This herb also contains coumarins which help to thin thick, coagulated blood and improve lymphatic flow. Essentially, Red Clover supports circulation and the process of fluid movement through the body. This action naturally improves other detoxification pathways like the digestive and eliminatory processes as well; this results in benefits to inflammatory conditions of the skin, muscles, and joints.2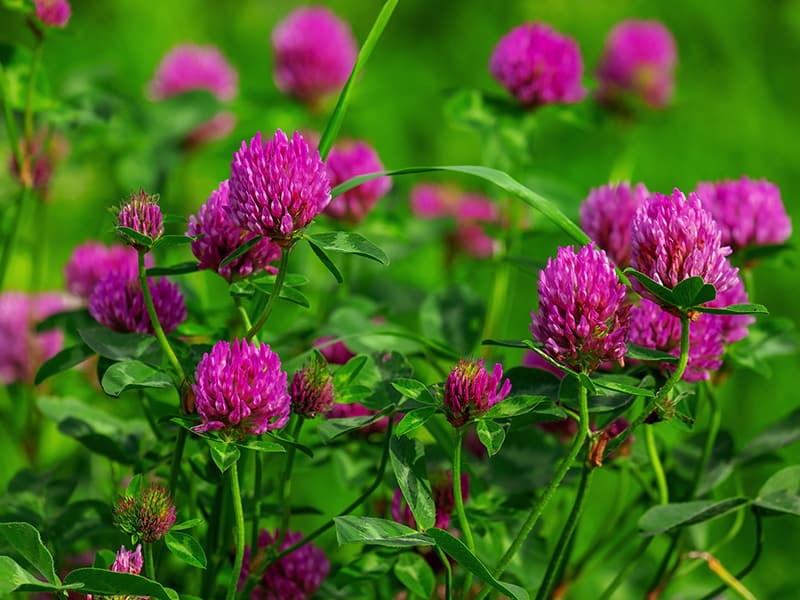 Possible Contraindications of Red Clover
As with any herbal or supplement, consult an informed herbalist and primary healthcare practitioner before use. Because the herb may increase the chance of bleeding, stop taking it at least two weeks prior to surgery, and avoid if you have Protein S deficiency or any other type of coagulation disorder. It should not be used in cases of estrogen-sensitive cancer unless under the guidance of a healthcare professional.2
Methods of Medicinal Use
Red Clover, like most herbs, has a vast variety of uses and applications! Here are some of the most common methods used in modern day herbalism.
Red Clover Tea
Because of its nutritional complexity, this herb is best prepared as a tea from the freshly dried flowers, in order to extract the spectrum of nutrients available. Red Clover tea should consist of just the pink-purple blossoms. Pour about 12 oz of simmered (not boiling) water over about 2 tbsp of Red Clover blossoms. Cover and let steep for 10-20 minutes.1
Red Clover Oil
Infused oil makes a wonderful massage oil and can be used topically to nourish the skin and move the lymph. To make, simply infuse dried Red Clover blossoms in oil of choice for at least 2 weeks, shaking daily. Red Clover oil can also be used to make a lovely salve or balm by adding beeswax or shea butter.
Sourcing 
Red Clover is a wild, abundant herb. Notice it popping up brightly in fields and along the sides of the road near you! If you are selecting flowers to make tea, it is best to avoid places where pesticides or pollution would be of concern. Pick the herb carefully, without bruising the blooms, in the early morning while dew remains on the flower. Dry immediately. Avoid using the flowers if they turn brown; this indicates that the material has oxidized probably due to improper drying and storage.
If you can't find this herb growing near you, it can be ordered from reputable sources on the internet or, ideally, purchased from small, local businesses, like a neighborhood herb store or health food co-op. Carefully selected, small batch herbal products with Mugwort can be found at The Alchemist's Kitchen. Some of my favorites: this beautiful, intentional feminine elixir by Fat Of The Land Apothecary, Maiden, Mother, Crone Mulberry Iron Elixir and this nutritional powerhouse tonic by Urban Moonshine, Daily Energy Tonic.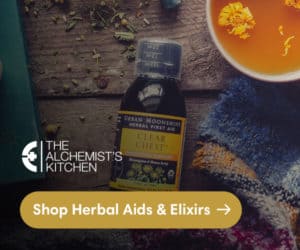 Sources