Photo by Lindsay Bilezikian 
This week, we virtually chatted with Deborah Hanekamp, otherwise known as Mama Medicine! Deborah offers medicine readings, and is the other of Ritual Baths– she has over 17 years of experience in the healing arts, and is an Amazonian Shaman, Reiki Healer, and Yogi. The Alchemist's Kitchen will be hosting Mama Medicine's Ritual Bath and Book Launch Celebration on April 30th. In this live event, Deborah will share stories about her personal experiences with Ritual Baths, her process writing the book, and share everyday ingredients found in your kitchen that you can use to create a Ritual Bath at home. Sign up here!


Tell us a little bit about yourself!
Hello, I'm Deborah Hanekamp. You may know me as Mama Medicine, but my name is Deborah, it means 'busy bee.' I am here to empower people to be their own healer through a healing modality I transmit called Medicine Readings. I believe the sign of a truly spiritual person is kindness.
I am optimistic, I feel we are all healers, we can heal the old wounds carried in the collective consciousness that keep us weakened and divided. My work is open to anyone who is ready to be their own healer and by doing so humbly inspire others to do the same. It's taken me a very long time and a lot of hard work to get to the success I've achieved with my work, I never gave up, even if I wanted to at times, love wouldn't let me.
When I'm not working I enjoy adoringly spending time with my friends and family in the warm light of father sun and the embrace of mother nature. Grateful for the nourishment and guidance, here to learn.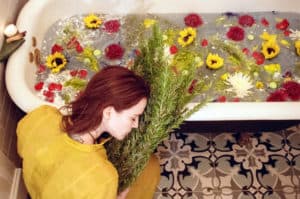 How did you come to your work? 
This has been my one career for the past twenty years. I built it slowly, patiently and I feel like I'm just getting started. I follow my work where it leads me and I have a lot of work to do in the limited time I have on this planet. I'm still learning how to love myself and the body I'm in all while becoming more public facing. I'm navigating the fact that I'd be so much more comfortable being a hermit living in a crystal cave in a remote place yet my work brings me to living in Brooklyn, New York my home for the past twenty years, where I get the opportunity to meet people from all different walks of life from all different parts of this earth and get to see the connectivity we all share, learning and growing from and together with this human family I am blessed enough to be a part of.


Why ritual baths? 
Ritual Baths are a really applicable and approachable way to be one's own healer. We are all familiar with how you feel one way before you get in a bath and another way once you get out. I would describe that feeling of being cleansed as healing.
For someone looking to try ritual bathing at home, what would you recommend?
Use what you have and remember more than ingredients, it's your intention that and the water itself that will make your bath healing!
Can you speak a little bit to your book and what you hope the reader will take away after reading it?
Yes! I'm so excited about this book, RITUAL BATHS coming out at a time when we need to learn how to be our own healers more than ever… I draw on my studies from the past and feel into how to combine different tools with the healing powers of water to be our own healer. I hope that after reading my book you will feel empowered to be your own healer.
Bonus Question:
Sun/Moon/Rising Signs?
Scorpio/Cancer/Leo
Sign up for Mama Medicine's event here!
Photos by Ashley River Brant