Chaga's distinct, earthy flavor has subtle hints of nutty tang and vanilla notes. It harmonizes beautifully with banana, chocolate chips and antioxidant rich dried wild berries in these quintessential liver protective muffins.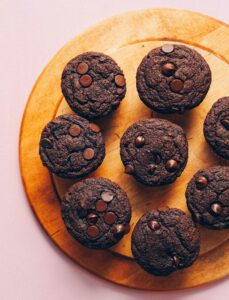 Ingredients
3 ripe bananas

2 tbsp cacao powder

1 1/2 cup gluten-free oat flour 

1 tbsp chaga extract powder

1 tsp baking powder

1/2 cup coconut sugar

1/2 cup vegan butter 

1/4 cup dairy-free chocolate chips

¼ cup dried mulberries or goldenberries

1/4 tsp sea salt

1/4 cup oat milk
Method
Preheat oven to 375 degrees and paper line or oil muffin tin. 

In a medium bowl, sift your dry ingredients and set aside.

In a separate bowl, mash bananas and mix in sugar, milk, and melted butter until evenly combined.

Fold in dry ingredients and mix until evenly combined. 

Add chocolate chips and dried berries.

Pour batter into a prepared muffin tray.

Bake for 22-30 minutes or until toothpick inserted into the center comes out clean.

Let cool for 5 minutes in the pan before cooling on rack.
Other interesting reads: