What is an adventure?
Something exciting such as a trip or an experience? And what could be a bigger adventure than leaving your home for the first time and surrendering yourself to a journey where you have no idea where it will take you?
This is what the two Kalahari Bushmen from The Council of Twelve and Above did when they left Botswana for the first time, both in their 80s, stepping onto a plane and arriving in New York for the first time – a place that couldn't be more of a contrast to the serenity and spaciousness of the desert.
The two Bushmen were invited with ten other Elders from around the world to participate in a ritual for Humanity and planet Earth at the United Nations in New York.
This was captured, together with their knowledge and wisdom, in a film called "The Twelve", which is downloadable for free at www.lecielfoundation.com/watch-the-twelve. It is Le Ciel's intention for the film to be seen worldwide and encourage anyone to share with their families, friends, and communities!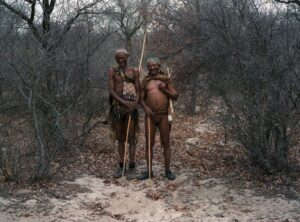 Through the filming process, the Le Ciel team got to film this once-in-a-lifetime adventure, capturing the two Bushmen jumping into the unknown, arriving in Gaborone, the capital of Botswana, for the first time. They experienced seeing a shopping mall, traveling in a lift and on an escalator, seeing hundreds of people in one place and lots of traffic! They visited restaurants where the food just gets dropped into your lap. Not to mention flying in the air and stepping out in New York, which to their wonder had no trees! One couldn't see the moon and the stars and people always seemed to be waiting. Waiting for a bus, waiting for a phone call, waiting to cross the streets at a red light. No one is just being, but always somewhere else in their minds.
Starting an adventure isn't always easy – so many questions arise – Will we be safe? Who will we meet along the way? Where will we be sleeping? What food are we going to eat? But the two Bushmen were an inspiration on how to approach these concerns – through surrendering, trusting the process, and most importantly experiencing every situation with pure joy, light-heartedness, and no judgment.
They marched along without complaining, through security checks, waiting lines, appointments at the American embassy in Gaborone and in Lesotho, where they finally got their US visa. Wherever we went, people would want to stop them, meet them, and have their photos taken, acknowledging the ancient wisdom and joy these two men were carrying.
After never having gone further than 100 KM from their village, in two weeks their image of the world got turned upside down. "What has happened to humanity?" they commented when they experienced in New York that no one was greeting each other on the streets.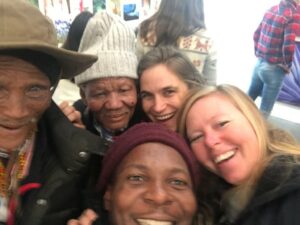 It is a good question to ask. What has happened to humanity? This is something that people have hopefully had more time to reflect on in the past 18 months. Will we choose to be kinder human beings when we emerge back into the open world again? Will we be more open to adventures and to other people without judging them, but seeing them for who they are? Will we be more authentic and more present? Will we be more joyful?
Filming the two Bushmen was like watching two children experiencing life for the first time – what wonder, what fascination, what a learning process. If we could apply this way of living ourselves, with open, present, and nonjudgemental eyes, simply observing, experiencing, being- how beautifully simple and joyful life could be!
To see more of the Bushmen's adventures in The Twelve click here: https://lecielfoundation.com/watch-the-twelve/
To celebrate Le Ciel Foundation's monthly collaboration with The Alchemist Kitchen, and to help connect better to the spirit of adventure, Le Ciel Foundation is delighted to offer a complimentary 20-minute Mind Dive to the TAK community. Click HERE to listen!