Lungwort (Pulmonaria officinalis) is one of the most striking early spring flowers, with its bright blooms and signature white-spotted foliage. A shade and moisture-loving plant, Lungwort is a beautiful addition to any low light herb garden! This curious herb is a soothing friend to those with respiratory, cardiac, or digestive inflammation.
Etymology & Botany
Lungwort got its name through the herbal theory called the "Doctrine of Signatures," which states that herbs resembling various body parts can be used to treat ailments of those body parts. This theory dates back to the 1500s, thought to have been developed in writing by Paracelsus (though similar systems are present cross-culturally).The white spots on Lungwort's leaves were thought to resemble mucus membranes in the lungs and it was named thusly, in both Latin and English.5
Lungwort is a perennial, herbaceous evergreen plant in the Borage or Boraginaceae family. It can grow to heights of about 40 cm, and are covered in small, fine hairs of differing lengths. The spotted leaves are alternately arranged and ovate, and the flowers bloom in funnel-shaped terminal clusters from early to late Spring. The blooms range in color from rose to blue, often changing color as they mature.4 
Traditional Uses
Lungwort has long been used in traditional European folk medicine for a variety of ailments and a general strengthening tonic. Livestock reportedly love to graze on the wildflower and its leaves, finding it quite nourishing. As German herbalist and saint Hildegard von Bingen wrote in the 11th century, "If sheep eat Lungwort often, they will become healthy and fat…But if, as we have said, one who has a swollen lung frequently drinks Lungwort cooked in wine, his lung will return to health, since the lung has the nature of a sheep."5 Seems reasonable, right?
Origin & History
Lungwort is one of the original wildflowers of the European forests; it loves dampness, shade and rich, unpolluted soil. Today, Lungwort thrives in the wet habitats and coastal areas of Europe, Asia, North America, and Africa. Aside from the aforementioned uses of Lungwort as a lung healing herb, it was also used to treat gastrointestinal issues, soothe skin inflammation, heal connective tissue, and, in the French herbal tradition, as a remedy for heart palpitations and agitation. The leaves are edible both raw and cooked, and Lungwort is used to flavor the liquor Vermouth.1
Methods of Medicinal Use
Lungwort is mucilaginous, astringent, and mineral rich, especially in Silica.2 It's neutral energetically, though it's specifically indicated in cases of inflammation. Like most herbs, Lungwort has too many uses, actions, and indications to cover in this article, however, below are its most common medicinal indications in the realm of western herbalism.
Lung Healing
Lungwort lives up to its name! This herb has been administered successfully in cases of nasal congestion, cough, influenza, bronchitis, laryngitis, and tuberculosis. Contemporary herbalist Matthew Wood writes that Lungwort is a particularly effective herb for very advanced cases of respiratory distress, "where the connective tissue supporting the structure of the lungs has started to break down, due to inflammation and weakness."5
Digestive Issues
Similarly to how it works in the lungs, Lungwort has a beneficial effect on the gastrointestinal tract in cases of extreme irritation. The mucilage coats, calms, and cools, while the astringent properties and mineral salts aid in strengthening and feeding the connective tissue. Lungwort is best used in cases of diarrhea, ulcers, intestinal bleeding, hemorrhoid, anal fissures, and the like.
Kidney & Urinary Tract Health
Lungwort is also helpful in cases of inflamed or infected kidneys and urinary tract, as Lungwort has antibacterial properties as well as soothing and strengthening effects. The astringent properties of Lungwort help to tone kidney tissue and the urinary tract. Lungwort may be used in cases of kidney infection or irritation, urinary tract infection or irritation, bloody urine (or hematuria), and urinary incontinence.1
Contraindications
Though humans have safely eaten and ingested Lungwort for millennia, this herb is classified by the USDA as having poisonous properties. Though usually not attractive to most pets, the ASCPA has classified its chemical components as toxic. Pet owners are cautioned to not allow pets to ingest it.4
Personally, I use Lungwort in my clinical practice, and have never had any issue. As always, it's very important to source your herbs from reputable distributors or unpolluted spaces. As with any herb or supplement, consult an informed herbalist and primary healthcare practitioner before use.
Methods of Medicinal Use
Lungwort may be used in many forms by the skillful herbalist; the following preparation suggestions are the most widely used and accessible to obtain.
Tea
A tea made of Lungwort leaves is an effective, traditional preparation for all of the above indications. To make, infuse one tablespoon of dried Lungwort leaf to 8 oz of just boiled water; steep covered for about 15 minutes, strain, and drink. Drink the tea while hot if a fever is present. The tea (once cooled!) can also be applied topically to the skin in cases of eczema, fissure, or hemorrhoid. For chronic coughs and acute respiratory problems, I like to combine Lungwort with Coltsfoot and Wild Cherry Bark, brewed as stated above, and add a spoonful of raw honey before drinking. 
Tincture
Lungwort tincture can be made or purchased; I recommend using the already dried leaf to do so, especially if you are not using alcohol as a menstruum (the leaves contain so much mucilage it could spoil the tincture). Tinctures are usually an alcohol (80 proof vodka, grain alcohol, or other clear booze) extraction of a plant, however, vegetable glycerine or apple cider vinegar can be used in place of alcohol. To prepare a tincture, pour menstruum of choice over dried (1:5 herb to liquid ratio), keep in a sealed preferably glass container for at least 6 weeks, shaking every day until straining. Consult an informed herbalist for dosage recommendations, as it depends on the ailment.
Lungwort Flower Essence
A flower essence is a lovely way to experience just the energetics of the plant on the intuitive/emotional body. This flower essence is indicated for when one needs to slow down, breathe deeply, and take the time to get back to oneself; it can be especially helpful for doing intentional breathwork or shadow-work.
They are best made early in the morning on a clear day. To make a Lungwort flower essence, add pure spring water to an unmarked glass bowl or vessel. Calmly and intentionally harvest Lungwort blossoms in full bloom (asking permission of the plant first!). Using a
Lungwort stem and/or leaf (not your fingers), place the flowers on the surface of the water so they float. Place the glass vessel on the ground in a peaceful place that gets full sun. Let the sun fix the vibrational qualities of the flowers into the water for several hours (meditating nearby is recommended). Next, strain the flowers out of the water and add an equal part of Brandy or
alcohol preservative of choice. This mixture is the "mother essence" (do not dose directly from this mixture! First make a stock, then a dosage bottle). To make a stock bottle, add 10 drops of the mother essence to a 60 mL bottle filled with 50:50 spring water and alcohol. To make a dosage bottle, add one drop of essence from the stock bottle to a 15 mL bottle filled with 50:50 water and alcohol. Take a few drops from the dosage bottle to experience the vibrational medicine of Lungwort.
Growing Lungwort
Lungwort can be planted by seed, best sown in spring in a greenhouse. Once large enough to handle, re-pot seedlings into individual pots, keeping them in the greenhouse for their first winter. Plant them into their permanent positions in late spring or early summer, after the final frost. Divide root clump with a sharp knife in spring or fall or after flowering in early summer, replant divisions immediately in moist soil. Lungwort prefers damp, well-drained soils that are high in organic matter, so incorporate compost, leaf mulch, or well-rotted manure into the soil prior to planting.3
Sourcing Lungwort
Lungwort is abundant from early to late spring. See if you can find some growing in your yard, garden, or on the wooded borders of local, organic farms. If you can't find Lungwort growing near you, or if it isn't in season, it's best to enjoy herbal preparations made with Lungwort. These can be ordered from reputable sources on the internet or, ideally, purchased from small, local makers and businesses, like a neighborhood herb store or health food co-op. Carefully selected, small batch herbal products with Lungwort can be found at The Alchemist's Kitchen. My favorite is this Lungwort flower essence by Plant Alchemy, made with Lungwort that is biodynamically gardened on Keetna Farms, in Alaska.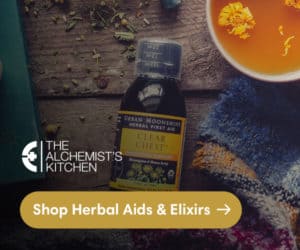 Sources