Meet Many Moons Publications, the sister company of Visual Magic, lovingly started by Sarah Faith Gottesdiener a mystical Artist, Psychic, and Teacher known as gottesss. Learn more about their offerings below!
Tell us A little bit about Modern Women's Project and what it means to you!
Modern Women is the name of my brand. I actually don't like the name, but am famously awful at coming up with names or titles, so I always have to pick something and then just go with it or else I'd never start bands, businesses, or podcasts! Modern Women is an intersectional business where I create original art, design, apparel, publications, classes, and more to offer tools for living for empowered, intelligent, and notoriously babely magical folks.
What are your greatest inspiration and processes when creating your Planners?
The Many Moons Planner is completely unique; I created something I never saw and needed to have. My inspirations are the seasons, and the magic of transformation. Doing something routinely over time creates momentum, awakenings, and gifts, and that is the intention behind the planner. It is meticulously designed to be in dialogue with the seasons and lunations in a way to help you tap into yourself and your dreams, as well as be supported and guided from messages I've channeled specifically for each lunation.
Each year, I download fresh prompts, messages, and pieces. Different genius contributors are asked to share rituals, spells, and intuitively guided offerings. Each year is also loosely based upon the Tarot archetype of the year and its teacher card. This year we have prompts around the Hierophant. So folks using the planner will be asked to connect deeply to their own spirituality, intuition, and divinity in order to make this the most aligned, magical year yet.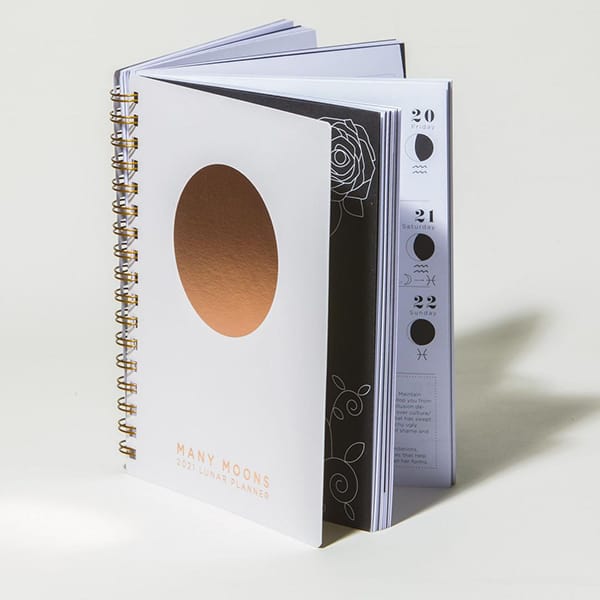 How Does the Moon inspire your creativity and work in your personal life?
So much that I've devoted 13 years of my life to her and have a book coming out all about her this year called the Moon Book!
That is amazing, we are so excited about your new book! What are some of your favorite collaborations over the past few years?
I always love the beautiful contributions from those who add their wisdom to the Many Moons projects. This year, we had so many amazing contributions in the 2020 Many Moons Lunar Planner. The process is often very magical; I'll ask a contributor to write about a particular full moon, then I will find out that it is in their sign, or holds a special place in their heart. That magic flows through and can be felt by the planner's users, I think!
What do you hope to see in the healing and healing adjacent world in the next five years?
The healing world hasn't necessarily been a "healing place" for me personally. I don't really feel at home in it as a queer, chronically ill person, and so I don't feel super invested in it personally. I hope to see conversations about ethics and integrity. There is a lot of transparency that folks need to exhibit, as there is a lot of smoke and mirrors —windows need to be opened and reflections need to be cleaned.
I would like more honest and critical conversations around spiritual bypassing, harmful new age dogma, patriarchal capitalism, and other harm such as theft and ableism that is caused when so called spiritual people are not acting in alignment with integrity. I would like folks to be clear about not selling overharvested plants, or crystals that have been mined unethically, and more. I would like to stop seeing white people naming their brands "G*psy" or other slurs. I would like us to continue to unpack hierarchical / colonial frameworks in astrology, tarot, and other healing modalities.
I hope the popularity of the spirituality that we will continue to see helps people connect to their own intuition and empowerment, as well as the unique gifts in their personal background or ancestry. White people especially need to unpack their transactional and appropriative relationships to spiritual and magical practices and traditions, and the way they operate or commodify the spiritual practices of other cultures, and/or the stolen teachings of other people. (Not holding my breath over here!)
What I hope to see is what I've always hoped for: that folks utilize the gifts they receive from their intuition and spiritual practices to help others and influence the politics of their interpersonal and professional lives as well as using their magic and actions to make change politically and in the greater world.
Thank you for your powerful message and for the precious pearls of wisdom we should all aspire to grow towards and transcend into. On that note, Any insights you'd like to leave us with for 2021?
Let's all be brave enough to make radical changes, babes. The more you know yourself, the more you'll excel in your role in creating new worlds.
---
Thank you Many Moons Publications, check out their offerings here. Book Coming Soon!
Featured Image courtesy of Megan Xeal: @meganxeal