Phenakite is a high vibration crystal that is used to achieve higher states of consciousness. You may also receive passive impressions from spirit while carrying the stone throughout the day. A majority of widely available Phenakite comes in small fingernail-sized specimens. A large specimen would generally be smaller than the average palm size. Both small and large specimens are highly energetic and would be a valuable addition to any healer's stone kit.
Phenakite is popularly used in channeling sessions and seances to open the ears to hear spirit also known as clairaudience. It is one of the premier crystals for honing psychic abilities and lucid dreaming if the user is open to the experience.
What is Phenakite
Phenakite is a beryllium silicate family mineral that is generally found in clear, yellow, pink, or brown color. Robert Simmons in his book "The Book of Stones and Who they are and what they Teach" has classified Phenakite as a great entry stone into the Synergy 12 set. Working with Phenakite on its own will lead to etheric body energy amplification and Crown Chakra expansion but pairing it with the other 11 Synergy stones will help amplify the user's soul progression through life.
The 12 Synergy stones are Phenakite, Moldavite, Herderite, Brookite, Petalite, Danburite, Tanzanite, Scolecite, Natrolite, Azeztulite, Satyaloka Quartz, and Tibetan Tektite. Each of these 12 stones is seen as an individual master crystal.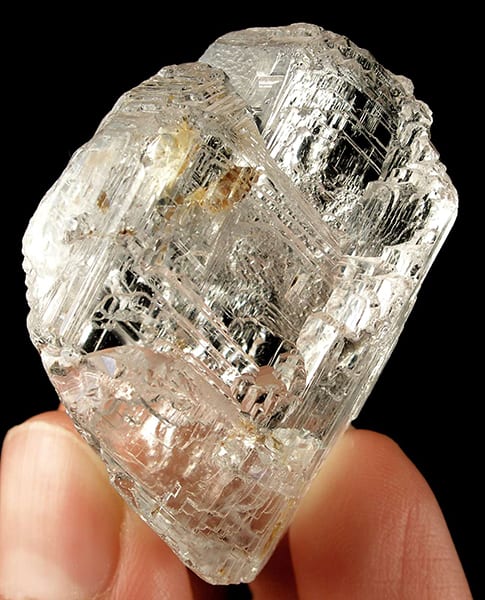 Origin
Phenakite was first discovered in the emerald mines of Sverdlovskaya, Russia during the 19th century. Since the initial discovery, it has also been mined in Brazil, Madagascar, Mexico, Zimbabwe, Zambia, Norway, Russia, Tanzania, Switzerland, and the USA. Phenakite's etymology stems from the Greek word "phenakos" which means to deceive. Early discoveries of the stone were mislabeled as clear quartz which led to the aforementioned moniker.
Phenakite Properties & Meaning
Most specimens will come in a clear variation of yellow, dark brown or pink colors. When working with a colored Phenakite, minimize the exposure to sunlight as it is notorious for fading when overexposed.
Associated Element
In Robert Simmons' "Book of Stones", Phenakite is identified as a Storm elemental stone. This gives it the ability to bring new inspiration into the user's life – much like a lightning bolt of information from above. The user may see areas of stagnation within their life that could be aided by the Storm element of change.
Associated Chakra
Phenakite is associated with the Crown Chakra at the top of the human aura and the general Etheric Body. The Crown Chakra is our connection to higher consciousness and to the astral/spirit realm. Working with this chakra brings about lucid dreaming, inspiration, and channeled information (usually through sound and images). The Etheric Body can be empowered by placing Phenakite above the head so its aura can touch the entire Chakra system. It is also possible to place the crystal on a weakened Chakra to help clear it and facilitate growth. All colors can be used for Chakra cleansing, but a colored Phenakite will resonate more effectively with its associated Chakra.
Metaphysical Properties
Clear Phenakite is able to bestow upon the user one of the most potent "Clear white light" vibrations found within the mineral kingdom. Pink Phenakite brings higher Heart Chakra relief to the chest. The higher heart chakra is associated with divine love and soul family togetherness. Yellow Phenakite resonates with the Solar Plexus Chakra allowing the user to have a greater sense of confidence in manifesting. Yellow Phenakite can be used as a talisman for exercise success, weight loss, and boldness in action.
Complementary Crystals
Phenakite is known as a high vibration stone and is typically paired with one or several grounding stones to offset symptoms of ungroundedness. Compatible grounding stones such as Black Tourmaline, Shungite, Smoky Quartz, and Boji Shaman Stones would aid the user in feeling centered. Users of Crown Chakra stones need to be aware of the potential to become ungrounded simply by becoming too enamored with the spirit world. This type of love for higher Chakra energy may lead the user to neglect the physical body, lower Chakras, and material responsibilities (paying the bills). Utilizing Phenakite as a mental recalibration ally is an effective way to initiate great change in the user's life.
Common Uses of Phenakite
The most basic way to utilize Phenakite is to wear the crystal on your body via jewelry, or in your pocket. Phenakite makes for wonderful earring and necklace gem centerpieces. Wearing earrings could help the user develop the skill of clairaudience passively.
Phenakite for Divination Sessions
The crystal makes for a wonderful ally to keep nearby during Divination sessions. Phenakite can be used to gain greater impressions from the Tarot for querents. Place a crystal on top of your tarot deck or box to let the vibrations attune the cards. When pulling cards for the querent, ask internally for its aid to deliver the best information possible for the querent. You may find yourself channeling information for the guest with Tarot and Phenakite acting as facilitators for the experience. It is recommended to adorn the Tarot table with a grounding stone such as Black Tourmaline or Shungite to aid the reader in properly discerning the impressions given from the divination session.
Phenakite Lucid Dreaming Bed Grid
Including Phenakite in a crystal grid under a bed would allow the user to experience the benefits of the stone during sleep. If a grid is not possible, placing Phenakite on a nearby nightstand during sleep is also an effective energy delivery method.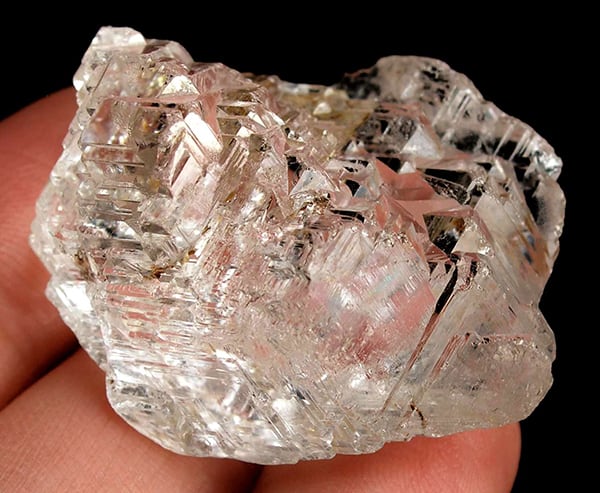 How to Choose Your Phenakite
Setting an Intention
Meet your Phenakite in person before buying since online pictures will not truly convey the personality of the stone. As a stone of clairaudience, it is possible that one stone will speak to you, saying "pick me". Combine your Phenakite with a grounding stone of your choice and treat the pair as a set of Yin and Yang energy to complement your progression into the secrets of the mineral kingdom.
Pocket Crystal
As most Phenakite specimens are fingernail-size, they are highly transportable and able to be kept within a pocket fairly easily. It makes for a wonderful daily crystal ally that is nonintrusive in the pocket or purse.
Meditation or Ritual Use
Using Phenakite for meditation can be as simple as holding one in your hands as you relax. To enhance your meditation and to facilitate high vibrational information downloads, combine a Phenakite crystal with Blue Lotus tea. You just might meet the spirit of the stone also known as the guardian spirit. If you are able to connect with Phenakite's guardian, then you will be in for a treat of loving white light energy. Meditating with the crystal may also inspire visions of remote viewing the location it was mined from.
Where to Buy Phenakite
Phenakite is typically bought at crystal gem shows or ordered online. As it is a rare stone, it will usually be in a protected display behind a layer of glass. It is typically featured with Moldavite and Danburite as a high vibrational pairing.
FAQ
How to cleanse Phenakite?
White Sage, Palo Santo, sunlight, moonlight, or water can be used to cleanse your Phenakite. Additional options are quartz clusters and Selenite Wands. For colored variation, use only moonlight to avoid fading. Otherwise, use sunlight for clear crystals.
Where is Phenakite found?
Phenakite is mined in Brazil, Madagascar, Mexico, Zimbabwe, Zambia, Norway, Russia, Tanzania, Switzerland, and the USA. In the USA a large quantity is sourced from Mt. Antero, Colorado.
Why does Phenakite melt ice?
Phenakite is known to have a high level of thermal conductivity. For example, hold a piece in your hands for a few seconds, and then transfer the crystal to ice. The size of the stone doesn't matter in order to witness the ice melting phenomenon.
Additional Reading: