During the dark half of the year, nature suggests that we soften our voice, get more sleep, direct our energy inward, and spend considerable time in contemplative solitude.
Our social lives disagree.
That's because it's a season that coincides with holiday parties and festive events, all which require us to do the very opposite. So, what's the solution? Shake off your worries, dust off your crystals, and follow along as we share a step-by-step guide for crystal gridding to magnetize peace, tranquility, and anything else you need during this hectic time of year.
Step 1: Start with a Plan
As with all rituals, we need a clear vision of the desired outcome. Simply put, we need plans. Begin by mapping out a goal for the grid. Are you hosting a holiday party; do you want to create an open and stress-free environment for your guests? Are you anxious about an upcoming family reunion? Perhaps you're concerned about finances and need to generate some last-minute abundance. Be specific.
You'll also want to establish a timeline for this grid. Will you keep it up for one day? One week? An entire moon cycle? If you plan to display the grid for an extended period, you might consider a wooden tray or mirror as a mobile sacred space so you can easily move it around. If you arrange the crystals on a piece of furniture or permanent fixture, take extra care to keep the area clean and undisturbed. Intention is crucial, but gridding also takes commitment. Decide on a location and a realistic timeline for your grid and commit to it.
Step 2: Choose a Pattern with Potential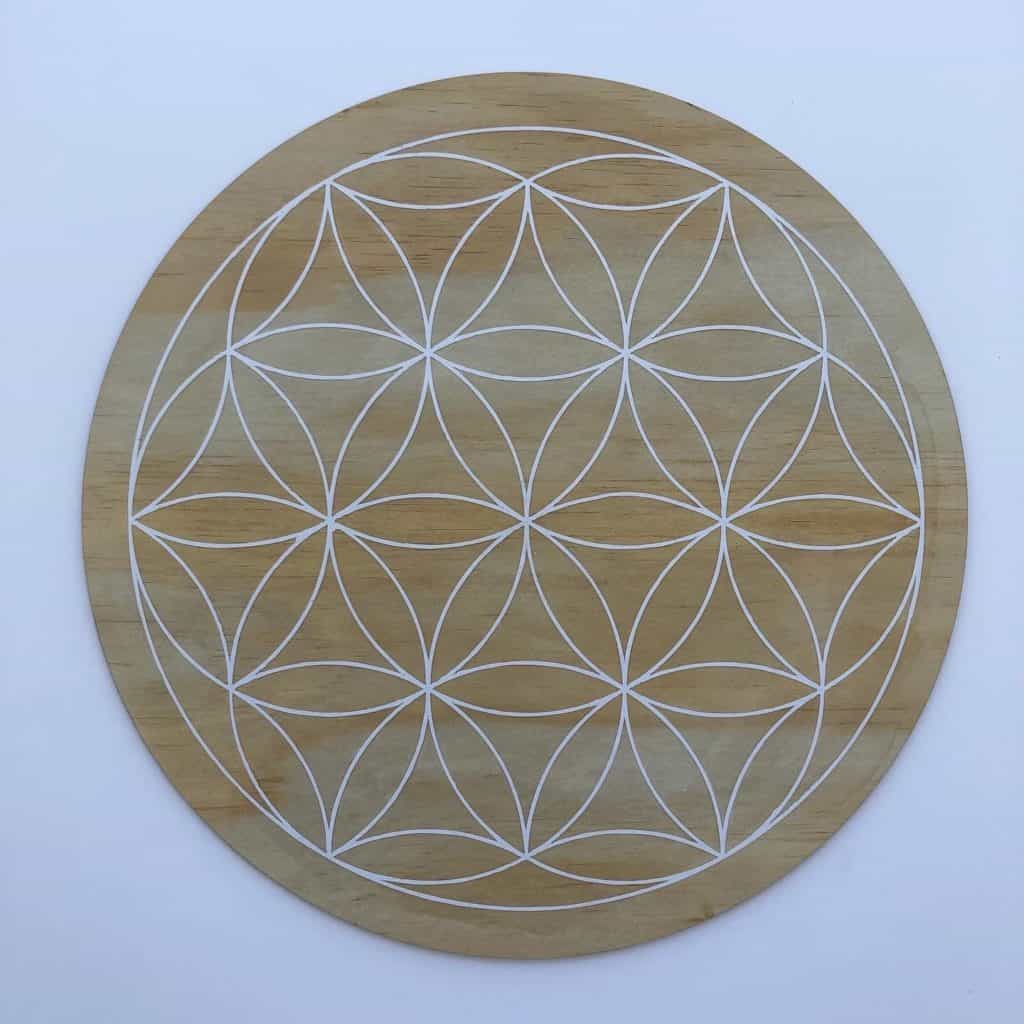 Next step in crystal gridding, it's time to choose a layout that resonates with you. This pattern will serve as a set of guidelines when positioning the crystals.
Since our focus is finding serenity in chaotic moments, we're using the Flower of Life as the foundation for our grid. Its hypnotic pattern and ability to connect a person with their highest self is comforting in times of stress, and the overlapping circles represent our limitless potential and ever-expanding consciousness. According to The Book of Crystal Spells, author Ember Grant suggests that the Flower of Life might be the universal key to understanding life's purpose. If it's not the key, then it's at least a doorway. Think of this pattern as the seed of creation. Whatever energy you plant within will flourish.
But why is the layout so important in the first place? Won't the crystals work the same regardless?
In theory, yes. But calling on ancient patterns like those found in sacred geometry is a surefire way to create a stable pathway for incubating, energizing, and embedding your intention into the fabric of reality.
Consider sacred geometric patterns like the Seed of Life, Metatron's Cube, or the Pentagram for your grid. Once you've established a foundation, you'll want to choose complementary crystals to awaken the building blocks of nature that lie dormant within the shape.
Step 3: Position the Crystals for Success
Focus Stone
The focus stone is the center stone of the grid. While it's common to see lofty pyramids and towers, we chose a 3-inch crystal quartz sphere. Crystal quartz can be programmed with any intention or positive affirmation, and the round shape encourages a gentle flow of energy.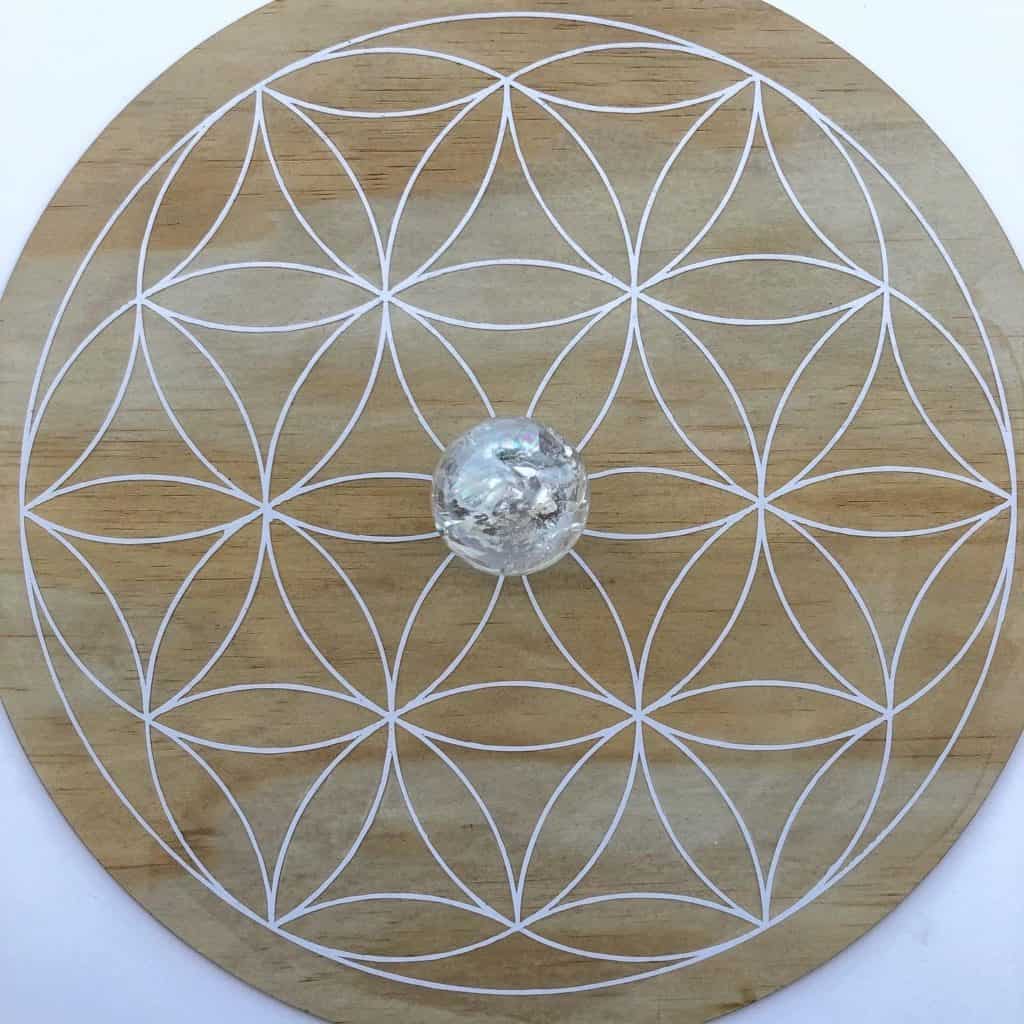 Way Stones
Way stones surround the focus stone. Depending on the size of the grid, there may be several rings of way stones, not just one. These crystals directly support the focus stone and should closely align with the root of our intention. We've included a ring of amethyst to dispel negative energy and invoke clarity, surrounded by a ring of rose quartz and chrysoprase for emotional calm, kindness, and optimism.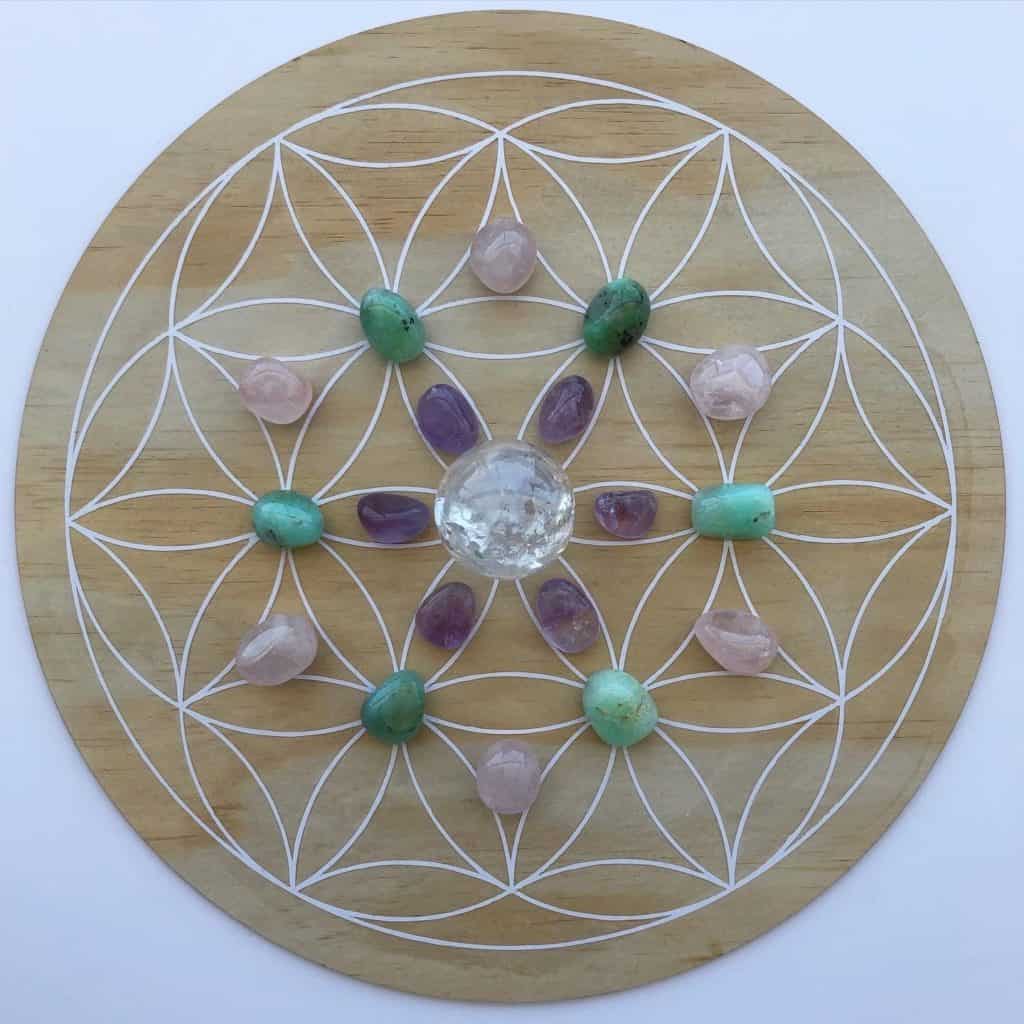 Crystal Points
Add crystal quartz double terminated points (those with a natural point at either end) throughout your grid for amplification and direction. Crystal points of any variety are extremely powerful for linking crystals together, but points that are similar in size will encourage balance.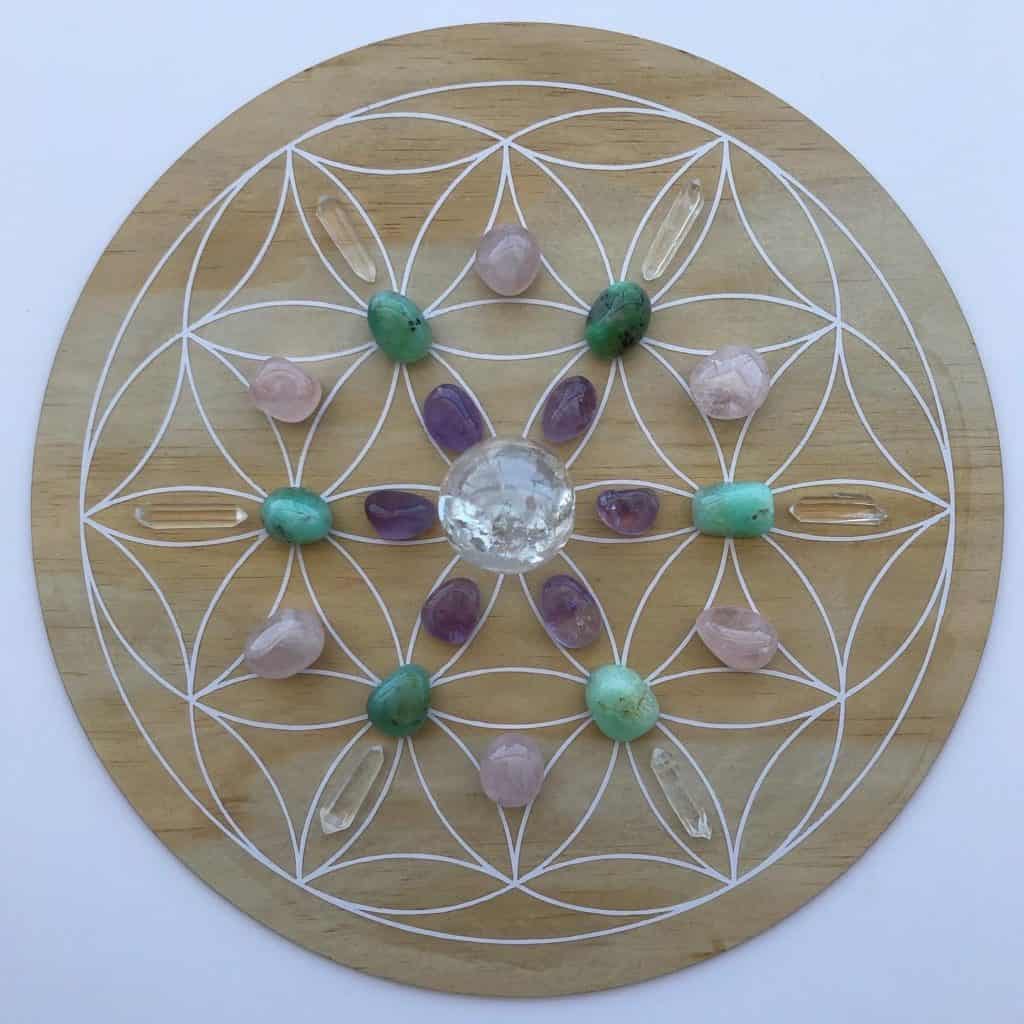 Desire Stones
The outermost ring of a grid is made up of desire stones. These crystals are responsible for refining, adjusting, and putting the finishing touches on a crystal grid. We chose blue lace agate and pink mangano calcite for our desire stones to collect and soften any scattered energy. This duo also unites the heart and throat chakras, which stimulates genuine connection and conversation—just in time for all those social gatherings!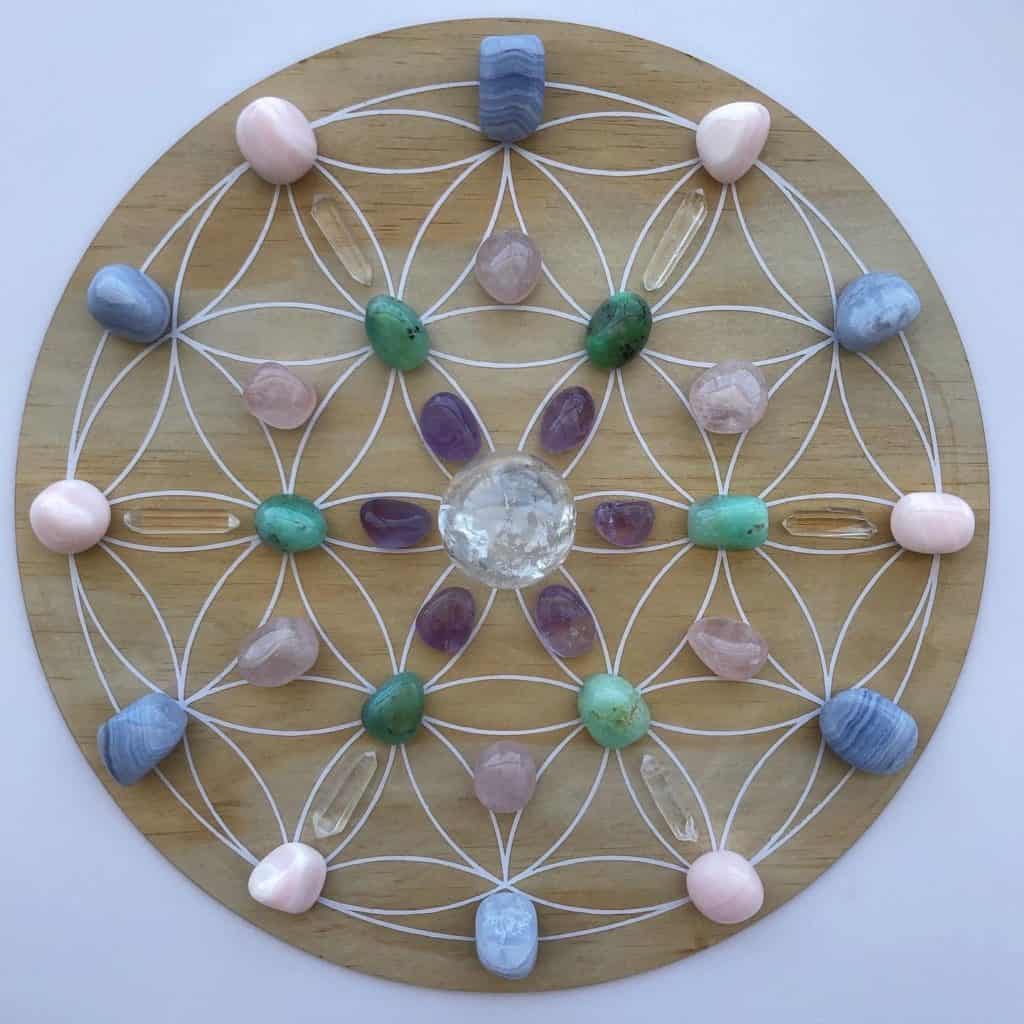 Optional Items
In addition to crystals, decorative items like candles, flowers, shells, herbs, photographs, and seasonal pieces are a great way to personalize your grid and call on elemental energies. A written intention placed underneath the focus stone is another way to anchor our intention.
Step 4: Activation
Once we've arranged our crystals, and the grid feels complete, it's time to activate it. Energizing the grid is very important—this is when the trifecta of intention, crystal energy, and sacred geometry unite to broadcast your frequency.
Find a wand made from selenite, quartz, or copper. Or, if you're limited on tools, use your pointer finger or the palm chakra to energize the grid.
Rest the wand above the focus stone. Let it hover a couple of inches over the center crystal before moving to the neighboring way stone. As the wand travels from one crystal to the next, envision a band of white light spilling onto the grid and illuminating the pathway. Continue moving outward, away from the center, until you have successfully linked all the crystals. Once you've reached the outermost desire stones, retrace your steps and make your way back to the focus stone.
It's helpful to audibly announce your intention, chant a mantra, or turn this step into a form of meditation.
Step 5: Maintenance and Preservation
The grid is activated! What next?
Crystal grids are fairly low maintenance after activation, but it's not as simple as set it and forget it. Your maintenance plan will depend on the intention, timeline, and the location that you decided for your grid in Step 1.
Keep in mind that crystal gridding creates an energetic vortex. It's important to keep the area surrounding the grid free of clutter and dust to prevent contamination or stagnancy. If at any time the grid's frequency feels weak or altered, place your palms over the grid and reinstate your intention. You may also play connect-the-crystals again with the wand, ring singing bowls, or connect with this grid through meditation.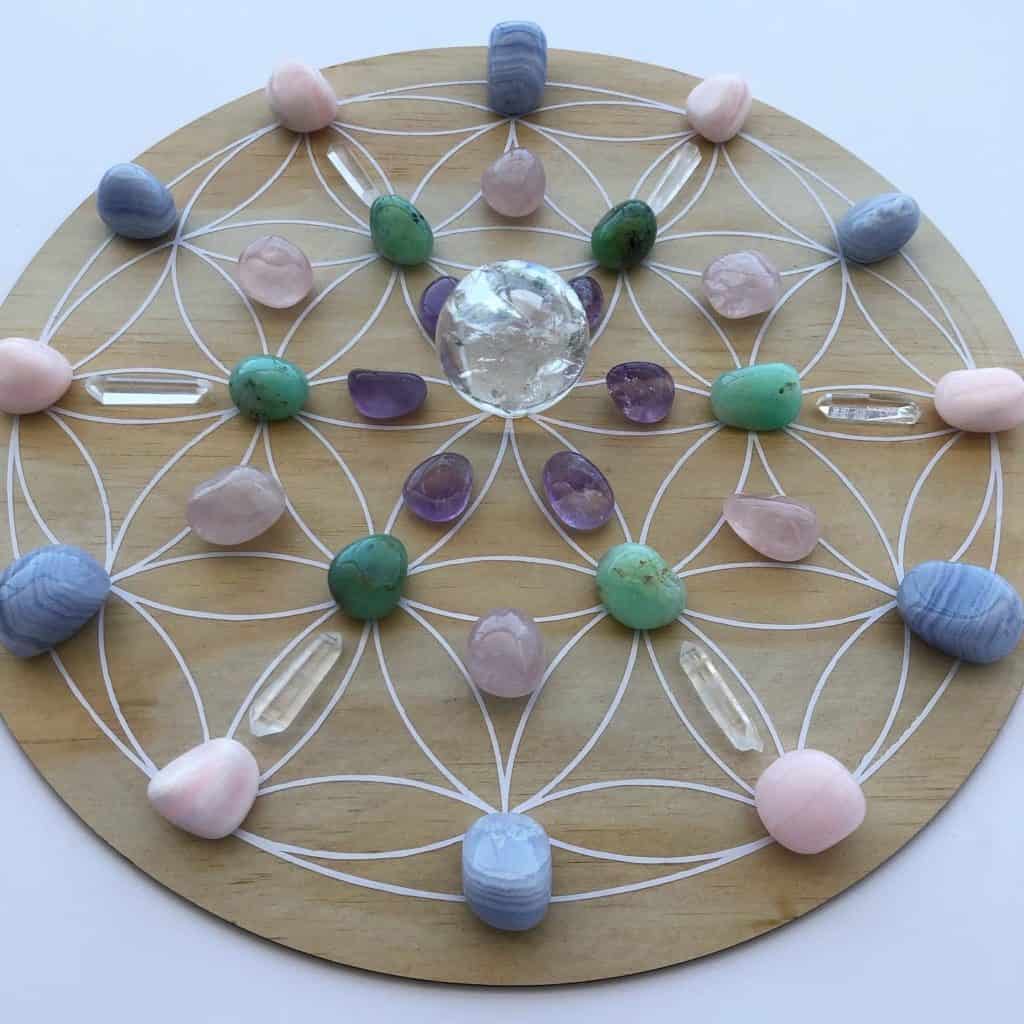 Check out more crystal offerings from The Alchemist's Kitchen here!
Photos courtesy of @gemma.stone.spirit