We know the holidays can often bring on more stress than joy with all the planning, preparation, and family politics involved. Surviving Thanksgiving is already a momentous task to do. But worry no more – this guide is about helping you enjoy the season with the calm and serenity it truly deserves. Our focus? Curated products that encourage relaxation. From calming CBD products to soothing wellness tools to innovative methods such as microdosing, we offer a wide selection of ways to melt away the stressors and enjoy the holidays. 
Take a deep breath, unwind, and read on to discover the perfect products to gift yourself or loved ones to ensure a chilled and enjoyable Thanksgiving this year. Welcome to your holiday serenity!
Understanding CBD
Derived from hemp, a member of the cannabis plant family, CBD is a natural compound celebrated for its ability to foster calmness and relaxation. While often misunderstood, CBD does not induce any high or intoxication, which is instead associated with THC (Tetrahydrocannabinol), another compound found in marijuana. Instead, CBD can alleviate stress, promote relaxation, improve sleep quality, and contribute to overall well-being – without the potentially disorienting side effects.

Why Use CBD for Surviving Thanksgiving?
When Thanksgiving plans start to feel overwhelming, CBD products may help ease the mounting pressure, keeping stress at bay and allowing you to appreciate the holiday better. CBD interacts with our body's Endocannabinoid System (ECS), which controls various functions, including mood, sleep, and stress levels. By boosting the ECS, CBD can promote an environment of tranquillity, setting a calming tone for your Thanksgiving activities.
Managing Cooking Stress
Thanksgiving feasts require many culinary feats, which may ignite kitchen stress. Infusing CBD into your meal preparation process could provide a relaxing cooking experience. Not only can CBD help alleviate physical discomfort that can arise from hours spent standing in the kitchen, but it can also help to keep you focused, relaxed, and open to culinary creativity. Products such as CBD-infused olive oil can be integrated seamlessly into your cooking, providing calming benefits throughout the meal.
Soothing Social Anxiety
With a house full of relatives or friends, Thanksgiving often generates social anxiety. CBD can play a pivotal role here as well. Consuming a small dose of CBD before the event can induce a sense of calm, ease nervousness, and boost your confidence levels. Plus, with various forms such as oils, capsules, and gummies, you can choose the method that best suits your lifestyle and preference.
Ensuring Restful Sleep
Maintaining quality sleep during the busy Thanksgiving season can be difficult. However, CBD has been shown to help users maintain regular sleep cycles and improve overall sleep quality. Utilizing CBD can provide a refreshing sleep experience that enables you to wake up rested, rejuvenated, and ready to survive Thanksgiving.
Incorporating CBD for an Enjoyable Thanksgiving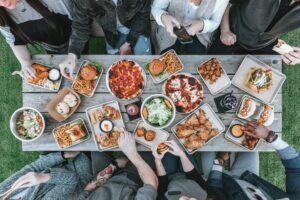 Choosing the right product and dosage is essential to enjoy the full benefits of CBD. Start with a low dose and gradually increase until you find what works best. Be sure to opt for a trusted and reliable CBD product to ensure that you're reaping all the potential benefits. Trust me, I've had my own experience with using CBD to handle the holiday hang-ups.
Surviving Thanksgiving with CBD
Last year, I found myself experiencing my very own 'National Lampoon's Thanksgiving Disaster.' The in-laws were due to arrive, the house needed cleaning, a feast was expected to be cooked, and my twin boys decided this was the ideal time to discover how much fun it was to create art on the freshly painted walls. Tension was brewing faster than the holiday eggnog. That's when I remembered I had a nice big vial of Plant Alchemy's CBD oil.
As I began to include a few drops of CBD in my morning tea, I noticed a wave of calm wash over me. It didn't miraculously finish all the chores or restrain my twin boys from their destructive artwork, but it created an unexpectedly serene mental environment that made everything feel manageable. The difference wasn't so physical as it was emotional. I felt surprisingly tranquil, and my stress levels were remarkably reduced.
Even the colossal task of hosting a family dinner, which once felt like managing a Thanksgiving parade single-handedly, started to feel achievable. It was even fun. I started taking joy in cooking again and enjoyed decorating the house. The occasional commotion caused by my kids didn't ruffle me. I wanted their gleeful mischief because what would the holidays be without some childish fun?
CBD oil was not a magic wand that cleared away the responsibilities of holiday preparation. Instead, it calmed the overwhelming sensations, allowing me to stay patient, enjoy the process, and be present during those festive moments that usually zoomed past in a whirl of anxiety and stress. Now I could sit, chill, and watch some football with the family.
Thanksgiving has always been about appreciating our small and big blessings. Last year, CBD was a tiny yet significant blessing that transformed a frenzied holiday set-up into a heartwarming memory. It offered me the calm to organize, cook, decorate, relax, and enjoy my favorite holiday. So, this Thanksgiving, among the various traditions, remember to add a little CBD into your routine. Who knows? It might turn your Thanksgiving into a relaxed and joyful holiday experience, too!
CBD is the right way to go when relieving the holiday anxiety. Lucky for you, our Plant Alchemy CBD remedies can provide everything you need to make your Thanksgiving as relaxing and joyful as possible. So take a deep breath, add these alchemical concoctions to your cart, and navigate Thanksgiving with ease and peace of mind. Here are a few of our favorite Plant Alchemy products:
The Organic Magnesium Topical Spray by Plant Alchemy could be a savior during the stressful Thanksgiving holiday. Magnesium assists with many of these symptoms. Muscle cramping and tightness may become an issue when you're busy and feeling pressured. Magnesium is recognized for its effectiveness in relaxing muscles, potentially offering a much-needed release.
Moreover, poor sleep is a common symptom of stress. Studies show that magnesium can have a positive effect on the quality of sleep. It not only helps to regulate sleep quality, but it can also control how long you sleep. As suggested, spraying this product on your feet and legs before bed may help you get the rejuvenating sleep you need during the busy holiday.
With all these benefits, the Organic Magnesium Topical Spray can be your trusty companion during the holiday. Its simple, convenient application offers a non-invasive magnesium supplementation method to control holiday stress. So, get ready to handle your Thanksgiving with newfound strength and confidence with some help from Plant Alchemy.
The Sleep Well CBD-CBN Tincture is the perfect aid for those feeling the weight of the Thanksgiving holiday stress. Made with a high-potency blend of CBD and CBN, this product promises to deliver superior calming effects, relieving anxiety and promoting restfulness.
Holiday preparations often mean long, tiring days, which can result in sleep deprivation. But with the Sleep Well CBD-CBN Tincture, you can experience improved sleep regulation. One dropper full under the tongue every evening can work wonders for a good night's rest. For those planning to travel during the Thanksgiving holidays, Sleep Well also comes in a travel size, which you can take up to twice under the tongue every night for consistent sleep support.
You don't have to let the holiday stress take over your nights this Thanksgiving. Reach for the Sleep Well CBD-CBN Tincture for better sleep, peace of mind, and energy to make it through the holiday. A restful night will surely set the stage for a more enjoyable Thanksgiving celebration.
The Plant Alchemy CBD Concentrated Oil from The Alchemist's Kitchen is an ideal companion for such stressful times and the very product I used to help get over my holiday unrest! This 1,000 mg CBD oil, made from organic full-spectrum CBD, offers much-needed relief from anxiety and stress. Each drop of this powerful formulation contains 4 mg of CBD. This is the perfect dose to get all those relaxing benefits without the usual mind fog that comes with other cannabis products.
Besides managing stress, this CBD oil also aids in restful sleep. Post-holiday exhaustion is expected, and having a restful night is paramount for replenishing your energy levels. Regularly using this CBD oil can improve your sleep quality, waking you up refreshed every morning.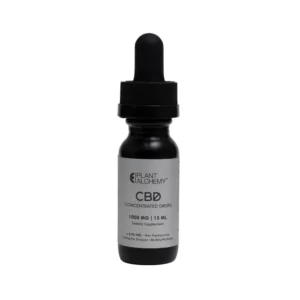 This CBD oil can also be a lifesaver if the holiday also comes with physical strains, such as carrying heavy luggage or standing long hours preparing meals. Its formulation is intended to provide relief from chronic muscular and joint discomfort. It also reduces inflammation that may be caused due to overexertion.
Using CBD oil during the Thanksgiving holidays could be an integral part of your wellness routine. It could mean the difference between merely surviving the holiday season and enjoying it with vitality. Choose Plant Alchemy CBD Concentrated Oil for a natural, organic approach to handling the stresses and strains of the Thanksgiving holiday season.
We also offer CBD Gel Capsules that offer the same sort of support as our Concentrated CBD Oils. Each capsule contains a controlled dose of 25mg CBD, which may provide relief from chronic inflammation and pain.
When it comes to winding down after a long day of Thanksgiving activities, getting a good night's sleep can sometimes be challenging. These CBD Gel Capsules have been known to work wonders for sleep and relaxation, helping to counter stress-related sleep deprivation.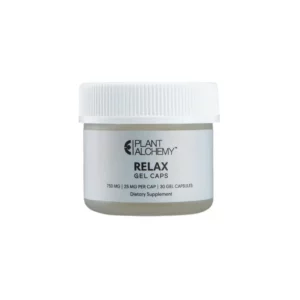 For a more targeted pain relief product, this highly potent Alleviate Pain tincture is designed to bring about balance to the mind, body, and spirit. With a combination of 20mg of CBDA, CBG, and CBD, it can be an ideal remedy for any stress or anxiety brought on by the Thanksgiving holiday. Whether it's anxiety about cooking the perfect meal or dealing with large gatherings, just a few drops can help keep the pain in check.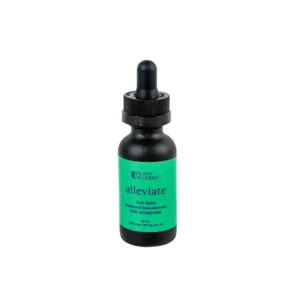 Made from carefully cultivated seeds and flowers, Alleviate offers a full-spectrum, whole-plant formulation to deliver all of the plant's natural benefits. Ingesting the tincture as suggested, either between six drops to a full dropper daily, can ensure constant relief and resilience against any Thanksgiving-induced stress.
Moreover, the pleasant infusion of MCT Coconut Oil, Peppermint Oil, and Vanilla can also create a moment of tranquility, even amidst the chaotic holiday environment. It's not just about managing stress; it's about indulging in a self-care routine that keeps you balanced.
With all that food you'll be eating this Thanksgiving, the Alchemist's Kitchen's Full-Spectrum Turmeric Ginger Capsules can help support your health and well-being to keep you from feeling too sluggish and bloated!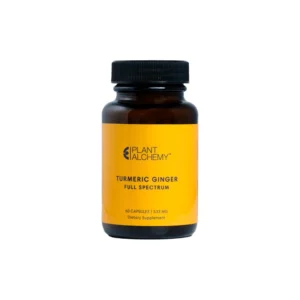 This powerful herbal blend can help to promote good digestion. We often struggle with digestive discomforts such as bloating or heartburn after a huge feast. Both turmeric and ginger are known for their powerful digestive aid properties, helping to ease these discomforts and enhance digestion.
Additionally, with the stress and business of preparing for the holiday, the immune system may weaken, making us more susceptible to colds and flu. This capsule blend contains both Turmeric and Ashwagandha, herbs that are known for their immune-boosting properties. Taking these capsules daily can help strengthen the immune system and increase resistance against common diseases.
The ingredients' rich antioxidant and anti-inflammatory properties can also help deal with the effects of overindulgence, particularly inflammation and oxidative stress caused by excess alcohol and sugar intake. They aid in detoxification, helping to cleanse your system and lessen hangovers. Don't fret over those Thanksgiving sweats; try these herbal capsules and find relief fast!
Holidays at The Alchemist's Kitchen
Be sure to visit our Soho location for in-store events, incredible mocktails, and beautiful holiday gifts. We're excited to welcome you as a part of The Alchemist's Kitchen's family. Happy holidays!