History of Korean Health and Beauty
Korean women are projected to be the first in the world to have an average life expectancy of above 90 by 2030. Their secret to beauty and longevity dates back to ancient times during the Joseon dynasty in the 1300s. 
Confucianism played a significant role in Korean culture and women's health and beauty routines. A clean and soft face was considered beautiful due to Confucianism's emphasis on prudence and modesty as well as on internal beauty rather than external beauty. The focus on natural beauty was having a clear and healthy-looking face instead of colorful, embellished make-up painted on one's face. 
Intentional Daily Habits
Confucian ideology was to create a peaceful society by bettering the attitudes and behaviors of individual followers. Korean women set intentions in their daily habits, everything from their skincare routine to their eating habits and spiritual practice.
Spiritual Practice
Koreans prioritize their spiritual practice through prayer or other forms of meditation. Shamanism is widely practiced in Korea and in fact, most shamans in Korea are women. Many Koreans believe in connecting with their ancestors on a spiritual level. Also, the largest megachurch in the world by attendance is located in Korea with over 830,000 members. Religion and spirituality play a significant role in many Korean people's lives and enhancing one's spirit are widely practiced by Korean women.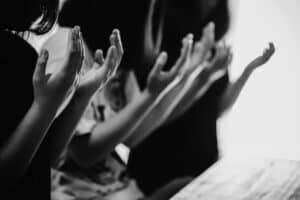 Movement
Walking and hiking are daily habits for Koreans. They walk so much because of the vast public transportation and also the access to hiking trails nearby. Fitness is taken seriously to build lean muscles. The key to Korean women's movement is to burn fat by eating healthy foods with low calories and build muscle by training with resistance. Continuous nutritional and fitness education has been important for Korean women to create intentional habits for their beauty and longevity. 

Diet: Korean Herbs & Vegetables
South Korean women's long lifespans contribute to their diet, as many Korean dishes are fermented vegetables, most notably kimchi–which is high in probiotics and vitamins A and B. Korean cuisine comes with many side dishes called banchan like seasoned soybean sprouts and spinach, lotus root vegetables, steamed eggplants, watercress namul (herb), radish salad, and pickled root vegetables all seasoned with garlic and sesame oil. Korean women have lower average-body-mass indexes (BMIs) and blood pressure because of the foods and herbs they consume. Furthermore, Korean women intentional about how much they consume and practice portion control.