One of the many wonderful aspects of practicing herbalism is that it requires you to be present with the plants around you. When they burst into bloom at the height of Summer, buzzing with activity, we herbalists get out there too, busy like bees. As earth tenders, medicine makers, and practitioners, we act in accordance with the herbs' activities, surrendering to the seasons. When our flowering friends hibernate during the cold stillness of Winter, we too move more slowly, intentionally, still occasionally harvesting from the abundance that remains around us. Abundance surrounds us always if you know where to look.
The Dark Season
Above all, the Dark Season calls for rest. If Autumn is the time of the harvest, the Reaper; then Winter is the time of rest, of Death. Call it hibernation, gestation, liminal space—the call of silence must be heeded. Many indigenous cultures associate Winter with the element of Water, and indeed, this is a great time of year to nourish the waters of the body.
Traditional Chinese Medicine associates each season with both an element and an organ system; Winter is linked to the element of Water and with the Kidneys. Winter is a powerful time to nourish, support, and tone our kidneys, bladder, and urinary system. Likewise, the Lymphatic system is among the waters of the body. It's our first line of defense against external pathogens and a part of the larger Immune system. Many of us get sick during the winter, so supporting our Lymphatic system now is also of paramount importance! 
The Herbs of Winter 
The following herbs are abundant and viable for intentional, respectful harvesting during the winter months in much of the northern hemisphere. Only ever harvest herbs from healthy, plentiful stands, and harvest only as much as you need. As author, botanist, earth poet, and respected indigenous elder Robin Wall Kimmerer wrote in her book, Braiding Sweetgrass, "Never take the first plant you find, as it might be the last—and you want that first one to speak well of you to the others of her kind."
Winter Berries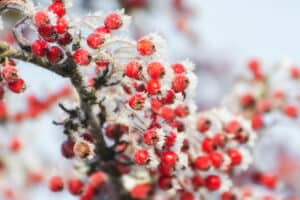 The sweet, juicy berries of summer withered several months ago. However, certain berries weather the frost, sweetening in response to colder temperatures. Though they eventually soften as they freeze and thaw, many are viable to use as medicine or food.
Juniper Berry is technically not a berry at all, but rather a fleshy, round, aromatic cone. Like most berries, though, Juniper is rich in antioxidants and flavonoids. A potent antimicrobial, Juniper also has diuretic action, which helps to flush the kidneys and bladder and resolve urinary tract infections.
Rosehips, the fruit of the beloved Rose flower, provides us with high levels of much-needed vitamin C, antioxidants, and flavonoids, which support the immune system. Additionally, Rosehips support heart health and capillary integrity, soothe sore throats, aid digestion, and tone internal tissue.
Hawthorn Berries hang in bright red clusters on the otherwise naked Hawthorn tree during the winter months. Like Rosehips, Hawthorn berries boast high levels of flavonoids and vitamin C. Hawthorn is specifically heart medicine, with well-documented actions of improving coronary circulation, dilating coronary arteries, and relieving cardiac hypoxemia. Like Juniper, Hawthorn berries also have diuretic properties, which support the kidneys and urinary tract.
Tree Medicine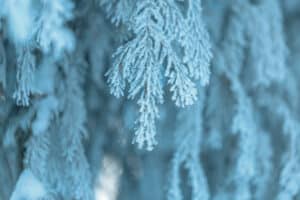 Standing tall and steadfast during the winter months, the trees provide us with the inspiration of endurance, and with generous medicine. Look to winter hardy trees during this time, like evergreens, conifers, and cold climate lovers.
White Pine is a beautiful evergreen tree long associated with peace among Indigenous tribes of northeastern North America. I recommend working with the twigs and needles; often, I simply gather felled branches in pristine condition on the ground around bigger trees. Pine is a wonderful respiratory tonic, easing coughs and congestion. High in vitamin C, Pine also supports the immune and circulatory systems.
Cedar is another magnificent evergreen tree with powerful medicinal properties. Certain northwestern American Indigenous tribes have deep connections to protective Cedar. It's a multifaceted antimicrobial and immune-boosting remedy; I recommend working with small amounts of the leaf. It makes wonderful steam, helpful for clearing out the lungs and respiratory system. Cedar is also a potent diuretic, which, as we know, supports the kidneys, urinary tract, etc.
Black Birch is a stately, pleasant smelling tree, easily identifiable due to the wintergreen aroma of its bark and leaves. I recommend working with just the bark from the twigs in winter. The whole tree contains high levels of methyl salicylate, which can help to relieve sore muscles, aches, and pains. Birch Bark is also a traditional remedy for kidney stones, bladder afflictions, fever, and respiratory illnesses, among others.
Lichens, Seaweeds, and Fungi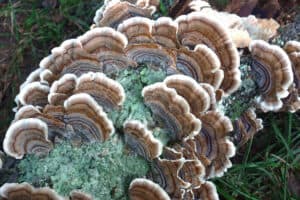 Though Lichens, Seaweeds, and Fungi can be rich, nourishing medicine all year round, the dark season is a particularly effective time to turn to our non-photosynthesizing medicinal allies for some winter-specific support.
Usnea is a lichen: a unique life form that is the embodiment of a symbiotic relationship between an algae and a fungus. Usnea is commonly found in old-growth forests. Also called "Old Man's Beard," it grows slowly from the tree branches, hanging like a pale green pelt. Due to its slow growth, please never harvest Usnea off of a tree, instead gather what's inevitably fallen to the forest floor. Usnea has antimicrobial properties and tends to act on the mucosal membranes, helping to clear up infections, with a special affinity for the respiratory tract and the urinary organs and kidneys. 
Irish Moss is a type of abundant, red seaweed eaten as a survival food during the Irish potato famine. Today, it's often used as a thickening, stabilizing agent in prepared foods, where it's listed as "Carrageen." Rich in necessary minerals, Irish Moss also feeds the tissues and the waters of the body. Mucilaginous and cooling to the mucosal membranes, it soothes irritation, dryness, or infection of the respiratory tract; bladder and urinary system; and gastrointestinal tract.
Turkey Tail mushroom is a type of cold-hardy fungus that persists throughout the winter months. Turkey Tail is antiviral and a premier immune-stimulating and regulating medicinal mushroom. It contains polysaccharides, specifically a type called beta-glucans, which have been shown to support the immune system, healthy cell growth, and proliferation. This mushroom is a promising element in protocols for chronic immune debilitating conditions, like cancer or HIV. 
Sources
Codekas, Colleen. "What to Forage in Winter: 30+ Edible and Medicinal Plants and Fungi" https://www.growforagecookferment.com/what-to-forage-in-winter/