This is the season of love, so it's the perfect time to center practices that amp up your capacity for connection—with yourself and others. The following astrology products from Alchemist's Kitchen are as useful for facilitating everything from sexcapades to romantic bliss to rekindling the flame with lost or forgotten parts of self. Read on for a break down of love – and sex-enhancing products for every sign of the zodiac, whether you're a novice nymphette or full-on erotic expert – find your perfect astrology product.
TL;DR Stars like cacao, damiana, and rose are recurring features in AK products that can help buoy your sex and/or love life this season, with zodiac-specific recs below.
Aries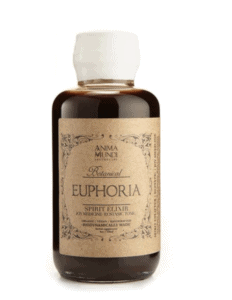 Anima Mundi, Euphoria Aphrodisiac Love Tonic: This mood elevator and aphrodisiac blend is a heart-opener that can increase the intensity and accessibility of climax. The hibiscus hydrates tissues and is a diuretic, making it good for the urinary tract and helpful in controlling blood pressure (lest you overheat, dear Aries). Taken in small doses daily (1 tsp) it can soften that fiery edge, and in large doses (1 Tbsp) you'll notice a more pronounced aphrodisiac effect. Enjoy this in cocktails, mocktails, or on its own, a half hour or hour before you wish it to achieve its full effect, whatever that means to you.
Taurus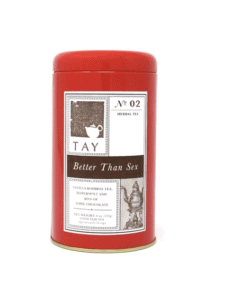 Tay Tea's Better Than Sex Tea: This tea smells like cacao thanks to Belgian dark chocolate. The many levels of aesthetic appeal (and the fact that you consume it) make this tea ripe for the Taurean spirit. It's no wonder this is a client favorite from maker Nini Ordoubadi. Rooibos, a mineral- and antioxidant-rich red tea originating from South Africa, contains no caffeine and can actually help you unwind, making it a great night-cap. The peppermint will help you relax and freshen that come-hither breath. It's also a digestif (*cough* Taurus *cough*), reducing gas, bloat, and colonic spasms (unless you're into those, in which case, godspeed). Too much? Listen, we've all got a little Taurus in our charts somewhere. Better to have had this tea and fallen asleep on the couch in a food coma then never to have had it at all.
Gemini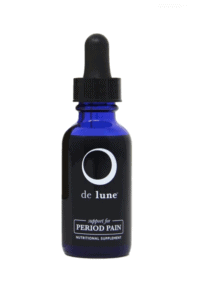 De Lune Period Pain Tincture and Cattail Apothecary Moon Cycle Tincture: Heads up, menstrators. You know how sometimes you're less than blissfully in love with yourself/partner(s)/the world come moon time? Hormone fluctuations, while insufficient justification for millennia of patriarchal oppression, can still be a bummer. Mutable signs like that of the Twins mark the end of a season (in this case, spring) and the integration of all the hard lessons it brought. Menstruation, on the other hand, marks the beginning of a cycle. These two tinctures can help minimize certain less-than-desirable period symptoms to smooth out the transition from end to beginning. Namely, the cramp bark in both of these tinctures is great for relieving, you guessed it air sign, cramps. Sometimes unfairly dubbed two-faced, Geminis get a lot of heat for embodying the archetype of theater's tragedy-comedy masks, and somewhat unpredictably at that. Additional nutrients like B vitamins and a slew of minerals depleted from the body during moon time are resupplied by De Lune's tincture, and the soothing, cooling properties of skullcap and yarrow in Cattail Apothecary's Moon Cycle will make you less inclined to reach for tragedy and more likely to opt for comedy instead, putting you more at ease with yourself and helping you pair better with others, as well.
Cancer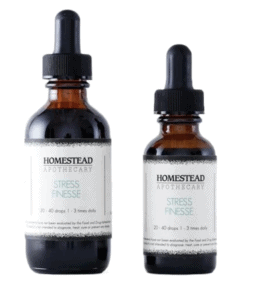 Homestead Apothecary Stress Finesse Tea and Tincture: Sometimes getting in one mood requires leaving another one behind. I'm lookin at you, Cancer. Handcrafted in Oakland, this tea blends organic rose petals, lemon balm, skullcap, and peppermint to relax both your physical and subtle bodies. Steep it in hot water (I know, you're welcome) for 10-30 minutes for maximum unwindage. Keep in mind that while lemon balm is a great nurturer, it's a good idea to check in with your doctor if you have thyroid issues, are pregnant, or are chest/breastfeeding before gulping it down. Because whatever the keg stand version of tea drinking is, you'll want to do it with this.
Leo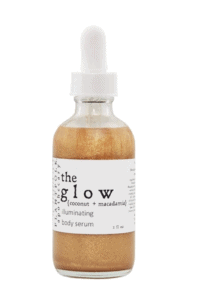 The Glow Illuminating Body Serum: This is gold-flecked! That's probably enough to sell it Leos right there, but I'll go on. The shimmer is faint, like the kind of luminescence the sun naturally brings out in skin. It's very moisturizing, thanks to macadamia and almond oils, and it's unscented, so you can layer it with whatever scented oils you wish. Mix it with lotion if you require less moisture, or use it straight out of the bottle for extra love during cold months. The instructions say to shake well and they aren't kidding; the gold Mica settles so get your groove on and shake, shake, shake it. For extra glow, use this CBD Skin Releaf bar beforehand! 
Virgo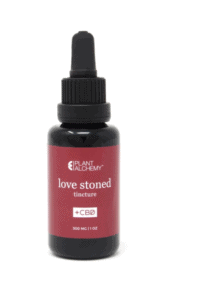 Plant Alchemy, Love Stoned Tincture 300 mg: Virgos over 21 will appreciate the CBD in this tincture, a Beyoncé-level famous cannabinoid touted for its calming, stabilizing properties. Did you know that the reason why THC, CBD, CBDN, CBDNA, and other cannabinoids (parts of the cannabis plant) work so well with the human body is that we literally have a series of receptors in our central nervous system called the endocannabinoid system, which, like puzzle pieces, these plants can plug directly into like they were mfeo (made for each other)? I say this because you love to have these types of factoids to drop at parties or whisper like sweet nothings into a lucky someone's ear (probably another Virgo, who will be super turned on by your intellectual flex). Partnering with damiana, cacao, rose, and vanilla, this tincture is activating without being over-stimulating. The base is a blend of glycerin and brandy, good for folks who don't mind alcohol but prefer when it isn't too forward.
Libra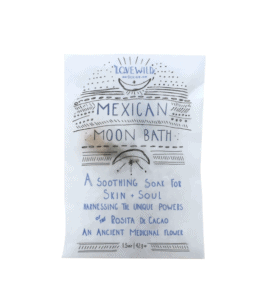 Mexican Moon Bath Salts: Add these to your bath if you're an overextended Libra who needs to unwind before you get down. Wild crafted in Oaxaca, this sachet contains Rosita de Cacao, an ancient medicinal flower that, like you, oh diplomatic one, can be used to soothe pretty much anything. Calm those nerves, smooth over menstrual symptoms, ease your winter cold, or kickstart your libido. While your investment in keeping the peace may tip you toward confusion and indecision, at the end of the day, yours is a Venus-ruled sign, love.
Scorpio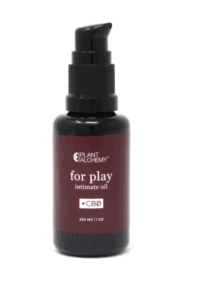 Plant Alchemy, For Play Intimate Oil, 250 mg (21+): I'm guessing most Scorpios have already arrived at this party, but for those who prefer a fashionably late entrance, welcome to the CBD lube soirée. Scorpio is a fixed sign. Falling in the middle of each season, fixed signs are the, um, doers, of the zodiac. For punsters who're down to go the distance, this massage oil and personal lubricant is as good on the surface of the skin as it is getting under it.
Sagittarius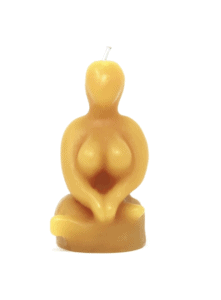 Goddess Sitting Candle: Celebrating the divine feminine (however you define that energy) is always an act of love. This goddess is seated in lotus position, root chakra to the earth, brining a stabilizing energy to you, dear Archer. Allow her golden color to invigorate your 3rd chakra as you pave the way forward for the rest of us (thank you, by the way). You can also use the flame to light the way (in seduction, sure, but also, life), like a Sag is wont to do.
Capricorn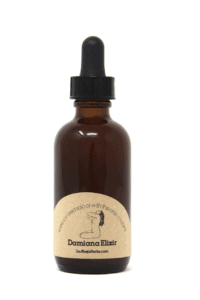 La Abeja, Damiana Elixir—Some signs aren't known for surrendering to flow, no shade Capricorn. This heart opener from La Abeja smells slightly floral and slightly fruity, and the taste is reminiscent of cassis liqueur. The damiana herb works on the circulatory system to stimulate blood flow. This has obvious implications for the sex organs, but can also act like a kind of heart Viagra, in part thanks to hawthorn berry, to melt the tension around the 4th chakra. Take it early in the day to give it a chance to cycle through your system by love-making time (which is anytime, obviously, so may as well get it in your system first thing). One to three (three) dropperfuls will do the trick, and I won't tell you how I know but an increase in boldness (three drops) may be another welcome side effect (take three).
Aquarius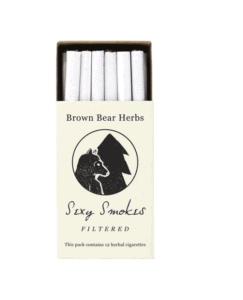 I'm not here to tell you smoking is sexy. I'm also not here to pretend like seeing K Stew with a cigarette butt doesn't stir my youthful memories of sucking down American Spirits as fast as humanly possible (which is actually very slowly, they take forever). What better pump up jam for an Aquarius to relive their halcyon art-school days than a long, languid exhalation of organic herb smoke (which may be where creator Arati Ursus got the idea in the first place). Brown Bear Herbs smokes—Sexy and otherwise (they also come in Clear Mind and Gentle & Protective varieties)—have no nicotine because no tobacco, just wildcrafted ingredients like damiana, rose petals, and hibiscus (you get the theme by now, right?), blackberry leaf and mullein. Even though putting anything other than air in your lungs poses long- and short-term risks to your health, these baddies are filtered to be extra gentle, and purchases support habitat and wildlife conservation.
Pisces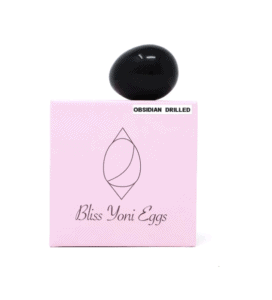 Bliss Yoni Eggs:
Would that we lived in a world in which everything that went in our vaginas were Reiki blessed beforehand. This is not that world, but you can get a glimpse of it with these yoni eggs by Bliss. They come in two materials: obsidian, sourced from Mexico, and nephrite jade, from China. Super bonus: each one has received Reiki before they hit the shelves. Is it awkward to use? Not if you're a Pisces, my easygoing friend. I'm not making any hard claims here so don't goop me, but if you're looking to strengthen and activate your root chakra, then these eggs have your back(side).
For more, check out The Alchemist's Kitchen's Season of Love Collection and other astrology products here!