Cannabidiol, also known as CBD, has gained immense popularity recently due to its numerous health benefits. One of the most prominent benefits of CBD is its anti-inflammatory properties. Inflammation is the root cause of many diseases, and by targeting it, CBD may help alleviate a variety of conditions. We at The Alchemist's Kitchen believe in the anti-inflammatory power of CBD, so let's show you that magic today!
The Science Behind CBD
Clinical studies have confirmed that CBD has a positive impact on inflammation and has the potential to treat a range of conditions. It does this by interacting with the body's endocannabinoid system (ECS), a complex system of receptors that help regulate many bodily functions, including inflammation. CBD acts on the CB1 and CB2 receptors of the ECS, reducing inflammation by inhibiting the production of cytokines and chemokines involved in inflammation.
CBD has also been shown to can decrease the levels of pro-inflammatory cytokines like tumor necrosis factor-alpha, interleukin (IL)-1β, IL-6, and interferon-gamma. Additionally, studies have found that CBD can improve vasorelaxation in diabetic rats and reduce oxidative stress and inflammation, which play a crucial role in developing Type 2 diabetes.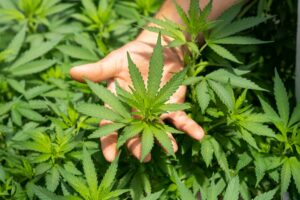 In a systematic review of cannabinoids and their effects on inflammation in animal models, researchers found that CBD, along with cannabigerol (CBG) and a combination of CBD and tetrahydrocannabinol (THC), have predominantly anti-inflammatory effects in vivo. However, THC alone did not show a reduction in pro-inflammatory cytokine levels.
Furthermore, research has shown that CBD can help manage pain, including neuropathic pain, which is often associated with inflammation. In a study of individuals with multiple sclerosis, CBD oil reduced pain and spasticity.
How Does CBD Work?
CBD interacts with the human body's endocannabinoid system, a network of receptors and chemicals that regulates several functions such as pain, sleep, appetite, and the immune system. CBD interacts with these receptors to reduce inflammation and relieve pain. Unlike THC, the psychoactive component of the cannabis plant, CBD does not produce a 'high' effect, making it a safer and more effective alternative to other pain-relieving drugs.
Pain can result from various sources, such as chronic conditions like arthritis or nerve damage, sports injuries, or surgical procedures. Many people turn to pharmaceutical drugs to ease their pain, but these drugs often come with unpleasant side effects and, in some cases, the risk of addiction. CBD, on the other hand, is a natural and safer alternative with minimal side effects.

Fight Inflammation Today
CBD can alleviate various conditions involving inflammation and chronic pain, such as rheumatoid arthritis, inflammatory bowel disease, and psoriasis. It is a superstar regarding its anti-inflammatory properties. This fabulous plant medicine shows much promise for many conditions, from reducing oxidative stress and inflammation to managing pain. 
If you're looking for the best way to use CBD, try The Alchemist's Kitchen's new collection of CBD topicals! From the Super Icy Soothe Balm to the Arnica Liniment + CBD Oil, The Alchemist's Kitchen has anything you need to fight that inflammation.
Interested in trying more plant medicine? Be sure to keep an eye on our
Events Page
for lessons, taste testings, speakeasies, and more!