The edibles revolution is here! People are discovering that ingesting substances through edibles is the most convenient and enjoyable way to consume them. My personal experience is a testament to these facts: edibles are just the way to go for many people!
Edibles are becoming increasingly popular in the substance scene, replacing traditional consumption methods. From cannabis-infused chocolates to low-dose microdosing gummies, edibles transform how we enjoy our favorite substances. 
Why Turn to Edibles?
College was always a mess of smoke and skunk-weed-stink. Going to school in New York City meant learning to understand the ins and outs of substance consumption– and a lot of the time, I was getting high on graham-cracker-chocolate-messes made in the dorm room toaster oven and tiny little gummies bought behind the counter at a nearby bodega. My friends at the time were the "take what you can get" sort, so I was lucky to have a chance to experiment during a time when weed was still only on the cusp of being accepted by the rest of society.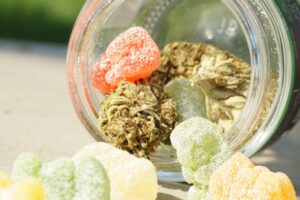 Legalizing marijuana only made it easier to realize the many options for getting high. Innovation brought in new sorts of vapes, strains, and pre-made joints. Beyond that, though, Hundreds of vendors suddenly began developing their take on a THC edible. I had grown out of my college friends and, like many other adults, began discussing the benefits of edibles over smoking. 
One of my closest friends would only partake in edibles, even when offered another option. "I just can't get smoking," he would tell us, "and taking an edible is like a whole experience. I get a stronger high, and it lasts a lot longer. Plus, I don't have to move outside in the cold to smoke; it's definitely a win-win."
Another one of my friends had more pressing reasons to stick to edibles: "I'm asthmatic, you know. I just can't take any kind of smoke or vapor without setting my cough off. Edibles can get me high without the hassle of worrying about my lungs."
So, why turn to edibles? There are plenty of reasons!
They're Healthier 
When it comes to taking substances like THC or magic mushrooms, edibles are becoming the go-to method for many people. This is because they are a much healthier option than smoking or vaping. When you smoke or vape, you inhale toxic chemicals and fumes that can damage your lungs. 
Eating edibles, on the other hand, does not expose you to these harmful toxins. In addition, when you take them, the THC is absorbed in your digestive system, meaning that the effects are more concentrated and longer lasting than if you were to inhale it. This also means you get more bang for your buck – edibles last longer than other methods and don't require as much consumption. So if you're looking for a healthier way to enjoy weed, edibles are the way to go.

They're More Discreet 
Edibles are becoming increasingly popular in the substance scene because they offer users a more discreet way to consume substances. In comparison to smoking weed, edibles are much more low-key and can be consumed without drawing any unwanted attention. 
Edibles come in many forms, such as gummies, cookies, brownies, and chocolates, which are much less conspicuous than smoking. This makes them perfect for those who don't want their consumption to be detected. Additionally, edibles often come in discreet packaging and can be easily disguised or hidden away.
They're Stronger 
Regarding potency, edibles are much stronger than other methods of consuming substances. Cannabis edibles are known for delivering a strong punch and are perfect for those who need a higher dose of marijuana or CBD. These treats are made with high concentrations of THC or CBD, allowing consumers to get the most out of their product without smoking or vaping. 
Edibles also provide a much smoother experience since the compounds are slowly released into your system over time. This can make it easier to stay in control of your experience while still getting the full effect of the substance. Plus, you won't have to worry about harsh smoke or vapor irritating your throat and lungs. In short, edibles are much more potent than other consumption methods and can provide powerful effects safely and effectively.

They Last Longer 
When it comes to consuming marijuana and other substances, edibles are the clear choice for those who want a longer-lasting effect. When you smoke or vape marijuana, the effects last a few hours. But when it comes to edibles, the effects can last much longer. In fact, many people report feeling the effects of edibles for several hours after consumption. This is because they are absorbed by your digestive system, not your lungs, which take longer to break down and distribute the substances throughout your body. This also means that the effects will be felt much more intensely than other consumption methods, making edibles the perfect choice for those seeking an extended experience.
They Taste Better
Edibles take the substance scene by storm for many reasons, including their better taste and smell. Edibles have a far more pleasant smell than smoking or vaping, and they come in various tasty flavors ranging from sweet to savory. 
Some edibles even have exciting flavor combinations, such as chocolate-covered espresso beans or gummy bears with a hint of cherry. The natural flavorings used in edibles make them taste better than other methods without harshness or strong odors. They also provide a much smoother experience that many people find preferable over other methods. In addition, these treats can be enjoyed at your own pace since they take longer, allowing you to enjoy the taste while waiting for the desired effects.
Edibles to Try Out
We at The Alchemist's Kitchen have a lot of amazing edible CBD and mushroom products for you to try. In particular, the Yummy Gummy – Vegan Pomegranate is a great way to get quick-acting relaxation and all the benefits of CBD! For a more divine option, try the Ginger CBD Dark Chocolate Bar. This little treat is great for anyone constantly on the go but craving a calming effect from their snacks.
Some other options for easing your way into the edible revolution are the Watermelon CBD Gumdrops from Lord Jones and the Ashwagandha Infused Hot Chocolate Pack. Be sure to write us a comment on which product is your favorite!

Learn More At The Alchemist's Kitchen 
If you want to learn about other substance consumption methods, check out the rest of our Wisdom Blog articles, Youtube Channel, and Events Page for fun classes and events! We also offer free twenty-minute Microdosing Consultations for anyone interested in learning how to safely microdose their favorite substances.