We virtually chatted with Jameela Rodriguez, a passionate and experienced holistic wellness coach. She is a certified 500 hour yogi, a personal trainer via the National Association of Sports Medicine, and a pre/post natal specialist. Jameela takes pride in empowering and educating, combining her Eastern knowledge with her Western foundation. You can practice a Sunday Evening Yoga: Gentle Flow with her on Sunday, April 26th, through our virtual learning center!
Tell us a little bit about yourself! 
I am a self-motivated modern woman who still values building genuine connections the "old school way." I was born in the Dominican Republic and moved to Brooklyn at the age of 3, I've been here ever since! I am spontaneous and I enjoy reading and learning. I am almost always vibing to some good tunes and exploring creative ways to inspire and impact society.
How did you come to your work?
I grew up being very active. I dreamed of becoming an athlete but did not have the resources to do so. I naturally wanted to learn about business ventures and ownership. Fast forward a few years later, and I graduated with a bachelors in science at The Whitman School of Management at Syracuse University. It was while being a real estate agent that I realized I wasn't happy. I took a leap of faith and dove into my first love: fitness/ wellness. I studied the areas I enjoyed such as weight-training, yoga, and meditation. I told myself I would make a career out of doing what I loved! I gained experience (Equinox, boutique studios, residential one on one and classes)  and later founded my own entity, TheRisingBlissLLC.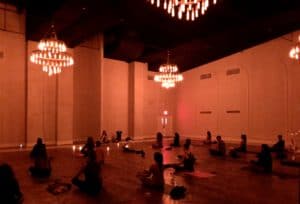 Tell us a little about Rising Bliss?
The Rising Bliss is a house of wellness branches that bring me bliss. I want to share this bliss with the world and help others transform their lives for the better by working on their body, mind, and energy. The Rising Bliss is a platform that celebrates and gives a voice to women that honor their well-being while uplifting others.
What advice would you give to someone who is looking to start their wellness journey but not sure where to start?
My advice is to explore! Dig into the things that naturally make you happy. Try different studios, explore Youtube channels, go away on retreats! The more you explore, the more you'll get to know what is truly for you. Always remember wellness is a journey, not a destination.  
Where do you hope to see the wellness and health industry move in the next five years?
I hope to see it thriving. I hope that we as a people, a system, a world– learn to heal and operate more consciously.
I hope this reflects on our daily habits and our every day living.
To practice yoga with Jameela Rodriguez, click here!