Photo by Georgia Love
DoubleBlind Magazine is now available at The Alchemist's Kitchen. We spoke with Co-Founders Madison Margolin and Shelby Hartman about their journey toward creating the beautiful print magazine of psychedelic articles, stories, art, poetry, and science.
DoubleBlind is a biannual print magazine and digital media company at the forefront of the rapidly growing psychedelic movement. With contributors around the globe, DoubleBlind covers stories from South America's ayahuasca tourism industry to the Silicon Valley micro-dosing trend and the groundbreaking research at leading universities. At the core of DoubleBlind's reporting are some of the most important issues of our time: the depression epidemic, the corporatization of medicine, and the aching people feel for spirituality or some other collective sense of meaning—all presented in visually compelling, rigorous long-form features, poetry, art, and photo essays. In 2020, DoubleBlind debuts events, transforming these potent topics into community engagements for psychonauts and the psychecurious.
Shop the magazine at our Bowery location (check back soon for online) or at doubleblindmag.com

Photo by Georgia Love
Madison Margolin
Tell us a little bit about yourself?
I'm a California/New York-based journalist, covering psychedelics, cannabis, and Jewish life. I'm co-founder and managing editor of DoubleBlind, and have written for a number of other outlets including Playboy, Rolling Stone, Vice, Merry Jane, Tablet Magazine, and other outlets. When not writing and editing, I like to report on the road: Some of my favorite places to travel and write about are Israel-Palestine (where I've looked at the role of PTSD in the conflict), India (where I've visited many of the same places along Ram Dass' own journey), and the Emerald Triangle (because who doesn't love a good pot farm?). I work a lot, but when in my free time, I love yoga, jogging, and hula hooping.
How did you come to create Double Blind? 
Since I graduated from Columbia Journalism School, I've been writing about cannabis and psychedelics. These two things have always been a family value: my dad is a criminal defense lawyer, who specializes in drug cases, and even defended Timothy Leary on a pot bust — so I've grown up in Jewish weed/psychedelic culture. As a joke, we call it "HinJew" because so many of my dad and his friends are Jews who have spent time at Maharajji's ashrams in India, and taken up Hindu practices, as well. So this isn't so much how I "created" DoubleBlind, but the background that primed me for it.
The creation factor came in when Shelby called me to ask if I'd like to make a psychedelic magazine with her. The idea for DB had popped into her head while she was meditating, and then she got in touch. The rest is history 🙂
How did you pick the name? Was it difficult? 
(Shelby chose the name, so I'll let her take this one)
What do you want your readers or potential readers to know about the magazine? What do you hope the community gets from reading your articles and stories?
We're not just a magazine about psychedelics. We are a psychedelic magazine. And what this means to me is that we use psychedelics to integrate other important topics into the conversation — social equity, environmental justice, mental health, spirituality, and queer culture, just to name a few. I want our readers to walk away not just feeling a bit more in the know about psychedelic culture today, but, especially in the context of reading the print magazine, to have had a mindful experience. Perhaps they read the magazine cover to cover and didn't look at their phone, or picked up while they were tripping. I want the magazine to be a resource and a piece of artistry you can have on your coffee table.
What other initiatives are you working on? 
We just launched a course on how to grow your own mushrooms! We were also planning to co-host, with Disco Dining Club, a "Psychedelic Seder" to celebrate both Passover and Bicycle Day (4/19). Due to the corona lockdown, it's been postponed but stay posted for more info about it over the summer! And our third issue is coming out this July, as well!
What do you hope to see in psychedelics and psychedelics adjacent in the next five years? 
I hope that those who get involved in the psychedelic space can uphold psychedelic ideals and the spirit of these medicines. I've seen the opposite happen with how capitalism has corroded the culture of the cannabis industry, and it's heartbreaking to think the same could happen to psychedelics. That's why I hope that we can be a voice to help guide the conversation in an equitable direction that maintains the integrity of the psychedelic culture that has existed long before people got excited about the "renaissance" today.
Madison Margolin is Co-Founder and Managing Editor of DoubleBlind, a biannual print magazine and digital media company covering psychedelics and all they intersect with, from healthcare disparities to the climate crisis. Having written for Playboy Magazine, Rolling Stone, Nylon, VICE, LA Weekly, High Times, Tablet, and other outlets, her reporting is concentrated on psychedelics, cannabis, drug policy, and spirituality. A graduate of Columbia Journalism School and UC Berkeley, Madison has traveled everywhere from pot farms in the Emerald Triangle to the shores of the Ganges River, and all over Israel-Palestine, exploring the role of plant medicine in religion, mental health, and conflict resolution. She got her start in journalism with a column on cannabis at the Village Voice, after having lived in south Tel Aviv working with Eritrean refugees. With more than 4 years' experience covering cannabis and other drugs, Madison has spoken on topics like social equity, cannabis feminism, cannabis journalism, and so forth at conferences like Digital Hollywood, the Association of Alternative New Media, the American Society of Journalists and Authors, The Rind's Women in Cannabis, Pepperdine's Cannabis Law Symposium, and others. Visit her.  website at: https://www.madisonmargolin.com/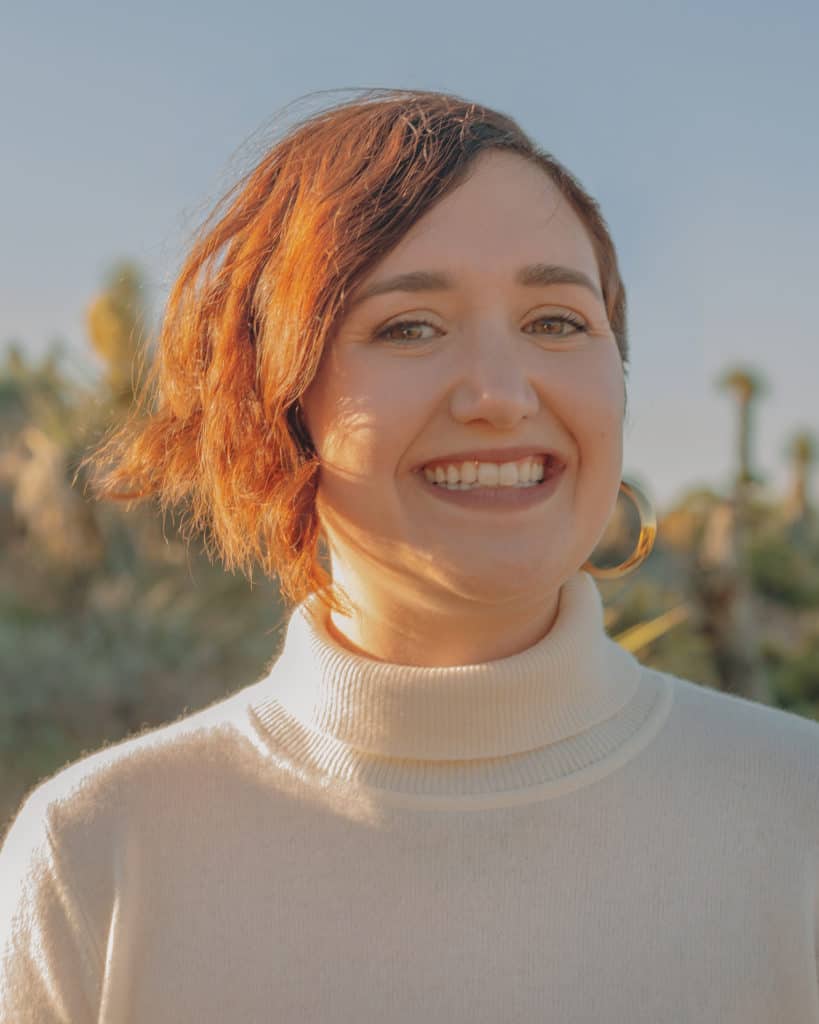 Shelby Hartman 
Tell us a little bit about yourself?
My first love was music, and my second was journalism. Sometime in-between finding those two passions, I found psychedelics—and, like they do for many, they informed my view of everything. These days, my professional title is Co-Founder and Editor-in-Chief of DoubleBlind, a psychedelic media company and magazine, but really what Madison and I are trying to do is build community and create dialogue around healing at this crucial time in history.
How did you come to create DoubleBlind? 
I was meditating in my apartment in New Orleans, believe it or not, and the idea came to me, like a vision. The seed was planted a long time before that, though. I had already been writing about psychedelics and cannabis for VICE, LA Weekly, and others so it just made sense.
How did you pick the name? Was it difficult? 
Madison actually approached me about a year before we started DoubleBlind and asked if I wanted to apply with her for an NPR grant to do a podcast. We never ended up sending in the application because we got caught up in other things, professionally, but the podcast was going to be on psychedelics and called DoubleBlind. At the time, I was reporting a lot on the insane amount of capital, time, and bureaucratic savvy it takes to do double-blind, randomized clinical trials in order to get drugs to market. I was frustrated by how certain drugs, with severe side effects, were able to get to market while others with extraordinary potential, like psychedelics and cannabis, were not. So the name was sort of intended to hint at our skewed medical system, but also all the ways in which we're "blinded" in our society. Psychedelics can help take those blinders off.
What do you want your readers or potential readers to know about the magazine? What do you hope the community gets from reading your articles and stories?
Perhaps this is an unorthodox thing to say, but I guess, amidst everything that's going on, what I want our readers to know most is that we care about them: we really, truly and deeply want to support them on their journeys with plant medicines. We hope our articles do that, but we also hope that they help destigmatize the psychedelic renaissance. There's also an element of deep journalism to our mission. As investigative reporters, Madison and I are invested in using reporting and analysis to hold players, both new and old, in the space accountable to ensure that psychedelic medicine is accessible to as many people as possible.
What other initiatives are you working on? 
We've just released a course on How to Grow Your Own Mushrooms, which we've put a lot of love into. It's 50% off until April 14th and includes seven episodes, access to live experts, and a written guide which will walk first-time growers through every step of the process. We hope you'll buy it if you feel called.
What do you hope to see in psychedelics and psychedelics adjacent in the next five years? 
I hope MDMA and psilocybin get to market as FDA-approved medications, and that the movement to decriminalize all drugs—psychedelics and otherwise—spreads like wildfire. I hope the psychedelic space makes an active effort to lift up marginalized groups, and give voice to women, people of color, indigeneous communities, and queer folk in the psychedelic field. I also hope that all the players in psychedelics come together for the common good: there's so many brilliant minds and compassionate hearts in this space, and I'd like to see them make magic together.
Shelby Hartman is the co-founder and editor-in-chief of DoubleBlind, a biannual print magazine and digital media company at the forefront of the rapidly growing psychedelic movement. Also a reporter and editor specializing in psychedelics, cannabis, drug policy, and mental health, her work has appeared in VICE, Quartz, the Huffington Post, and Rolling Stone, among others. Hartman worked in broadcast news production for CBS News, covering presidential elections, protests, natural disasters, and other breaking news. Spurred by a passion for print and investigative reporting, she transitioned to magazine writing, working as an editor at Pasadena Magazine and receiving her Master's Degree in long-form journalism from Columbia University in 2015. Since, Hartman has worked as a columnist at LA Weekly and an editor at Herb, the largest cannabis media company, with extensive features on the cannabis industry, the psychedelic research boom, the popularization of ayahuasca, and post-traumatic stress disorder in the veteran community. Learn more at https://www.doubleblindmag.com and at www.shelbyannehartman.com