This week we got to know Christopher Shade, PhD, Founder & CEO of Quicksilver Scientific, a company which combines nature's nutrients with the power of science and medicine. Their supplements are rooted in the philosophy that you deserve the ability to maintain a healthy mind and body for life. As noted on the company's website, Dr. Shade was born in a toxic steel town and "created Quicksilver Scientific to combat the environmental toxicity he personally experienced. Inspired by philosophy, guided by science, and driven to create, he patented a mercury speciation diagnostic process to analyze human toxicity. In addition, he created Quicksilver Delivery Systems® nanoparticle technology to increase the bioavailability of supplements and protocols leading to higher efficacy products without the prick of a needle." You can find Quicksilver Scientific supplements here!
Tell us a little bit about your background! 
I began my career in sustainability – including organic and biodynamic farming. From there, I furthered my understanding of the environment's role in our health through my work with the Rodale Institute. I started off by looking at the environment, then ways in which to clean up the food chain. I observed a depleted food system and saw supplements as a necessary addition to a healthy diet. My field of expertise is one that many might consider "natural healing," but in reality it's one that's marked by the use of cutting-edge science. Our technologies are used by the Cleveland Clinic and other top-ranked academic centers. Today, if I'm presented with a challenge, I like to biohack a solution. I continue to develop products that boost the power of nature through science, helping people on their journey to optimal health.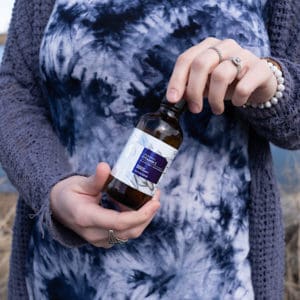 How did you come to creating your product line?
When I founded Quicksilver Scientific in 2006, it originally offered services to the environmental testing community. From there, Quicksilver staged its movement into the natural health and functional medicine space. We offer a pharmacy of products and specific protocols to help the removal of heavy metals and other toxins out of the body, while many of our products specifically are designed for restoring optimum health and helping maintain it. All of these products are based on the Quicksilver Delivery System, our foundational delivery technology created to get supplements into the body with rapid results and high efficacy. Quicksilver Scientific's product line always has been guided by my belief in the curative power of nature through the practice of modern science. As such, it's changed over time as we've perfected new scientific methods and adapted to meet the changing health concerns of our customers. Our core collection of products have focused on providing detoxification, hydration and increased energy for users, as well as CBD delivery and help with attaining ketogenic diet benefits. Quicksilver Scientific also produces a range of professional-grade health products. Today, in light of the world crisis, we have responded by fast tracking more  products that promote immune health, an area of concern for most customers and one we have a comprehensive line of support products.. We've seen a strong demand lately for many of our immunity-promoting products, such as our Liposomal Vitamin C, a potent water-soluble antioxidant that helps support the immune system from damage caused by free radicals. Vitamin C is known to be vital to immune function and as the most universal antioxidant used by our bodies.
How do you source your materials?
Quicksilver Scientific's ingredients set its products so far apart from the other liposomes on the market today. Aside from sourcing only the highest quality products, we also use only the specific ingredients that can ensure maximum efficacy.
Consider our phospholipids, as an example. We went to great lengths to get a pharmaceutical-grade, injectable-grade phosphatidylcholine extracted from sunflower lecithin. We went all the way to Germany to find the perfect pharmaceutical company to partner with us to produce it, and it allows us to achieve a phosphatidylcholine content of between 90-95%.
For comparison, other companies use a sunflower baking lecithin that comes from Russia and only provides some 15% concentration of phosphatidylcholine.
The result is a difference in quality you can actually see if you compare their emulsion products with ours. Quicksilver Scientific's liposomal products are transparently clear, while our competitors' products are cloudy, murky and streaked with layers of chemicals.

What is the Quicksilver Delivery System?
Quicksilver Delivery Systems is a suite of nanoparticle technologies that can increase the bioavailability of chemical compounds while increasing the speed of their efficacy. Our technology encapsulates molecules in tiny water-soluble spheres that are absorbed into the bloodstream much more quickly than compounds that have to go through the detrimental effects of first-pass metabolism in the liver. Our delivery systems are ideal methods for delivering oil-based substances into the water-based anatomy of humans. Because these nano-sized droplets are so incredibly small, they easily pass in between cells in the body, making their effect fast-acting and more chemically concentrated, which means more effective. Our proprietary nanoemulsion technology represents the future of dietary supplements.
What do you hope people get from working with your products?
At Quicksilver Scientific, we hope that consumers who utilize our products better achieve optimal health and the ability to maintain it. Wellness is everyone's birthright, as is the dynamic energy it can bring to mind and body. Our advanced-science products enhance health in different ways, such as restoring imbalances caused by toxins, promoting better microbial health and modulating inflammatory responses. Our innovative and patented molecular delivery technology ensures that our products are faster-acting than other delivery methods on the market. And our cutting-edge nanoemulsion technology promotes greater bioavailability, which is a measure of how much of a chemical compound is delivered intact into the bloodstream.
What does biohacking mean to you?
Biohacking is really the only way for any of us to achieve full optimal health. But, when we talk about biohacking, that can cover a lot of areas of wellness. For example, when you make decisions to eat healthier, exercise or get more sleep, all of these lifestyle changes are simple but effective forms of biohacking. Anyone can do these kinds of beneficial biohacks – and should.
However, oftentimes we need more than what we can get from lifestyle changes or even the foods we eat. In fact, because of the poor nutritional quality of our food system today, we desperately need to enhance our diets with supplemental nutrients and substances our bodies need to function at a higher level.
By using the power of science with the power of nature, we're able to biohack a range of beneficial biological responses that our bodies need. Consider our Liposomal GABA with L-Theanine, a product Quicksilver created to promote brain stabilization during detox protocols.
Our brains naturally produce the amino acid neurotransmitter GABA, which inhibits or slows nerve impulses. And the amino acid L-Theanine, which is found abundantly in green tea, also facilitates relaxation and calming effects without impairing cognition. Together, these beneficial compounds help support mood, mental clarity, cognition, stress management and better sleep. It's a perfect example of how a science-based biohack can help us detoxify and attain improved health.
What do you hope to see in the future of biohacking?
I'd like to see a stronger public awareness about biohacking for better health and wellness. Right now, not all consumers are fully aware of the benefits of biohacking, especially through the use of the kinds of supplements and protocols offered by Quicksilver Scientific.
Thanks, Dr. Shade. You can check out Quicksilver Scientific's offerings here!