Mugwort (Artemisia vulgaris) is an herb of the world! Native to Europe and Asia, but with a naturalized domain widespread enough to include every continent, it grows wild and abundantly in sunny places with disturbed soil—no stranger to cracks in city sidewalks, fields, forests, coastal habitats, and gardens. Mugwort's adaptability is mirrored by the myriad benefits it generously offers; its medicine has been used in many ways by many cultures since time immemorial.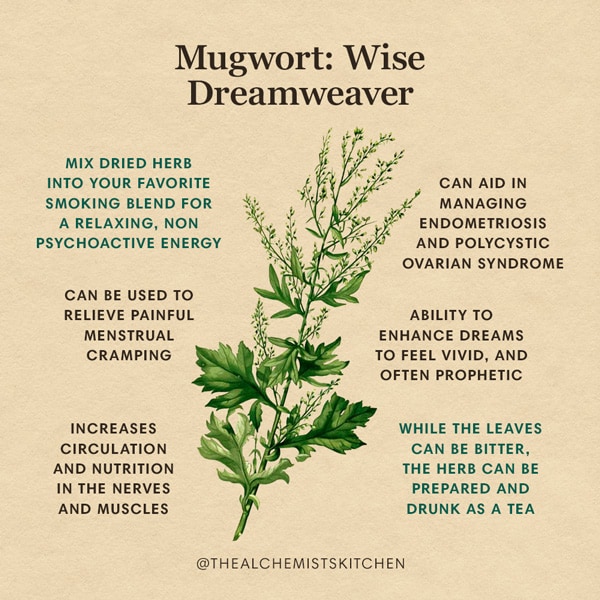 B
otany & Etymology
Mugwort belongs to the Asteraceae family and the genus Artemisia, so named for the Greek deity of wild nature and the moon, Artemis. It has a fitting affinity for the moon and the dream realm, its silver-y leaves shine in moonlight. Mugwort, like most Artemisia species, has a strong, somewhat sweet aroma and very bitter taste from terpenoids and sesquiterpene lactones. A tall, hardy herb, it can grow to heights between three and six feet when mature. The stems are angular and become woody when mature, with once or twice pinnately lobed leaves that are dark green on top with a silver underside. Mugwort's small flowers are wind-pollinated, and, when in bloom, it flowers in small, oval-shaped reddish yellow clusters.3 Mugwort also propagates easily from small fragments of rhizome, making it quite difficult to weed out!
Traditional Uses
An indispensable herb in both European and Asian medicinal traditions, Mugwort with its bitter, aromatic flavor has long been used in the cuisine of both continents as a digestive aid and a remedy for stagnant digestive issues. In both areas, too, Mugwort's menses stimulating emmenagogue action and affinity for the uterus was recognized and utilized.
History
Called 'the oldest of plants' (yldost wyrta) by the Anglo-Saxons, it has an enduring history of magical use; it is a key ingredient in the "Charm of the Nine Worts," a magic herbal formula believed to be given to the world by the god Woden. Ancient Romans planted Mugwort along roadsides so travelers could line their shoes with it to relieve aching feet. St. John the Baptist is said to have worn a girdle of Mugwort for protection when he set out into the wilderness and indeed, its strong, bitter compounds discourage and repel most animals and insects.
Certain Indigenous Americans used Mugwort as both a medicinal and spiritual ally; they believed crushed Mugwort leaves rubbed along the body kept ghosts away. Pagans used it in their summer solstice ceremonies during which a garland of Mugwort is worn while dancing round a fire, then thrown into the fire as a symbol of continued protection in the coming year. It was used long before Hops as a bitter flavoring agent for beer in the Middle Ages of Europe, when beer was consumed in place of clean water sources.2 In traditional Chinese medicine, Mugwort was ingested to stop excessive or inappropriate menstrual bleeding and burned atop the skin to quell rheumatic joint pain; in Brazilian folk medicine, as a remedy for stomach ulcers.
Modern Use
Today, Mugwort continues to be used globally as a magical, culinary, and medicinal herb. In Japan, it is pounded into glutinous rice to make a strengthening perinatal food called "gomogi mochi" which is said to stop postpartum bleeding and promote lactation in Japan. In Traditional Chinese Medicine, 'moxibustion' or 'moxa' continues to be used to bring circulation and pain relief to specific muscular areas. Moxa can be used to instigate delayed labor or to turn a breech baby in midwifery.2 
Western herbalists tend to use Mugwort in cases of delayed menses, intense menstrual cramps, excessive menstrual bleeding, and associate anemia as well as for weakened muscles and tremor, nervous tension, and stagnant digestion. It is high in Calcium and Magnesium, so some herbalists extract it in vinegar to make a mineral-rich tonic. The herb is known to encourage vivid dreaming and is said to provide prophetic visions, so it is often included in tea, smoke, or sachet blends for lucid dreaming and astral projecting.
Mugwort's Herbal Indications
Mugwort is considered to be warming, bitter, and fragrant.5 It's been applied in countless ways and cherished for countless reasons throughout cultures and millenia. Like most herbs, it has too many uses, actions, and indications to cover in this article, however, below are its most common medicinal indications in the realm of western herbalism.
Uterine Health
With this herb's affinity for the moon, it's no wonder this herb works so powerfully on the uterus and menstrual cycle. In yet another example of plant intelligence, Mugwort acts as a sort of uterine modulator, as it has been used as both an emmenagogue for delayed or stagnant menses and as a styptic for heavy menses or afterbirth bleeding. Often used for extremely painful, stabbing, "violent" menstrual cramps, it works quickly to quell muscular seizing, circulates blood to the womb, and enacts a warming, thinning action.
When taken regularly, Mugwort can also help to break up densities like fibroids in the uterus, and can aid in the management of conditions like endometriosis and polycystic ovarian syndrome.5 This herb is an ally to those in need of uterine balance, and those moving through hormonal thresholds like adolescence, parenthood, and menopause.
Increases circulation and soothes muscles
Physiologically, Mugwort is mildly stimulating to the nervous system, which increases circulation and nutrition in the nerves and muscles.5 Traditional Chinese Medicine has employed the herb in this way for centuries, in the form of "moxibustion" or "moxa." Moxa refers to the soft, cylindrical cones of Mugwort which are burned over the skin or on the tips of acupuncture needles in the practice of moxibustion, a type of traditional Chinese bodywork. Generally, moxibustion is used to warm the muscles and smooth the flow of Qi; it's a wonderful remedy for achey, rheumatic muscles and joints, stiff, cold muscles, as well as muscle spasms.1 In Western herbalism, it's often used in formulas for massage salves and cramp balms, due to its affinity for the musculature.
Mugwort has been considered a magical herb for thousands of years by diverse cultures, often associated with visioning and divination. Likely, this is due to the herb's ability to enhance dreams to feel vivid, and often prophetic. It can also be used to achieve a dream-like state in waking life which parallels the sensory and mental experience of such dreams.4 Often included in lists of plant-based oneirogens, or dream inducers, one of Mugwort's most popular uses is for lucid dreaming.2 In certain traditions, the herb is burned or imbibed ceremonially to encourage communication with the dream realm or realms beyond our world. It's a Korean tradition to take hot Mugwort baths late at night to promote meaningful dreaming.5
Contraindications for Mugwort
Mugwort is not recommended for use during pregnancy. Allergies to the pollen are somewhat common, use cautiously if you tend to have issues with ragweed or plants in the Asteraceae family. Large amounts may cause gastrointestinal distress. As with any herbal or supplement, consult an informed herbalist and primary healthcare practitioner before use.
Methods of Medicinal Use
Mugwort, like most herbs, has such a variety of uses and applications! Here are some of the most common methods used in modern day herbalism.
Mugwort Tea
Though quite bitter to the average pallet, the herb can be prepared and drunk as a tea. Steep 2 tablespoons of dried Mugwort leaves in 12 ounces of just boiled water for 10-15 minutes, making sure the vessel is covered so that the fragrant oils don't escape. It's recommended to drink only small amounts at a time: a few sips when sick will help a fever or sore throat, a few sips after a meal will settle the stomach, a few sips before bed encourages wild dreaming.
Mugwort Tincture
Mugwort as a tincture is the most portable and easiest to dose! Tinctures are usually an alcohol extraction of a plant, however, vegetable glycerine can be used in place of alcohol. To prepare a tincture, pour menstruum of choice over dried (1:5 herb to liquid ratio) or fresh herbs (1:2 herb to liquid ratio), keep in a sealed preferably glass container for at least 6 weeks, shaking every day until straining. Doses should be low, 1-5 drops for dreaming and spiritual properties, 5-10 for physical ailments.
Mugwort Smoke
This herb can be burned ceremonially, for dreaming encouragement, or for muscle relaxation. It's also common practice to smoke small amounts of it for any of these purposes. Mix dried herb into your favorite smoking blend for a relaxing, non psychoactive energy or burn it like incense.
Dream Sachet
If you're not into burning or imbibing it but want to harness its dreamy qualities, this preparation is for you! Simply add dried leaves to a cloth sachet and tie or sew it closed. Keep it under your pillow where you can smell it, and give it a squeeze to refresh the scent. Mugwort and Lavender pair beautifully to make a relaxing, dream enhancing sachet.
Sourcing Mugwort
Mugwort is widely available in the world! See if you can find some growing in your yard, garden, or in the weedy spots at local organic farms or other places where pesticides aren't a concern. If you can't find it growing near you, it can be ordered from reputable sources on the internet or, ideally, purchased from small, local businesses, like a neighborhood herb store or health food co-op. Carefully selected, small batch herbal products can be found at The Alchemist's Kitchen. Some of my favorites: this gorgeous, aligned Wild Mugwort Oil by Plant Alchemy, these ethereal, stimulating Titania Bitters by Woodspell Apothecary, and this heart-opening, calming Joy Tonic by Urban Moonshine.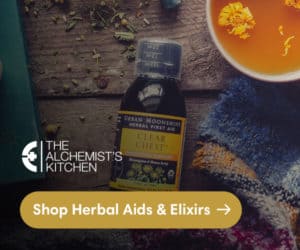 Sources