The human experience is defined by the myriad of emotions and sensations we feel, and empathy is perhaps one of the most vital among them. As we go about our lives, we encounter a diverse array of people from different walks of life with varying experiences and backgrounds. It is empathy that allows us to understand and appreciate those differences truly, and in doing so, to build bridges of understanding and tolerance between us.
And there may be few better teachers of empathy than the humble mushroom. This unassuming fungus has much to teach us about compassion, connection, and the importance of living in harmony with our environment. Magic mushrooms even have a remarkable little effect on certain people that may be able to increase one's empathy. Let's learn about this beautiful human experience of mushrooms and empathy together!
The Connection of Mushrooms
First and foremost, mushrooms embody the interconnectedness of all living things. These organisms thrive by forming vast networks of filaments called mycelium, which weave through the soil, breaking down dead plant matter and helping nourish new growth. This intricate web of life demonstrates the fundamental truth that we are all connected and that what we do to the earth, we ultimately do to ourselves.
Mushrooms also teach us the value of adaptation and resilience. They can grow in the most unlikely places, from dark, damp forests to desolate urban landscapes, and are adept at responding to changing conditions. In doing so, they remind us of our own capacity to overcome challenges and adapt to new situations.
But perhaps most importantly, mushrooms teach us about the value of diversity. These fungi come in an astounding variety of shapes, sizes, and colors, each with its unique role in the ecosystem. 

The Real "Magic" in Magic Mushrooms
As our society becomes more diverse and accepting, empathy and tolerance are becoming more important than ever. Many individuals struggle with understanding different perspectives, leading to discrimination and inequality. Fortunately, new research suggests that magic mushrooms may have the potential to inspire empathy in individuals, helping to break down these barriers.
A recent study published in the Journal of Psychoactive Drugs found that psilocybin, the active ingredient in magic mushrooms, can enhance empathy for up to seven days after use. Participants who consumed psilocybin in a naturalistic setting reported increased empathy and creativity, demonstrating the drug's potential benefits beyond traditional therapeutic use.
"We hypothesized that changes in empathy and creativity would correlate with changes in satisfaction with life," says the researchers of this study. Psilocybin has that uncanny ability to help others find the satisfaction needed to increase empathy in someone. Now that's magic!
The Importance of Empathy
Humans are social creatures; we rely on relationships to survive and thrive. But relationships are not easy – they require effort and investment. Empathy is what makes that investment worthwhile. When we truly understand and care about others, they are more likely to reciprocate those feelings, and we create more profound, more fulfilling connections.
This is true not only for humans but for animals as well. Studies have shown empathy is crucial in developing positive relationships with pets and wildlife. Animals, like people, have emotions and needs that must be met, and when we can understand and respond to those needs, we create happier, healthier bonds.
Even plants can benefit from empathy. Recent research has shown that plants can respond to human emotions, with positive feelings promoting growth and health, while negative feelings have the opposite effect. While it may seem strange to think of empathizing with a tree or a flower, the truth is that everything around us is interconnected, and we have a responsibility to treat the world with kindness and respect.
But empathy is not just about making others feel good – it is also crucial for our own well-being. Reduced stress, anxiety, and depression can be linked to empathy and connection. When we care about others, we create a sense of purpose and belonging that can make all the difference in our lives.

Pride, Empathy, and the Human Experience
Empathy is especially crucial during Pride Month, as allies and members of the LGBTQ+ community come together to celebrate and promote acceptance. To fully celebrate and support queer individuals, empathy is needed to understand and appreciate their experiences. For closeted individuals, empathy is essential for coming out and being supported by loved ones.
With it being Pride Month, I hope you take these words to heart and venture forth to witness these beautiful people living in the sun with the rest of us. Empathy can guide you, but you should always try to be kind and polite no matter what takes the lead. 
Empathy and tolerance are essential for creating a more inclusive society, and it's exciting to see new research emerging on the potential benefits of psilocybin. As we continue to explore the positive impacts of this substance, we can work towards a more accepting, understanding, and compassionate world towards all individuals.
And so, as we go about our lives, encountering new people and ideas, let us take a cue from the humble mushroom. Let us strive to see the connections between us all, embrace adaptation and change, and celebrate the diversity that makes us human, for it is only by cultivating empathy and tolerance that we can truly create a world where all can thrive.
Mushroom Mania
Interested in bringing some of that mushroom and empathy magic into your life? The Alchemist's Kitchen has you covered! Just in time for Pride, these Rainbow Mushroom Candles are the best decor piece for any living space. You don't even have to burn them– they're beautiful works of art, just like you, and can be preserved to last a lifetime.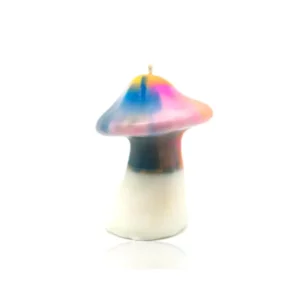 If you want to try your hand at some mushroom tincture, our Clarity Tincture and Joy Tincture are great starters toward a fascination with mushrooms. We also offer complimentary microdosing consultations for people interested in starting their microdosing journey!
Check out our Event Page for more information on upcoming events! Pride is right around the corner, so be sure to check in on your queer friends and show your support in any way you can!
Happy Pride!