"We can only see a short distance ahead, but we can see plenty there that needs to be done."
– Alan Turing
The future is now, and we still don't know how to manage it. As artificial intelligence enters the mainstream and politicians begin to grow into monstrous, unknowable beings, it can be hard to remember why we have survived so long in such tumultuous circumstances in the first place. As we continue to advance technologically, we mustn't neglect the well-being of society, specifically those that often go unheard. Mental health is crucial for the welfare of all genders, but queer men tend to struggle more due to stigma and shame.
Men, in general, often find it difficult to express themselves emotionally due to toxic masculinity that reinforces a destructive, repressive ideology of masculinity. Queer men may face rejection and ridicule, adding an extra layer of distress to an already difficult situation. 
In this future, we should find ways to support men in their loneliest times. A good mix of empathy and a little bit of AI might be just what we need to move forward.
Mental Health, Society, and The Future
In a society built on the backs of marginalized groups, we must come together to find ways to better the world around us. I don't just mean fighting emissions or passing legislation to combat wicked intolerance. Of course, such things can and will help us, but really what American society, in particular, needs is an attitude shift toward empathy. Today, I hope to focus our thoughts on the men in our society who are both benefited and battery by our patriarchal society.
Men's mental health is a topic that's been often discussed, yet we still have a long way to go in understanding and effectively treating it. There's still a stigma surrounding mental health issues, particularly for queer men. Queer men are much more likely to experience mental health problems due to societal oppression, discrimination, and lack of support.

Help is Right Around the Corner
Believe it or not, we are in the future. AI has become a main talking point in the tech bro spaces, and with AI comes new advancements and fears.
Despite technological advances that can benefit men struggling with mental health, including artificial intelligence, we are missing the boat on how AI could aid men struggling with thoughts of suicide or other mental health issues. While it is understandable that some might fear AI, believing it will replace human interaction and personal relationships, it's worth examining the possibilities of utilizing it to support men who may not have access to other forms of support.
It's possible that AI could help with suicide prevention by analyzing social media activity to recognize suicidal thoughts. For instance, AI algorithms could identify suicidal ideation from social media and use that information to recommend online support groups or other resources. 
Above all else, too, AI has a familiar origin in the LGBTQ community. I don't mean that they are feared in the same way; oh no, I mean that the father of AI was a part of the very community whose men are still struggling.

Alan Turing: The Father of Artificial Intelligence 
Alan Turing, widely known as the father of Artificial Intelligence, was an English mathematician, logician, and computer scientist who laid the groundwork for modern computing. His concept of a "stored-program computer" opened the gateway for much of the technology we see today, especially AI. Without him, we might not know what a memory drive even is!
Alan Turing also helped decrypt coded messages for the Allied forces in World War II. His innovative mind allowed him to devise a groundbreaking technique to help solve a near-impossible task: breaking German secret codes. His genius mind and code-breaking skills gave the Allied forces a critical advantage in the war. 
You would think that a genius like Turing would have been revered in his time. Well, sad as it may be, the end of Turing's story may be familiar to many queer individuals in the world today.
Alan Turing: A Homosexual Man 
 Despite his enormous contributions to the field of computer science, Turing suffered greatly due to the heinous and evil intolerance he experienced as a homosexual man, ultimately leading to his untimely death. 
His prosecution led to him receiving hormone therapy, which left him impotent and ostracized from the rest of society.  It was not long after his sentence that Turing would turn to suicide. Such things shouldn't happen in a society meant to love, cherish, and grow. It's heartbreaking that someone who helped change the course of history ended his life due to society's narrow-mindedness.
It's essential to acknowledge that this prominent figure is more than just a computer scientist but a man who, like many queer men, has struggled with mental health. In a society that shunned a genius, who is to blame? The answer is simple: there is just not enough tolerance in the world yet, and that must change now.
Kindness, Empathy, and AI
Today, we have some of the most advanced technologies, such as artificial intelligence, available to humans. The change we want for society could lie within this technology. However, this innovative development is also shrouded in a layer of uncertainty and fear that prevents us from using it to its full potential to help society. 
A major breakthrough in this area is creating algorithms that detect and support mental health concerns. However, despite their enormous potential, they are still underutilized due to stigma and fear that can hinder the quality of life for people in dire need.
According to a study by the CDC, suicide is among the top 9 leading causes of death in the US, with the highest rates being found among gay and bisexual men. Suicide has been a taboo topic, but mental health professionals are now working to combat the fear of discussing mental illness and instead prioritize resources and support to assist people in overcoming these challenges. 
AI Help
With artificial intelligence, professionals can better understand patterns of mental health challenges, providing insights into the best treatments for these issues. This technology will ultimately assist clinicians and support workers in diagnosing mental illness and offer counseling in a non-threatening, less-judgmental setting.
Additionally, AI could potentially be utilized to fight toxic masculinity. How rigid notions of masculinity often learned in early childhood reinforce an inadequate, patriarchal understanding of manhood is concerning. But using machine learning techniques, AI can aid in monitoring and identifying sources of sexist and gender stereotypical content that further enforces oppressive social structures. It's an effective method to curtail negative influences and provide education for queer men and others seeking to unlearn harmful norms of manhood and promote healthier lifestyles.
Even beyond AI, we as a society must find the kindness and empathy within ourselves to heal the wounds that still fester in marginalized communities like the LGBTQ+. Open your mind to new experiences and new kinds of people. Enjoy living in the same world as people who are different from you. Fight against intolerance whenever and however you can. Remember, we are all human beings and don't want anyone to suffer as Alan and millions of others have suffered in their lifetimes. 

Be Proud, Be Loud, and Love One Another
In the month of Pride, we remember Alan Turing and his accomplishments in WWII and the future of artificial intelligence. We honor his memory so he is not forgotten in the hollow halls of history and so we can move forward to better the society that failed him and many other lonely queer individuals.
If you or someone you love is struggling mentally, don't hesitate to seek help. 988Lifeline is a suicide prevention service and hotline that will help.
If you're interested in adding some color to your space for Pride, be sure to check out our Rainbow Mushroom Candles! We also offer products that help support your mental health. If you are a man looking to increase your energy, try our Black Maca Capsules for a fantastic mood-lifting experience.  Our mood-altering spagyrics Joy and Clarity make getting ready for the day just a little bit easier too.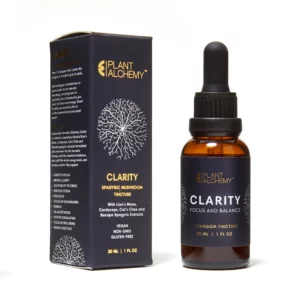 If you want to try a new way to adjust your mind, consider attending a complimentary 20-Minute Microdosing Consultation to learn all you need to know about how microdosing can help you. Keep an eye on our Event page, as June will be full of events to inspire, support, and love the queer community! 
Happy Pride!