In the Wheel of the Year, time slowly ticks on toward the world's reawakening. On March 20th, the Spring Equinox will occur in the wee hours of the morning. Within the even number of daylight hours and nighttime hours, this phenomenon brings Ostara.
History of Ostara
The name of the holiday, "Ostara," is derived from a Germanic Goddess called Ostara. Also known as Eostre, this spring goddess' feast day always coincided with the Spring Equinox in the middle of March. Stories of Eostre have been found in  Venerable Bede's "Temporum Ratione" and the Grimm Brother's tales. The true origin of her existence is debated Though most believe Eostre came from varied Germanic tribes, others are convinced she must be a lesser Norse deity. Regardless, her place as a fertility and spring goddess guides the Wiccan Ostara holiday. Practitioners pray to the spring goddess for an easy transition into the warmer seasons.
Most Ostara traditions are based around plants, flowers, and seeds. Traditional symbols for Ostara are hares, rabbits, ducklings, and eggs. Sounds familiar, right? Easter and Ostara seem to share similar time frames, aesthetics, and traditions. This is because Easter as a holiday is a Catholicized version of Ostara. The name "Easter" was derived from "Eostre" Many Christian holidays were actually born from Pagan celebrations– another example of this is the Christian Christmas which pulls many rituals from Yuletide. Though Ostara and Easter share traditions, they are celebrated for different reasons.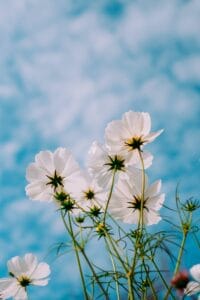 How to Prepare for Ostara
The Spring Equinox beckons at the start of a new season. Spring is the basis for Ostara, so to prepare for Ostara, one must be ready for spring! Plant new seeds in your garden, buy a new starter from your local florist or garden center and pray over it. Setting intentions, meditation, and manifestation are all mental exercises one can prepare for before the holiday. 
Regarding materials for the holiday, take a quick trip to the supermarket to pick up some eggs (for cooking and painting!), honey, milk, lemons, and dried floral herbs like lavender or chamomile. Grab some homemade bread or cake ingredients as well. Cooking and baking are marvelous ways to get into the Ostara spirit. Anything made with honey and flowers will surely invite springtime into your home or workspace. Prepare these items ahead of time to capitalize on the equinox itself fully. 
Common Symbols of Ostara
Like any other holiday, Ostara features many symbols that may be important to know during your celebration and rituals. 
Colors:
Springtime colors like pink, light purple, light blue, and pale green are all popular chime candle colors to burn during this holiday. Pastels are key to capturing the feeling of spring. When painting eggs for Ostara, consider these colors as well as a deep red or brilliant gold. Red and gold are colors of life and rebirth. Black and white are also very important colors for the equinox as they symbolize the equal number of nighttime and daylight that occurs during this holiday.
Animals:
Rabbits (hares), robins, and ducks are the premier animal symbols for Ostara. The robin is rather self-explanatory; witnessing the ruddy chest of this bird signals to everyone around that spring is finally here. Popular Ostara stories feature ducks and hares. In fact, the Easter Bunny as we know it today resulted from an old pagan story featuring the iconic hare.
The story goes that Ostara, goddess of spring, had a messenger that was a swallow. When Ostara saw that the swallow was not entirely fit to fly through everything Mother Nature could throw at it, she transformed it into a hare. Now blessed with a fur coat and legs that could traverse any land, the hare continued to be a messenger for Ostara, and every year on the spring equinox, the hare would lay eggs that would beckon in the springtime. Many other stories feature the goddess Ostara and the hare, but this is the most iconic. 
Botanicals:
Flowers remain an eternal symbol of springtime. Daffodils, violets, dandelions, and primroses are a few of the spring flowers popularly used for rituals and altar decorating. Trees like ash and birch symbolize new life and the connection that all beings in life experience. Dried herbs like lavender, honeysuckle, marjoram, thyme, lemon balm, and purple clover can all be incorporated into your daily burnings or spells to increase the springtime energy in your household. Many of these herbs may also be used for Ostara baking, but be 100% sure that they are food-safe.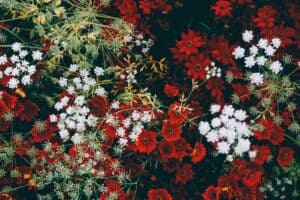 Rituals for Ostara
One's celebration of the Vernal Equinox may vary from household to household. Not every witch can settle in for a full day of prayer and manifestation, though, so some rituals may be less extensive than others, which is completely valid. There is no wrong way to celebrate Ostara.
Candle Burning and Meditation
One of the simplest rituals for Equinox; obtain one black candle and one white candle that is the same height. You may prep these candles any way you like. Prepare your ritual space- your altar, your main living space, or even your backyard- by cleansing the space with smoke, salt, music, etc. Place the candles side-by-side and light them at the same time. Now, as the candles burn down together, meditate on what you want springtime to do for you. Once the candles burn down, be sure to clean the space well and cleanse again if you feel the need to.
Baking
Cooking and baking are everyday rituals that most people don't even realize they're committing to. In the case of Ostara, baking sweets is just another way to welcome in the spring air and praise the spring Goddess! Two popular desserts for Ostara are Hot Cross Buns, which symbolize the four cardinal directions. This recipe is fun and easy to follow. Another popular dessert is lavender honey cakes. Any floral honey cake will do good to praise Ostara, but I am a huge fan of lavender myself. Here is a recipe to try. Feel free to experiment with baking to create homemade Ostara desserts!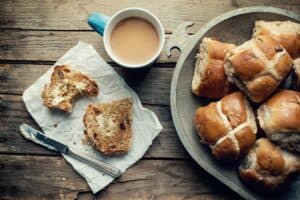 Egg Painting
Painting eggs shouldn't be left to just Easter! It's a great way to invoke the spring spirits and call back to the story of the hare. This is also fun for witch mothers who wish to share their traditions with little ones. 
Supermarkets and craft stores will have your fill of artificial dyes and egg accessories, but try using natural dyes to invoke springtime. For example, many teas, like Red Zinger (for lavender dye), will dye eggs if diluted with white vinegar. Other options include purple cabbage (blue), red onions (purple or red), spinach (light green), etc. Do some research, as many household veggies and fruits may have exceptional dying properties! 
To add designs to your eggs, be sure to wax them with either a specific egg-waxing stick you can buy during the spring season or white crayons work as well. Draw designs that remind you of springtime, like flowers, bees, leaves, or sunshine. Drawing Ostara herself wouldn't be a bad idea either! Feel free to display your dyed eggs on your altar for a few days or, if you have kiddies, hide them around your home or yard. 
Spending time in the springtime hunting for eggs is just another way to celebrate the wonderful Spring Equinox. Don't stay cooped up, and don't dwell on the past. Welcome the rebirth of nature and of yourself. 
---
Photo Credits:
Banner Photo by Daiga Ellaby on Unsplash