As leaves unfurl and newborn animals venture into the world for the first time, we are reminded that life begins over and over again. Every day, month, season, year, decade and so on are cycles that bring us closer to the nature of all things. There is something special about the spring cycle though. It is a time of magic and wonder as the earth finally breathes out a long sigh of life and abundance after a long winter season of holding its breath. The gateway of this thunderous exhale is the spring equinox.
What is the Spring Equinox?
The spring equinox is a marker in the yearly cycle where night and day are perfectly balanced. This equilibrium of light and dark occurs when the sun lies directly above the celestial equator. It then continues to move north to bring those of us in the northern hemisphere warmer weather.
Spring Equinox Traditions
You can feel the mood and emotions of a season by looking at its festivals and how people celebrate them. We are intrinsically linked to the celestial dance of the planets, stars and moon and it shows up in how we move through the year whether we notice it or not.
Holi Festival
The Holi festival celebrated in India is the epitome of joy, rebirth and spring itself. Originally called "Holika", it is one of the most revered celebrations in India and dates back centuries before Christianity. It does not take place exactly on the spring equinox, but rather on Full Moon Day, or the full moon prior to the equinox. Holi kicks off with a huge bonfire at each village's crossroads on the eve of the festival. The following day is celebrated with music, singing, food, drinks, and its signature activity, color play. People young and old take part in pouring colored water over each other, strengthening familial and community relationships while casting away old grudges.
The origins of Holi were female. Originally it was a special rite performed by married women to ensure the happiness and well-being of their families. Many gods were, and still are, worshipped during this time as this festival is steeped in legend and mythology. This intense celebration of joy and movement helps Indians become closer with their religion, their bodies, and each other.
Nowruz
The Persian new year of Nowruz also happens to lie exactly on the spring equinox. This is when their calendar ends and begins again. Unlike the Westernized "new year", this celebration takes weeks of preparation. Spring cleaning is the main activity of preparation in the weeks leading up to the celebration as people declutter, hang rugs, and get rid of anything unnecessary. They also set aside space for a special collection of items called a "haft-seen". Each item in this collection represents a different hope for the new year. While it may vary from family to family what is included, there are seven that are present in each one: sabzeh (living sprouts to represent growth and renewal), senjed (dried fruits for love), sib (apples for beauty and health), seer (garlic for medicine and self care), samanu (a pudding for wealth and fertility), serkeh (vinegar for graceful aging), sumac (crushed spice for the sunrise of a new day).
Once Nowruz arrives, a 13 day celebration of family visits, reflections and dinners begins. On the 13th day, people take their sabzeh (the living sprouts) to a running body of water and let it float away to rid of the old and usher in the new.
The Easter Bunny
Of course we can't talk about spring without the elusive Easter bunny. Today he mainly plays a role in children's imaginations as he leaves treats and eggs throughout the yard and house. However his roots run deeper than most people know. While many people associate the Easter bunny with the Christian holiday of Easter, the fuzzy animal doesn't appear anywhere in scripture. His exact origins are a bit of a mystery then, but there are some theories. Some say he is a symbol of earlier Pagan religions, namely the festival of Eostre which is a celebration to the goddess of fertility whose symbol is a bunny.
This Pagan origin story is also linked with early German immigrants from the 1700's to explain how this bunny started delivering eggs to America's youth. Though an odd link, the Germans who settled in Pennsylvania transported their tradition of an egg-laying hare called "Osterhase". Their children made nests where the bunny could lay his colored eggs. This spread over the centuries to include Easter baskets full of chocolates and other treats as well.
Spring Equinox Rituals
There are many ways we can align ourselves with this seasonal shift, even if we don't attend a national festival. Simple activities are wonderful ways to refresh our homes and souls.
Garden Blessings
Depending on where you live you may already have little plant shoots of promise popping out of your garden by the equinox. Regardless of the stage your garden is in, spending some extra TLC on this day of balance is a wonderful way to usher in an abundant season of growth. Clear away debris that collected over the winter. Set up a space near your garden beds with a blanket, tea, and candle if you like. As you sit on the blanket, take some time to meditate on bringing blessings and positivity to this sacred space. You can also bury eggs, herbs, crystals, etc as an offering in or around one of your garden beds.
Home Blessings
Work with the elements to bless the home and threshold. Sweep to call on air. Burn incense or magical herbs to bring in fire. Scrub floors and windows to incorporate water. Plant cuttings and seeds in pots for your porch to represent earth. All of these simple acts combine to set your home anew for the next season.
Spring Decorations
A symbolic way to welcome spring is to create a wreath out of budding branches and hang on your front door. You can also place spring flowers such as tulips and daffodils around the home to represent rebirth and new beginnings. This is also a time to revamp your altar space with spring abundance by incorporating these flowers and using essential oils such as lavender, geranium, and cedarwood in your practice.
Spring Infusions
Spring is a time to replenish our bodies after a long winter. Mother earth must know this as the plants that appear in early spring are typically nourishing and nutrient-rich. Making infusions with plants such as chickweed, nettle, dock, violet and other wild greens and flowers (as long as you know them to be edible or medicinal) is a great way to embody spring at a physical level.
Lilac, nettle and peppermint Infusion
This aromatic infusion is full of life by combining food, herb and flower.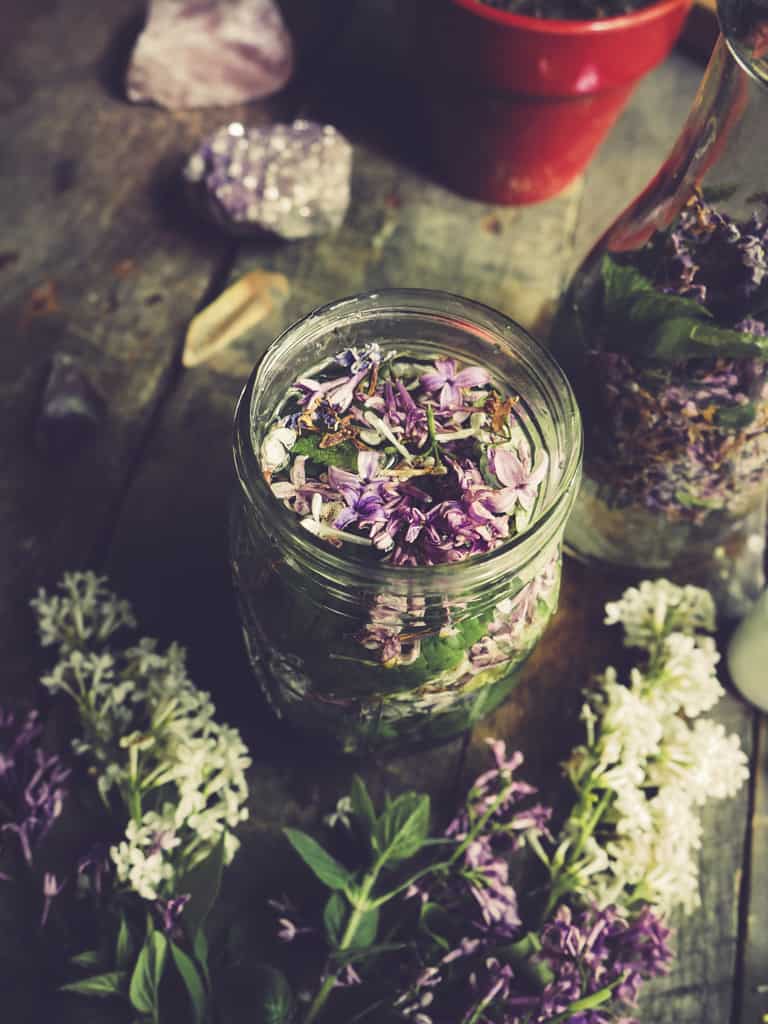 Ingredients:
Lilac blossoms

Peppermint

Nettle

Spring water
Directions:
Gather a handful of all ingredients, chop and add to a mason jar.

Cover with cold water and let infuse overnight.

Strain the next day and drink immediately.