During these trend-filled days, perfume and soap fragrances have been making a lasting mark on the fashion and self-care communities. It has gotten to a point where artificial and cheap scents have become the norm in our society. There is nothing wrong with sporting that sweet-smelling body mist, but don't you want your fragrances to last longer than thirty minutes after application? And, in the same vein, wouldn't you want your perfume to also help brighten your mood while being gentle on your skin? Luckily for you, there are strides in a niche section of the perfume industry being made– and it's all thanks to plant-based fragrances.
What are Plant-Based Fragrances?
While most perfumes will have synthetic fragrances developed in labs, plant-based fragrances come directly from the source. That's right! Using methods that can extract the scented oils from your favorite flowers, herbs, and other parts of nature, plant-based perfumes are able to have the same intensity as their synthetic sisters without adding unnecessary chemical compounds or drying agents.
We know that most perfumes, body mists, and soaps often try to replicant the natural smells we appreciate. Lavender and white musk don't have to be Frankensteined in a lab, though! Essential oils can carry the singular scent of whatever floral or herb you're interested in, or you can seek out a plant-based, natural perfume instead! Compared to the synthetic concoctions of most modern beauty store perfumes, plant-based scents are much more beneficial for your body!

How are Plant-Based Fragrances Beneficial?
Since many of the methods used to create natural perfumes are gentler on the environment, that means they are much gentler on your skin too! Some synthetic perfumes can dry out your skin and overpower your natural essence. Plant-based perfumes can have beneficial effects on your skincare– some natural oils like lavender or lilac even have a soothing effect that can help take down some face inflammation. 
The most important benefit of plant-based perfume, though, is its ability to NOT drown out your own personal scent. Everyone has a particular smell regardless of their deodorant habits– and it's not always a bad thing! Organic fragrances can enhance and mix with your scent, creating something new that will be wholly unique to your being! This is a wonderful way to make a statement and stand out from the crowd.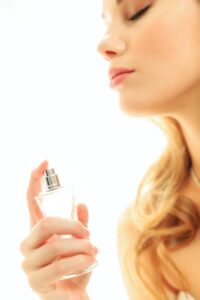 Try Out These Awesome Products!
If you're interested in plant-based fragrances that are synthetic-free and made especially for the herbalist in you, then we have the perfect collection for you! Heretic Parfums was founded by perfumer Douglas Little, to disrupt the status quo by focusing on botanical ingredients that are inspired by Ayurvedic benefits derived from plants. They have a variety of amazing scents that promise to inspire those benefits and attract your highest self!
If you want a great on-the-go roller perfume, then The Herbalist Rollerball Parfum is perfect. Scented with fresh lemon, lavender, and cedar top notes and much earthier under notes, this is a distinguished and clean essence that will remind you to take a moment to breathe in and ground yourself.
For a more seductive note, try out Florgasm. This floral fragrance pairs all of your favorites like jasmine, pink pepper, and orange blossom to create the smell of late spring! This is a wonderful scent for flower lovers and those who want to give the impression that they spend all their time in wildflower fields.
Finally, celebrate the power of smoke with Smudge Parfum. Witches will recognize the powerful notes of frankincense and cedar that evokes the imagery of using smoke to clear out all the negativity in a room. You can use this perfume in the same way! This all-natural scent will clear those cloudy brains and brighten your energy for the better!
Check out our other Heretics Parfums scents and more today at The Alchemist's Kitchen.