As just one of the many winter solstice celebrations, Yule originates from the Norse people. This celebration originally lasted around 12 days (perhaps where the 12 days of Christmas came from?) to celebrate the rebirth of the sun. A wise woman once said "the greatest joy comes from learning the oldest skills". And what is an older skill than working with plants and embracing the traditional roots of this ancient solstice season? These simple yet gratifying tools and rituals turn a mostly chaotic season into a season of enchantment.
Herbs of Yule
Many of the traditional plants of Yule are used more for their symbolic and magickal prowess than the medicinal. To connect with these plants, incorporate them into your home by making them into charms, posies, garlands, ornaments and even gift toppers tied into the ribbon.
Holly
The waxy green leaves and brightly contrasting red berries of holly were sacred to the Druids. When winter came, they kept holly boughs in their homes for the little people and woodland spirits. This gave the magical beings safe refuge from the cold and snow. Holly wreaths were also popular to welcome a new priest or priestess to the community. Across the way, holly was a common gift among friends in the Roman winter solstice celebration of Saturnalia.
It is also a little known fact that we have our own native holly in the Eastern United States. Ilex verticillata, also known as Michigan holly or winterberry, is a swamp-dwelling shrub that can grow up to ten feet tall. It loses its leaves in the winter, but the ruby red berries last throughout the season, providing a winter food source for many birds.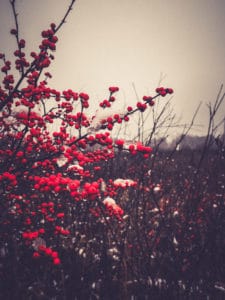 Mistletoe
This is a classic herb of the solstice season and one of the highest revered plants in the Druidic priesthood. It's long list of magickal qualities include fertility herb, visionary herb, aphrodisiac, and herb of protection.
It also played a role in Norse mythology, where the age-old tradition of kissing underneath the mistletoe is thought to have originated. Frigga, the queen of Asgard, ordered that mistletoe be a symbol of love after her son Baldur was resurrected from being impaled by a spear of mistletoe. Another inkling to the root of this tradition is its reputation as a fertility herb. Parents hung mistletoe over babies cradles as protection against mischievous spirits and young girls slept with a sprig under their pillow to dream of future husbands.
Chamomile
Chamomile has been sought after for centuries in the winter months. Its curative powers and cheery bright flavor persuaded the Egyptians to dedicate this humble herb to the sun god Ra. It makes sense then that chamomile is celebrated as an herb of the winter season as solstice celebrations revolve around the return of the light. A cup of chamomile tea is certain to brighten a long winters night while also alleviating any stomachs upset from over-indulging in the many feasts of the season. The flower heads are also used in baked goods to add extra color and brightness.
Evergreens
You can't talk about Yule without including the swaths of greenery provided by a sea of evergreens. These sacred beings include pine, spruce, fir, and cedar. From garlands and wreaths to tea, incense, and the iconic Yule tree, evergreens play a central role in ancient and modern Yule celebrations. Druids saw evergreens as a symbol of eternity as they didn't die back every year. Their persisting greenery represented hope for the sun's return. The tree was decorated with all of the things the Druids wished for the coming year; nuts and fruits for a bountiful harvest and fertility, coins for wealth, love charms for happiness, and so on.
Scandinavians also brought their Yule trees inside to provide shelter for the woodland elementals. They hoped by inviting the spirits in that they would participate in the solstice rituals.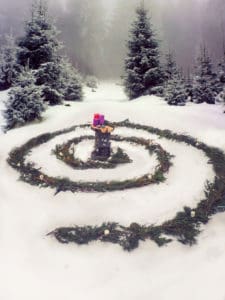 Blessed Thistle
Another important Druidic Yuletide herb is blessed thistle.  The Druidic priest takes the herb from the ritual cup to invoke the Sun God to return. If you decide to use the herb for your own Yule celebrations, I highly recommend using it solely as a charm or decoration only. Although it is a medicinal herb and even Culpeper stated it is "good for all sorts of malignant and pestilent fevers", it is also highly emetic. This means it will make you vomit profusely if taken internally. This is good when trying to rid the stomach of something toxic, but not so good for everyday life.
Yule Rituals
The rituals of Yule are meant to entice the sun to return to the land. Yule is a flicker of hope and light in the darkness. These traditions also bring gratitude to the most difficult months of the year.
Yule Log
Perhaps the most iconic of Yule traditions, the yule log played a large part in solstice celebrations all across Europe. The original yule log was actually an entire felled tree. People would stick one end in the hearth and let the rest stick out into the room. One end was lit, and kept burning for as long as possible. Scandinavians practiced this ritual to honor their god Thor, where the Celts believed the continual fire would protect the home and ward off evil spirits.
In regards to what type of wood was used, it varies from country to country. In England and Scandinavia, oak is traditional. Birch is used in Scotland, cherry in France, and ash twigs in some other parts of the UK. There are also places in Ireland where the yule log is replaced with a single large candle.
To practice this as a more modern tradition, choose a log section of your choice of wood. Drill a few holes on the top of the log to serve as candle holders. Adorn with greenery such as holly or evergreens and set as a centerpiece on the dining room table. On the winter solstice, burn the log and its adornments in a fireplace or wood stove while setting intentions for the year to come.
Wassail
If you've ever gone Christmas caroling, you may remember a line from The Wassail Song (though you probably didn't know this was the title) that starts, "here we come a wassailing among the eaves of green". This odd word derives from the Old English phrase waes hael, which means "to be well" or "good health". Aside from a wish of well-being, wassail is also a strong drink consisting of a mixture of ale, honey and spices, or mulled cider. When felling the great tree for the Yule log, the pagans would anoint the tree with wassail, also called "wassailing".
To incorporate wassail into your own festivities, add apple cider to a slow cooker on low heat and throw in your favorite spicy herbs, orange peels, and maybe even a little extra spirit. Enjoy the intoxicating aroma that wafts through the house as the drink is infused. After six hours or so, strain your mixture and enjoy. Don't forget to sprinkle a bit on your Yule tree as well for tradition's sake.
While crystals may have not been used specifically for Yule in the 5th century, there are certain stones associated with the holiday. Rubies, bloodstones, garnets, emeralds and moss agate are wonderful allies to work with throughout the festivities. All of these stones are grounding root stones to provide stamina and vitality throughout this dark season.
Add these crystals to your Yule log altar or combine them with any of the other plants on this list as another altar option. This season is all about diving deep into our roots and our psyche. These stones act as guides to this magical season.
Check out The Alchemist's Kitchen's staff gift guide or our intentional gift guide if you're looking for a last minute holiday gift!