Moon milks have captured the attention of food bloggers across the world. They're gorgeous, they're tasty, and the name is downright dreamy. The idea behind this popular "moon milk" craze is perhaps based on the old wive's tale that claims warm milk helps you sleep. These frothy concoctions are meant to serve essentially the same purpose. But as herbalists, we're not so easily sold on the aesthetic of things. We need to know it actually works too. As with any trendy item that rises in popularity, it's worth looking into the validity of these claims. So, can moon milks help you sleep? And if so, how do we craft a tasty and effective blend? This guide seeks to cover all of the ins and outs of this winter elixir.
Medicine or Fad?
Search #moonmilk on Instagram and you'll be met with a tirade of gorgeous potions that are as colorful as they are bedazzled with petals, herbs, and spices. There tends to be a lingering stigma that medicine shouldn't look or taste so darn divine. Let's take a deeper look then into the moon milk roots to understand its effectiveness.
The Science
Take away all of the fancy dressings that make moon milks so dazzling and you're left with the base: warm milk. Aside from the tradition of using warm milk as a sleep remedy, milk is known to have two substances that aid in rest and relaxation. The hormone melatonin and the amino acid tryptophan play essential roles in telling the body when to slow down. Tryptophan helps to form the neurotransmitter serotonin (the "feel good" hormone), which then can become the melatonin hormone.
However, the doses of these substances in a glass of milk is simply too low to have any noticeable effect. While the physical science may not support milk's use as a sleep aid, scientists say its psychological effect may be strong enough to do the job. By routinely drinking a warm glass of milk, we are reminded of the nostalgia of our childhood. It brings back memories of specific places where we felt safe or of a mother's warmth. These memories act as a safety blanket, soothingly tucking us in to a restful night of sleep.
Moon Milks & Ayurveda
Warm milk also plays a major role in Ayurveda. It is said that the consumption of cold milk strengthens the Kapha dosha, which leads to the accumulation of mucus in the body. Therefore, this ancient Indian medicine suggests we only drink milk warm and in sips. It is also common for Ayurvedic practitioners to include warming spices while the milk is heated to strengthen the Vata dosha. Herbs such as nutmeg, cinnamon, ginger, and tumeric are all examples of warming herbs that promote Vata's attributes of governing the body's greater life force.
The heating of milk and the addition of flavorful herbs is rather similar to the composition of moon milks. By considering these Ayurvedic traditions and the psychological effects a glass of warm milk has on the body, we can then build our own version of a moon milk into something quite magical.
The Moon Milk Formula
While moon milks seem a bit flashy, an effective formula can be made with as little as four ingredients. To receive the full effects of a moon milk as a sleep remedy, try to make it a seasonal routine. Winter is the perfect time to switch out regular tea for a moon milk on a chilly night. Not only does this keep your routine fresh, but a little extra self care during the dark season goes a long way.
The Base
Organic grass-fed cow's milk is a traditional option for this concoction. Ayurvedic philosophy believes that milk balances all three doshas when consumed warm and slow. It also provides known benefits of strengthening bones and the immune system. For those who are lactose intolerant or avoiding animal milk, almond milk makes a delicious substitute. Try the unsweetened vanilla variety for an added boost of flavor.
The Flavor
To make this nighttime elixir extra enjoyable, a little consideration to flavorful additions help to make this drink next level. Fresh fruit such as mangos, strawberries, blueberries, or blackberries blend superbly well. If you have trouble fitting in your serving of fruit for the day, this is also a great way to fit that in. Tart cherry juice is also popular in moon milks because of its known sedative effects.
The Herbs
Here is where you can get really creative with your moon milk. Choose one or two herbs to add into your blend that compliment the medicinal effects you desire. Adaptogenic herbs such as ashwagandha, ginseng, or tulsi are great options to boost the overall balance of the body. If you're going for a traditional sleep formula, experiment with chamomile, skullcap, passionflower, or rose. Medicinal mushrooms like chaga, reishi, maitake, or a blend of many mushrooms are also a great option to boost immunity over time.
The Sweetener
The final touch on your magical potion should be a sweetener of some kind. This really helps to round out the drink and further enhances the Vata actions. Classic pure maple syrup or honey are easy additions. If you want to get fancy, opt for an herbal syrup made with elderberry, wild cherry bark, tulsi, or lavender.
The Technique
Once you decide on your ingredients, the technique is quite simple. Here is the basic proportion for each ingredient:
1 cup milk
1 cup fresh fruit or 1/2 cup fruit juice
4 tablespoons herb
1 tablespoon sweetener
This base formula can then be altered or added onto from there. To make the actual milk, follow these instructions:
Blend the milk and fresh fruit or juice until smooth and frothy.
Add the mixture to a small pot and heat to a simmer.
Remove from heat, add herbs, and infuse for five minutes.
Strain mixture into a mug and stir in the sweetener.
Moon Milk Boosters
Once you have the basic formula down, begin experimenting with different add-ins. Tinctures are great additions because they offer potent medicinal benefits and are easy to simply add a dropper or two into your mug. Here are a few great options:
Moontime Tincture: This special formula is a perfect moon milk addition when your menstrual cycle comes around. It relieves monthly aches and pains with classic women's herbs as well as CBD.
Dream Elixir: A beautiful combination of kava kava, blue lotus, skull cap, rose geranium and other dreamy herbs help whisk you off into a beautiful night of deep sleep and dreams.
Deep Sleep Tincture: If you want to really enhance the sleep-promoting properties of your moon milk, add this tincture to your recipe. It contains powerful herbs such as california poppy, valerian, and lemon balm to assist you on your journey to dreamland.
Root Nectar Adaptogenic Honey: Instead of an add-on, switch out your sweetener for this medicine-packed honey. Ashwagandha, Shatavari, and Maca make for a dynamic balancing trio.
Rose Colored Glasses Tincture: To open your heart, lift your mood, and enhance your intuition, add this tincture to your moon milk. Herbs such as tulsi, mimosa essence, milky oats, and rose provide a bright stable platform to return to every night.
Strawberry Rose Moon Milk Recipe
This dreamy moon milk brings back the nostalgia of drinking strawberry milk as a child. It's divine sweet flavor is balanced by the floral astringency of the rose petals, which also help to calm the heart and mind.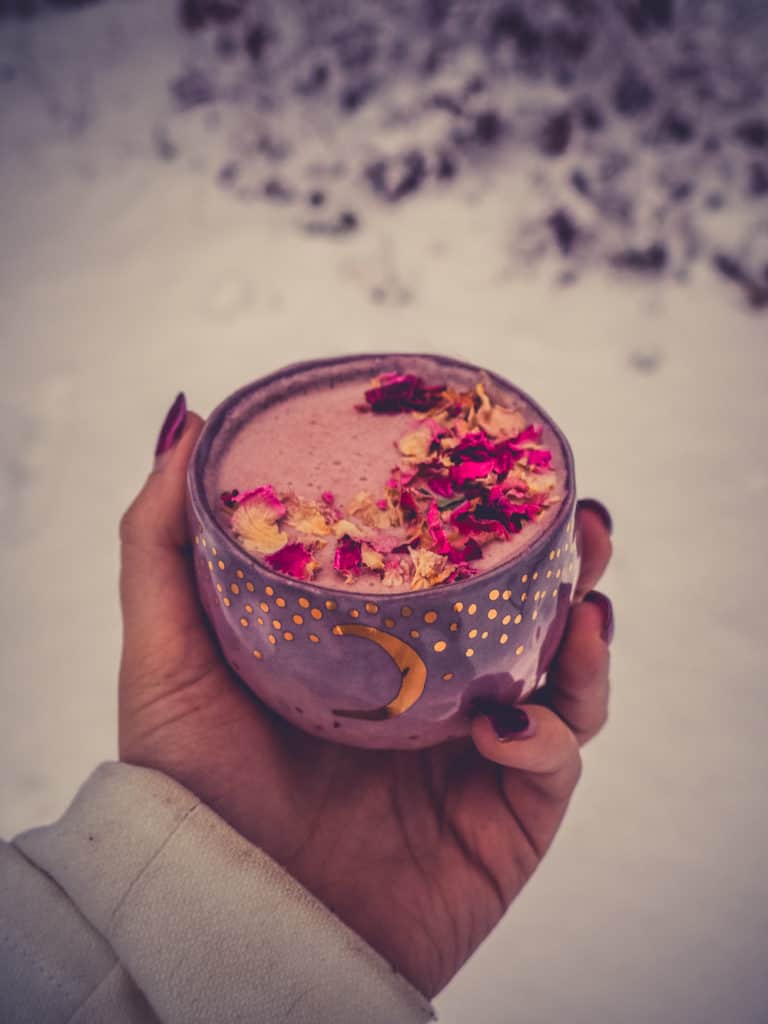 Ingredients
1 cup strawberries with tops cut off
1 cup vanilla almond milk
4 tablespoons rose petals
1 tablespoon pure maple syrup
Directions
Blend milk and strawberries until smooth and frothy.
Add mixture to a small pot and heat until it simmers.
Remove from heat and add rose petals. Cover and infuse for five minutes.
Strain mixture into a mug and stir in maple syrup.
Reflect, meditate, dream while you enjoy this delicious cup of medicine.
For more, check out The Alchemist's Kitchen's Season of Love Collection of herbal offerings here!