Microdosing is a practice that has traditionally been linked with Silicon Valley coders and creative artists. You know the type: woo-hoo hippie-wannabes trying to recreate the magic from bygone years. I'll be the first to tell you this, then– there are other, better ways to use psychedelics for bodily and mental support.
Microdosing is gradually garnering interest and attention from an unlikely demographic: older adults. The prospect of microdosing might initially sound counterintuitive for our aging population. Still, this article will delve into why it may serve as a potent tool in tackling some of the challenges older adults often grapple with, namely depression, chronic pain, and loneliness.
Microdosing Basics
Before delving into the benefits, let's first clarify what microdosing entails. The practice involves consuming a small, sub-perceptual dose of a psychedelic substance, such as LSD or psilocybin mushrooms. The dose is usually about one-tenth of what someone would take for a whole psychedelic experience, aiming not to induce hallucinations but to alter perception and mood subtly.
The role of substances like Cannabidiol (CBD) and Psilocybin are receiving increased attention for their potential therapeutic benefits through microdosing.
The concept has gradually trickled down into mainstream awareness as older adults look for alternatives to traditional medical treatments to deal with depression, chronic pain, and the overwhelming loneliness many feel in their twilight years. As these challenges tend to intensify with age, new innovative strategies such as microdosing have emerged as potential options for treatment and symptom management.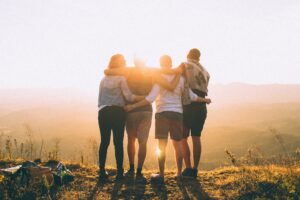 Microdosing Love Stories and Benefits
I started my microdosing journey earlier in 2023. I was struggling with crafting ideas for a novel– and any other writers in the audience will know how writer's block can pull you down into the pits of depression. At fifty, I struggled to find any semblance of creativity and light to hold on to. I needed something to help guide me back to where my writing flourished. So, I microdosed psilocybin.
The results were not immediate, but after a week of on-and-off dosing, I found a boost in energy, a sudden weakening of my depressive-manic thoughts, and a driver to create much deeper and more substantial than anything I'd felt before. I wrote for days at a time, scribbling down even the smallest of thoughts until I had everything I needed to start writing a book properly.
Microdosing helped change my perspective, but there are a variety of benefits that can help those just looking for a bit of sunshine on a rainy day.
Managing Depression and Loneliness Among Older Adults
Depression and loneliness in older adults have surged in recent years, spurred on by increased social isolation and inadequate mental health care. In these distressing circumstances, microdosing CBD and Psilocybin emerges as a groundbreaking solution. Both substances exhibit potent anti-depressant and mood-enhancing properties thanks to their effect on serotonin, the neurotransmitter closely linked with mood and social behavior.
Microdosing CBD or Psilocybin has shown positive results by enhancing mood and well-being in smaller studies, significantly reducing depressive symptoms. While Psilocybin boosts emotional connection and heightens empathy – crucial for combating loneliness – CBD interacts with the body's endocannabinoid system to modulate mood, stress, and sleep patterns.
Managing Chronic Pain Relief
One of the more recognized applications of CBD is its ability to alleviate chronic pain, a typical ability for older adults. CBD's analgesic and anti-inflammatory effects stem from interacting with receptors in the body's endocannabinoid system. Additionally, Psilocybin may modulate pain perception, promoting psychological flexibility, a factor related to the tolerance of physical discomfort.
Unlike traditional pain medication, which often comes with side effects such as addiction or increased risk of falls, microdosing CBD and Psilocybin presents a less-risky alternative. Plus, CBD and Psilocybin do not have a recognized potential for overdose.

Enhancing Creativity
Increasing creativity and stimulating mental agility, particularly in older adults, has become an intriguing subject in psychopharmacology. Encouraging research on the impact of Psilocybin and CBD on creativity provides valuable insights. Both substances show the capacity to boost cognitive flexibility and fluidity of thoughts, prompting creative insights.
By instigating a 'neurogenesis' effect, CBD and Psilocybin enhance brain function and could play a significant role in overcoming creative blockages. For older adults, it offers a cognitive boost and helps maintain an engaged, dynamic life.
Microdosing: Treading with Caution
The potential benefits of microdosing CBD and Psilocybin in older adults, though promising, are still relatively new territories and thus require careful monitoring. It's always recommended that individuals seek professional medical advice before commencing a regimen involving these substances. Doctors and health professionals need to account for various factors, including current medications, personal medical history, potential drug interactions, and each individual's unique biology.
While rigorous large-scale research is still ongoing, anecdotal evidence, along with emerging smaller studies, provides compelling support for microdosing CBD and Psilocybin as supplementary measures in dealing with the challenges of depression, chronic pain, creativity lapses, and loneliness among older adults. The acceptance and legalization of these substances continue to grow, heralding a hopeful era of alternative therapeutic interventions for an age group in dire need of holistic, personalized care.
If you want to find out what kind of microdosing is right for you, be sure to sign up for a complimentary Microdosing Consultation. Our team of experts is here to ensure that the right microdosing path is set up just for you! Keep an eye on our Eventbrite for microdosing classes, events, and more!