We hear you. Life can be complicated, tiring, and overwhelming. The lists of responsibilities pile high, and when you're feeling the drag, nurturing yourself feels like too much to think about. Prepping that overnight infusion, tending to a crockpot of broth, eating something healthy, or even lifting the tincture dropper to your mouth is among the last things you want to do. However, times like these are when we need herbal support the most! So, how do we care for ourselves when we just don't care right now?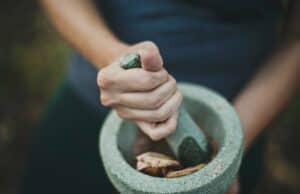 What is Herbal Preparedness? 
Preparation is at the heart of herbalism. To harness the energy and medicinal qualities of herbs, we must first prepare them. To prepare herbs, we must work with their life cycles and seasons. When the herbs are ready, we ethically and intentionally harvest them, process them, and prepare them to be consumed. In this way, we are preparing for the future of inevitable dis-ease or illness. Just as early people "put up" and preserved produce during harvest time in preparation for the cold season, we ready our herbs (and food, too!) for the times we'll inevitably need them.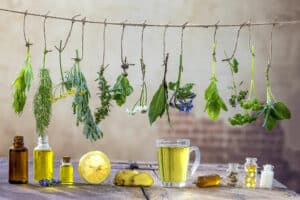 Nurturing Your Future Self 
When we prepare herbal medicine intentionally, we are giving our future selves (and others!) the gift of our care. Not every day is sunny and 85 degrees, right? Likewise, you aren't going to be at 100% capacity all the time or, in this capitalist society, even most of the time. Try to allow a little time when you're feeling up and energetic for those times you feel down and out. Some planning and forethought can make a world of difference to our future selves. An ounce of prevention, or in this case, preparation, is worth a pound of cure. Think of your future self kindly, like a friend from out of town who's coming to visit. What foods do they like? In what setting do they feel most comfortable? Which herbs are their supportive allies? Where and how can they easily access this support? 

Practical Hacks
Perhaps this sounds simple and obvious, but

keep your tinctures, supplements, etc, out in the same, visible place

. If you see your herbal medicine every day, and it's easily accessible, you'll likely remember to take it! If this isn't possible, try adding a daily reminder to your phone or computer calendar. An easy-to-manage herbal routine quickly turns into a healthy habit. 

Do you drink overnight infusions or decoctions? An overnight infusion is a long-steeped (usually overnight) tea. They're made with nutrient- and mineral-rich herbs (like Alfalfa, Raspberry Leaf, Oatstraw, Nettles, or Red Clover) that help deeply nourish the body. A decoction is a tea made from simmering herbs for 20 minutes or more. Herbs that need decocting are tougher materials: roots, bark, berries, and/or mushrooms. I recommend either decoctions or overnight infusions because they extract vitamins, minerals, and countless other benefits we don't often get from food these days. The biggest issue with these medicines, though, is the daunting task of preparing them daily. So, my advice: make a big batch of an overnight infusion or decoction & store it in the fridge for 3-4 days

. Pour a cup out at a time to reheat or carry a portion around in a thermos. 

Mix up a spice blend or gomasio of nourishing herbs to sprinkle on food. My most recent herbal gomasio is a combination of Dulse & Kelp seaweed flakes, Black Sesame seeds, Shiitake & Lion's Mane mushroom powder, Nettle leaf powder, Dill, and Red Pepper Flakes. I find it super tasty and shake it on almost everything! It's nice to make a new one for seasonal shifts, too. Since that blend is more of a Fall/Winter blend, for Spring/Summer I will shift to a combo of Sumac, Calendula powder, Wild Oregano, Lemon Balm, Garlic powder, Pink Salt, White Pepper, and Curry. 
Put together an herbal powder blend in a small jar to bring with you, and add to coffee, beverages, or food on the go

. This is a similar idea to the nourishing spice blend, but mostly flavorless! I like to keep a tiny 15 ml jar of an adaptogenic herb, mushroom, & collagen powder blend with me. Add a scoop to fortify soups, rice, stir frys, or mix a teaspoon into coffee to offset jitters and digestive upset. 

Make a batch of herbal broth or pesto, then pour into a muffin tin or ice cube tray and freeze

. Pop them out, and store them in freezer bags for a quick nutritious meal addition. If you're freezing pesto, skip the cheese until it's cooking time, as it can get weird in the freezer. Fresh Nettles, Chickweed, and Garlic Mustard all make great pesto. Herbal broth is usually bone, veggie, and/or mushroom stock simmered with tasty, supportive herbs. 

Roll up herbal "pills" or herbal energy balls

for fun grabbing and going. Herbal pills are made by mixing herbal powders into honey and rolling them into pea-sized balls. Herbal energy balls are made in a similar way, but usually also include nut butter, chocolate, dried fruit, nuts, or seeds. Roll them into a golf-ball-size, and eat as a snack. Store both preparations in the fridge, and munch as desired.

Prep some easy herbal snacks.

Make simple, cookie sheet herbal crackers with chickpea flour, some ground flax, baking soda, olive oil, and dried herbs of choice. Or, try blending a custom nutrient-dense trail mix for healthy snacking with nice quality ingredients like raw walnuts, cashews, mulberries, goji berries, and low sugar dark chocolate chips.

Keep a jar of kimchi or your favorite fermented veggies on hand for a probiotic, fiber-rich boost.

Better yet, make your own fermented veggies, adding in your favorite herbs! Scoop some ferment on to quick meals or try a bit with your new herbal chickpea crackers. Similarly, if you have the energy, try brewing your own herbal kombucha (a bit more involved, but very rewarding and delicious).

Experiment with putting together herbal kits for various scenarios.

Here are some examples:
A kit for traveling & immunity that includes

Hand Sanitizer

(make your own with 1 oz overproof alcohol like Everclear or Isopropyl, 0.15 oz witch hazel

or

herbal hydrosol of choice, 0.15 oz Aloe Vera gel, and a few drops of essential oil if desired), a little bottle of

Elderberry syrup

, some

Ginger chews

, and a

Sleepy Time tincture

. 

An herbal first aid kit with things like

Band-Aids

, a vial of

Yarrow powder

(which helps to staunch bleeding & acts as a disinfectant), an

All-Purpose Balm

(with herbs like Arnica, Calendula, Comfrey, and Plantain for bites/scrapes/bruises, etc), a bottle flower essence

Rescue Remedy

for stress, shock, and trauma;

Digestive Bitters

for nausea or an upset tummy, and a

White Willow Bark tincture

for headache/pain

Be gentle with yourself & rest! While it's great to have an arsenal of herbal preparations for extra nourishment, it's also okay to forgo your herbs for a few days if that helps you relax. To make resting 'herbal,' keep a sachet of Lavender and Mugwort by your bed for a calming, dreamy whiff.