In a world full of nail art, nail spas, nail buffing and cleaning and polishing, it is a wonder that cuticle health is not as discussed! Our nails are an important and protective part of our body, so why shouldn't we consider ways to keep them healthy and happy? Skincare and haircare is not enough; we must love ever inch of our body unconditionally. Come along with me to discover different products, rituals, and other healthy options to ensure that our nails and cuticles are prepared for whatever we throw at them!
What to Avoid
Before we talk about the good we can do for our cuticles, we must discuss what to avoid in the first place! Attempting to mitigate any issues by simply avoiding them is, in my opinion, the best way to keep your fingernails healthy and happy.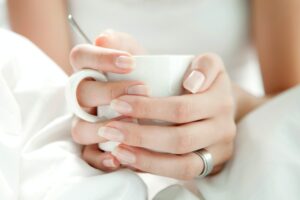 Don't Cut Your Cuticles
Frequent acrylic nail-appliers may lean on this technique quite a bit. When visiting a nail technician or even a friend willing to give you a manicure, be wary of them pulling out cuticle scissors. Any attempts to snip off the raised bits of your cuticles will only hurt you in the long run. Cutting into this soft skin will leave your nail beds and fingers open to infections. Bacterial infections, in particular, can lead to slower nail growth or worse. Cutting your cuticles can also lead to visual issues, like white streaks or ridges appearing on your nails. These will have to either be covered up or grown out if you want to get rid of these imperfections, so try to avoid cutting your cuticles at all costs! Instead, invest in wooden cuticle pushers to push back your cuticles.
Avoid Letting Your Cuticles Dry Out
Overusing acetone, drying soaps, and other outside influences can lead to your cuticles drying out. Try to avoid using particular products that may leave not only your nails but hands too dry, as this can lead to cracking and intense aging if continued. Dry cuticles will crack and peel. From this, infections will take root where your skin pulls apart or rises, and as mentioned before this can be painful and detrimental to your nail health!
Watch Out for Rough Manicures
We've all been to a salon that's had a particular careless or rough manicurist. These technicians may be impatient, swamped, or have their own issues that can force their hands or cloud up their hand. Whatever is the case, a rough manicurist can leave your cuticles torn and abused. Try to keep an eye on the manicurist in the salons you visit and pick someone who you believe will care for your nails as they should be cared for! In the same vein, try not to get highly invasive manicures. Acrylics require cuticles to be constantly pushed back and many of the adhesives can cause lasting damage on the nails themselves if not properly cared for, removed, or redone.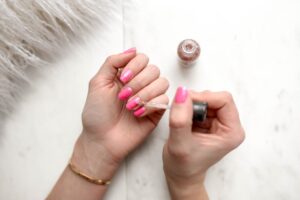 How to Have Healthy Cuticles
Cuticle health comes from a variety of factors. Avoiding the issues above will of course keep your nails looking sharp, but also practicing certain diets and investing in a variety of nail-and-skin-related products can help strengthen your cuticles for the future!
Moisturize
Our skin does well producing its own oils to keep everything balanced and healthy, but it never hurts to help out. Our hands especially are susceptible to easily drying out. In order to keep our nails and cuticles healthy, we have to keep them moisturized! A great herbal option for moisturizing and revitalizing cuticles is Lilac Flower! Mix this Lilac Flower Essence into your favorite hand-care and skin-care products for some extra smoothing oomph! As for lotion bars, try Nopalera Moisturizing Botanical Bar! This creamy, grease-free lotion bar glides on easily and rejuvenates dry skin, making it perfect for dry and cracking cuticles.
Supplements
There are countless supplements and vitamins to take to help strengthen your nails and cuticles. Biotin is a popular choice for nail specialists as it prevents brittleness and pairs well with Vitamin E, which is an overall amazing skin-aiding vitamin. There are many supplement packs that mix biotin and vitamin E; my personal favorite are these Vegan Essentials Packets. These flavored gel packs are rich in vitamins and minerals that will help not only your nails but also your overall skin and hair health. They also are packed with collagen, a protein that aids in nail and hair growth! Taking all of these supplements will really help prepare your body and keep your nails strong.
Superfoods
We've all heard about superfoods; so, which ones can help with cuticle health and nail growth? Coconut oil and quinoa come to mind. Both are rich in fatty oils and proteins which help keep your nail beds smooth and your cuticles from cracking. Egg whites are rich in overall protein to help keep your skin looking flush and shiny. Rice Bran is the pinnacle of skin, hair, and nail health, though. Lucky for you, Sun Potions has a Tocos Superfood Powder that brings together all the best parts of superfood and makes it easy to take.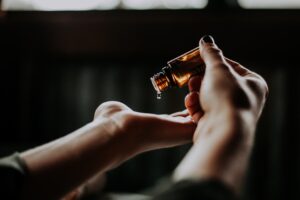 Why Should We Care?
Our cuticles are our number one defenders against nail infections and bacteria. Without them, we would all be cursed with strange nail-bed colors, pain, and sickness! We have to learn how we hurt them normally to stop those actions and how we can further defend against all ailments which may cause them harm. It's hard work, protecting this wonderful body of our's but someone has to do it. We must be steadfast in our self-love, and that all begins with the smallest of kind actions. Start with the cuticles, and soon you'll find you will seek out the best ways to protect and love your body.