On October 11th, the nation will celebrate the extremely important Indigenous Peoples Day. While the modern-day Non-BIPOC American may struggle to understand how to honor indigenous individuals, there are resources, teachers, and actions we can all commit to that will educate those willing to learn.
We at The Alchemist's Kitchen believe that knowledge is power. We must grant ourselves the ability to listen to those around us to better learn how to respect or help them. This is the same case for the Indigenous People whom we celebrate on this day. Not only is it simply correct to support Indigenous people, but we personally at The Alchemist's Kitchen are indebted to various different Indigenous communities and individuals.
The plant remedies and rituals that we offer at The Alchemist's Kitchen owe their existence to the Indigenous community. We must support Indigenous People and protect their communities, culture, lands, and water. Without them, nature may be endangered by those wishing it harm. This Indigenous Peoples Day Guide will be one way for you to help Native Americans and other Indigenous people with your own power. 
Resources to Support Indigenous People
Indigenous community organizations, activists, artists, and healers to follow and support:
Become Aware of the Land Acknowledgement
Incorporating a Land Acknowledgement into your work & Life. By acknowledging the land, you celebrate the original stewards of the land. For more on land acknowledgments please visit Native Land, an incredible resource that "strives to create and foster conversations about the history of colonialism, Indigenous ways of knowing, and settler-Indigenous relations, through educational resources such as our map and Territory Acknowledgement Guide"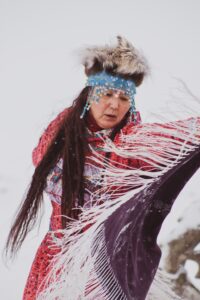 Books to Read
Read Braiding Sweetgrass by Robin Wall Kimmerer. As a botanist, Robin Wall Kimmerer has been trained to ask questions of nature with the tools of science. As a member of the Citizen Potawatomi Nation, she embraces the notion that plants and animals are our oldest teachers. In Braiding Sweetgrass, Kimmerer brings these two lenses of knowledge together to take us on "a journey that is every bit as mythic as it is scientific, as sacred as it is historical, as clever as it is wise" (Elizabeth Gilbert).
Other must-read fiction and nonfiction books by Indigenous authors include The Things She's Seen by Ambelin Kwaymullina and Ezekiel Kwaymullina, Ceremony by Leslie Marmon Silko, and Split Tooth by Tanya Tagaq. The First Nations Organization also has a very compelling and rich Reading List for you to peruse.
Times are Changing
Non-BIPOC can no longer rely on comfortable ignorance to go through their day-to-day. Indigenous people deserve the same protection and support as anyone else. Consider supporting the Indigenous creators we posted above and seeking out more communities to aid. Consider donating to communities in need. And, finally, always open your heart and ears to hear the world around you and learn how to best be an ally to Indigenous People 365 days a year!
Donation Links:
First Nations Organizations Donations
The Redhawk Native American Art Council