Have you tried Four Sigmatic's amazing mushroom coffee and hot cocoa yet? They're filled with functional adaptogens and mushrooms to support the body's natural functions, and are a real favorite at The Alchemist's Kitchen. We reach for them when we need help getting through a long day without the negative affects of caffeine. We chatted with Danielle Ryan Broida, National Educator at Four Sigmatic, about her journey with the company!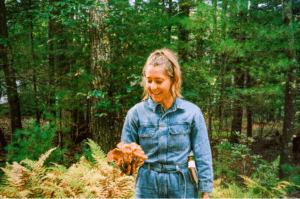 Tell us a little bit about yourself! 
I am a Registered Herbalist (RH) of the American Herbalists Guild (AHG), Certified Holistic Nutritionist and the National Educator at Four Sigmatic. Prior to joining forces with Four Sigmatic, I received my BA in Environmental Studies and Philosophy from Whitman College.
I studied Ayurveda in India and became a Certified Yoga Instructor on the banks of the Ganges River. I then worked with a Naturopathic Doctor in Indonesia where I became a Certified Raw Chef and Detox Coach. But it was leading trekking adventures into the backcountry of Thailand where I became particularly fascinated by herbal medicine.
After several years in Asia, I landed in Boulder, Colorado to formalize my education in holistic medicine. Upon completing my graduate studies at the Colorado School of Clinical Herbalism (CSCH), I opened a private practice where I worked with hundreds of clients across the US, specializing in treatment for individuals with autoimmune conditions and chronic illness. I was invited to become the Instructor of Mycology at CSCH, where I still teach today.
I bring my passion and expertise in herbal medicine, clinical practice, teaching, formulation, and deep love for fungi to the Everyday Magic® of Four Sigmatic as our National Educator. In my free time, you can find me outside—whether under the sun or stars, summer heat or winter snow. I'll either be gardening, foraging, cooking plant-based recipes, rock climbing, hiking, skiing, surfing, or scuba diving.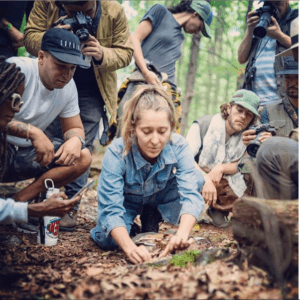 How did you come to work with Four Sigmatic?
It was such a natural and organic joining of forces! After several years in clinical practice, I began to notice that much of my time was spent holding space for people. When you are approaching illness holistically, it includes mind, body, and spirit- or the emotional, mental, and physical bodies. I began to realize that while I absolutely loved natural medicine, formulation, and educating people about ways they can improve their health and create more vitality in their lives, the majority of my time in clinic was one-on-one time. There is great importance to being able to sit and hold space for people, but I knew then and now that that is not my calling.So I wanted a shift. I wanted to continue to formulate, educate, and be immersed in the world of natural medicine- particularly functional mushrooms- and opened myself up to what the next chapter could be. I found Four Sigmatic in searching for an easier, more delicious, convenient way to bring these powerful adaptogens and fungi into my clients daily routines and fell in love with the brand.
And to be frank, I never thought I would work for a brand. I grew up in a family of entrepreneurs- both my parents are inventors and my sister and brother-in-law run their own businesses. It was incredibly challenging for me to consider closing my business and hop on board with someone else's vision. But when I met Tero, Four Sigmatic's Founder and CEO, it felt like I was joining a family rather than becoming an employee. We are truly a tribe at Four Sigmatic- I call it our little Fungi Family. We work together, we share ideas, we come up with where we are going as a brand collectively, and more. It felt like coming home. 
That was about two years ago and I have worn more hats in our company from then to now. From helping answer live chats with a Customer Service hat, to creating new formulations for us as our in-house Formulator, to currently being our National Educator. Sometimes I have to pinch myself as I feel so lucky to have landed where I am today. 
What's your relationship with mushrooms? Do you have a favorite mushroom you like to work with?
In short, I have dedicated my life to working with fungi. So this question is a big one! I believe fungi are the greatest teachers on this planet, offering medicine, solutions, patterns, and deep wisdom. If we are able to connect with fungi as teachers, they can guide us as human beings to be in better relationship with our own bodies, the earth and each other. Beyond health purposes, fungi have an incredible capacity to offer solutions to heal the planet at large. 
My favorite mushroom changes every day- if not every hour. This question always feels like someone asking, "who is your favorite child?" They all offer something unique to the world and are each remarkable in their own ways.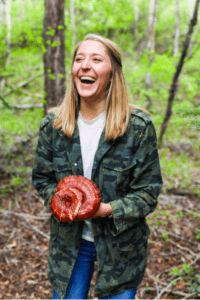 Do you have a favorite Four Sigmatic product? Why?
My favorite Four Sigmatic product depends on the time of day and function I'm looking for. I usually start my day with our Chaga Elixir to prepare for whatever I have in store. Then right before I have to really turn on, I have our Mushroom Coffee with Lion's Mane to make sure I am fueled with the brain power I need to truly perform at the task at hand. In the afternoon or evenings, I always unwind with a cup of Mushroom Cacao with Reishi. This not only helps me let go of the stress of the day, but sets me up for a night of deep sleep so I can wake up feeling refreshed and ready to do it all again! 
What do you hope to see in the landscape of herbal medicine and medicinal mushrooms in the near future?
I truly hope that Reishi and Lion's Mane become household words. I envision folks in middle America waking up and drinking mushroom coffee or reaching to Chaga when the sniffles start going around. Instead of these powerful ingredients being viewed as foreign or elite, I want them to be common, revered, and accessible. 
What advice would you give someone just beginning their functional mushroom journey? 
Consistency. Functional mushrooms are not quick fixes. We see best results when they are taken daily, for several weeks or months. It is so common when we are using ingredients that build our bodies to feel like they aren't doing anything. One of the most common results I see from people who consistently use functional mushrooms is that they have a strong immune system. This is huge! But our bodies and minds work in a way that we notice things when they aren't working, rather than when they are. So if you want to truly experiment with how you feel on or off functional mushrooms, be consistent. Chart what you need and assess the improvement. And of course, reach out to a local herbalist to get the support you need to find the right mushroom, herb, and dosage for your changing and unique body! 
Check out Four Sigmatic's Mushroom Hot Cacao Chill Mix and Mushroom Coffee Mix!