Humans exist with an acute understanding of the world around us. We, as creatures of Mother Earth, were blessed with the ability to use our bodies to sense the world around us. Touch, taste, scent, sight, and sound affect how we witness the world around us. Today, let's discuss the five senses and how they can lead us through life.
What Are the Five Senses?
The five senses form an inseparable and extraordinary chain, linking us to the broader world. They open a realm of tangible and intangible beauty, gifting us with an extraordinary journey. All that to say: the five senses are how we dictate our place in this world.
The sense of sight brings a beautiful cacophony of color and emotion, while sound offers an enticing aural landscape. Have you ever stood on a beach and listened to the crash waves while the sun was setting into the water? We can process these images into lasting memories thanks to sight and sound. Touch reveals an excitingly intimate perspective, and taste brings the delectable exploration of delicious flavor. Even differently-abled people can use senses like touch and taste to observe the world around them. The sweetest berry could paint plenty of pictures in the same way a soft blanket can. 
Lastly, smell leads us to open doors to forgotten memories. Did you know that your sense of smell can remember certain scents far longer than your brain can retain? Smelling a childhood candy or a particular flower could revive old memories you may have forgotten! The five senses together make us richer, opening us up to a vast universe of inspiration. So, let's take good care of our senses!

Caring for Our Senses
Our senses are vital to how we view the world around us. In order to protect our senses, we at The Alchemist's Kitchen have devised a list of practices and products your can use! Remember, the bodies we have are the bodies we should cherish. Let's see how we can care for our five senses.
Sight 
Eat healthy and balanced meals: Eating a healthy and balanced diet will help provide our eyes with the essential vitamins and nutrients they need to maintain optimal health. This includes eating dark, leafy green vegetables and fruits like carrots, squash, and berries.

Avoid straining the eyes: Staring at screens for too long, smoking, or drinking alcohol can cause our eyes to strain and lead to issues like blurry vision or headaches. Take frequent breaks while using digital devices, don't smoke, and keep alcohol consumption in moderation.

Exercise regularly: Regular physical activity helps to improve blood circulation, which helps to provide our eyes with essential nutrients. It can also help reduce stress levels, another risk factor for vision loss. In a more metaphysical sense, you should exercise your "intuition" or psychic sight. Training your intuition with visual items like the

Earth Magick Tarot

and the

Mushroom Oracle Deck

can train your eyes in ways you'll never believe.

Wear protective eyewear: Sunglasses can help to protect our eyes from damaging UV rays, and eyeglasses can help us see more clearly and comfortably. Always make sure to wear the appropriate protective eyewear when outside or participating in any activities that could be potentially dangerous.
Sound 
Wear ear protection: Certain loud environments, like concerts or noisy work environments, can damage hearing! Be sure to wear protective ear coverings or earplugs to lower the noise in these areas and protect your sense of hearing.

Turn down the volume: Personal audio devices, like music players and televisions, can be turned up too loud! To avoid noise pollution and protect your hearing, always check to make sure your devices are at a lower level.

Give yourself occasional sound breaks: Go out into nature, and allow yourself to relax in silence. Be mindful of others; turn down loud music and practice keeping the peace. This is a surefire way to protect yourself from loud noises and retain your sense of hearing for longer.

Develop a mindful approach to listening: Tune into sounds you are actually interested in and ensure you don't become overwhelmed. Invite mental clarity to aid your mindfulness training with the

Clarity Tincture

!

Touch 
Take breaks from digital devices. Texting and typing can take a toll on our hands and fingers. By taking regular breaks from technology, we can give our sense of touch a rest.

Show yourself some TLC. Our sense of touch is connected to how we perceive the world around us, but we need to take the time to be aware of how we're feeling. Show yourself some love by regularly doing something that feels good to your senses. A bubble bath, massage, or cozy nap can make all the difference. You can also use oils to soften your skin. The

Jasmine Body Oil

is a powerful blend of adaptogens that will increase your skin's softness and ability to sleep more deeply. If you want to increase your skin's sensitivity to touch, try out the

Intamcy Breast Oil

! These products will help you connect better to your sense of touch.

Be aware of your environment. Whether taking a walk or working in your home office, take the time to observe how things feel to your sense of touch. Notice how different textures, temperatures, and objects feel on your skin.
Taste 
Eat healthily: Enjoy a variety of whole grains, fruits, and vegetables. Include plenty of lean proteins and healthy fats to ensure you get various nutrients. Incorporate a few herbal spices and into your cooking and seasonings as these can add flavor and help support a healthy digestive system. Doing this is a beautiful way to stay on top of enjoying your sense of taste.

Avoid processed and sugary foods: Too much sugar is not healthy for our sense of taste. If you indulge in something sugary, enjoy it in moderation and as a treat. Certain sweets can actually help enhance your sense of taste, though, like the

Alice Focus Chocolates

! They taste great and are made with mushrooms to help increase your ability to focus!

Drink plenty of water: Hydration is key for keeping our taste buds functioning correctly. Following these simple steps will ensure that our sense of taste stays in tip-top shape and helps us enjoy our favorite flavors to the fullest.
Smell
Reduce exposure to harmful pollutants and irritants: it's important to avoid breathing in pollutants such as cigarette smoke and chemicals, which can damage our sense of smell. Try to stay away from them when possible.

Eat a balanced diet: Getting the right amount of vitamins and minerals helps to keep our noses healthy. A well-balanced diet with many fruits and vegetables can ensure you get enough vitamins and minerals.

Keep your home clean: Regular cleaning will help reduce exposure to odors that might harm our sense of smell. Vacuuming and mopping can help keep dust, dirt, and other allergens away from our noses. Certain perfumes and essential oils can also help to keep the air in your home smelling clean. Try out

The Herbalist Parfum

yourself to see this in action!

Open windows: Allowing fresh air to circulate the house can help keep our noses clear. Make sure to open your windows and doors regularly so the house doesn't get too stuffy.

Incorporate aromatherapy: Aromatherapy can help stimulate the sense of smell and reduce the impact of environmental pollutants. Diffusing essential oils can help open the airways and encourage better airflow. Some fantastic ways to incorporate aromatherapy into your life include the

Breu Resin Ayahuasca Incense

,

Palo Santo Incense

, and the

Chacrona & Jagube Incense

!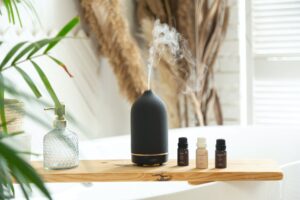 By following these tips, we can keep our senses healthy and appreciate the world around us in a new and vibrant way. Make sure to check out our New and Happening Collection to find even more amazing products to care for your five senses!